WALLA WALLA, Wash. – Kerry Shannon, a Whitman College honors graduate in Asian Studies, is the latest recipient of the annual Connie Jill Carlstrom Award for Japanese Studies. The award, which includes a $2,000 cash award, is presented each spring to one or more outstanding students of Japanese language and culture.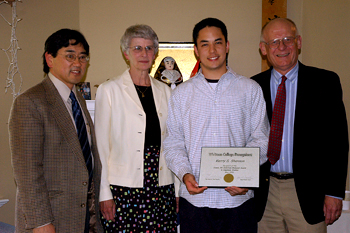 Left to right: Ron Takemoto, Connie Carlstrom, Kerry
Shannon, Roger Carlstrom.

Shannon, who passed his Japanese oral examinations with distinction earlier this spring, also majored in history and graduated magna cum laude on May 21. A graduate of East High School in Denver, Colo., he is the son of Sharron Shannon of Denver, Colo., and Lee Shannon, also of Denver.
The Carlstrom Award honors the late Connie Jill Carlstrom of Yakima, Wash., who graduated from Whitman in 1993 and was teaching English in Japan when she died in September of that year. Carlstrom's family and friends, including her parents Connie and Roger Carlstrom of Yakima, established the awards program. This marks the 13th year the award has been given.
The Carlstrom Award ceremony, held in May at Tekisuijuku (the Japanese language house at Whitman), attracted more than two dozen students and was hosted by Ron Takemoto, an assistant professor foreign languages and literatures (Japanese). Connie and Roger Carlstrom, residents of Yakima, visited campus to present the latest award in memory of their daughter.
"She was kind of shy until she got to know you, and then there was no holding back," Connie Carlstrom said, describing her daughter. "She loved life, and she loved her friends. She would do anything for her friends and family."
Roger Carlstrom told the students that he and his wife look forward to the awards ceremony each spring. "It is so wonderful for us to come here and see her in you," he said. "You are about the same age she was when we lost her. That may sound sad to you, but it's not to us."
Shannon reminds him in many ways of Jill Carlstrom, Takemoto said. He approached his studies with the same "kind of raw energy and intensity that clearly reminded me of the passion and drive that led Jill to pursue her interest in Japanese language and her desire to teach English in Japan," Takemoto said.
"Like Jill, Kerry was a frequent late-night visitor to my office," he added. "Kind to others but highly critical of his own efforts is the trait that mirrors Jill and her life. Indeed, Kerry fits well in a long line of fine Carlstrom Award winners."
Shannon's honors thesis in Asian Studies "ranks among the best we've seen in the Asian Studies program," Takemoto said. Shannon researched and wrote his thesis on "The Struggle for Memory: Nationalism, Narrative, and History in Postwar Japan."
Shannon earned top marks as he studied Japanese during his first two years at Whitman. He then spent his junior year in Japan, taking classes as part of the Associated Kyoto Program. Whitman is one of 15 liberal arts colleges in the United States that selects about 40 students each year for intensive studies at Doshisha University in Kyoto, Japan.
Shannon earned the highest grades in "every Japanese class he has taken at Whitman," Takemoto said. "From his first day in class, he bought into my emphasis on writing Japanese beautifully. With disciplined practice, he quickly developed his skills with the pencil, and I would not hesitate to show off any assignment that he has written.
"But it is not just a matter of writing Japanese well, it is about writing sentences and passages that are both correct and funny," Takemoto continued. "He has a wonderful sense of humor, and his passages are a delight to share with other students in the class. Never condescending and always helpful, he provides the kind of quiet leadership that helps a language class succeed."
Shannon is one of several Whitman students who will spend the next year in Japan, working as an assistant language teacher in the Japan Exchange Teacher (JET) program. His future plans include graduate studies in international law or Japanese history.
Link: Japanese Studies at Whitman
CONTACT:
Dave Holden, Whitman News Service
509 527-5902; holden@whitman.edu