WALLA WALLA — Two celebrated authors, James Fallows and Mary Karr, made separate appearances Thursday on two Whitman stages, a clear indication that the annual cycle of cultural events on campus is in full swing.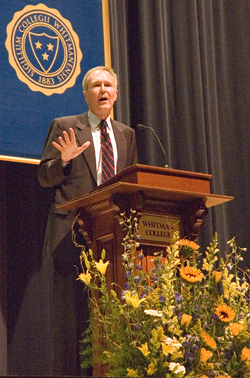 James Fallows

Fallows, the esteemed national correspondent for
The Atlantic Monthly
, spoke about "The U.S. and the Islamic World: Victory, Defeat or Coexistence?" to an audience of several hundred Whitman faculty, students, staff and guests at Cordiner Hall.
Karr, the author of the best-selling memoir, "The Liars' Club," read selections from her poetry collection, "Viper Rum," and excerpts from her memoir to a crowd that filled the main floor and some of the balcony of Kimball Theatre in Hunter Conservatory.
Dave Schmitz, the Robert Allen Skotheim Chair of History at Whitman, introduced Fallows with well-chosen words of high praise. "It is often said that good journalism is the first draft of history," Schmitz noted. "That has never been more evident than in the pieces that make up Mr. Fallows new book ("Blind Into Baghdad: America's War in Iraq")."
Schmitz also called special attention to the Ashton J. and Virginia O'Donnell Visiting Professorship in Global Studies Endowment, created by alumni Ashton '43 and Virginia O'Donnell '43 to support visiting international affairs professionals who bring "greater awareness of global events" to the campus community.
"Ash O'Donnell is here with us tonight and I ask that he stand and be recognized by us for his and his wife's generous support that makes lectures such as this possible," Schmitz said.
Fallows, who has enjoyed "a long parallel connection to the O'Donnell family," seconded Schmitz's appreciation. He also noted an "overlapping connection" to Whitman. His father's medical partner was a Whitman alumnus, and seeing a diploma from the college next to one from Harvard in his office left such an impression that Fallows on Thursday found himself combing men's stores downtown for a blue-and-maize repp tie.
After apologizing for the "grandiosity" of the title of his speech, Fallows distilled the theme into a cogent discussion of four discrete topics: Iraq, Iran, the "global war on terror" and the larger place of the United States in relation to Islamic countries.
By and large his talk was a presentation of, and a response to, various "flash points" in America's relationships to the Islamic world. All of them led to a constructive conclusion — coexistence —"especially for students in the audience for the world they're going to be helping us lead."
There is "a vivid daily sense" in the Islamic world, Fallows noted, of "the (historical) tables having been turned," and that "the living sense that those consequences should be reversed." What will a constructive coexistence require? The theoretical answer was easier to articulate than any practical response, Fallows said in a spirited question-and-answer period after his talk. One part of the solution, he said, was obvious and urgent. "The first step is some kind of successful resolution in Iraq."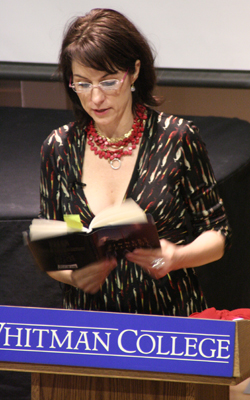 Mary Karr

Across the street from Cordiner in Kimball, Karr, the Jesse Truesdell Peck Professor of Literature at Syracuse University, opened the 2006-07 edition of Whitman's Visiting Writers Reading Series with wisecracking humor, red high heels and a confession that informs one of her poems.
"My mother married seven times . . . and gave her sixth-grade daughter Sartre's 'Nausea,' to read," she said.
Her admission led to a revelation, namely, her poem "Revelations in the Key of K," in which the narrator observes: "They'd caged me/in a metal desk — /the dull word writ/ to show K's sound./But K meant kick and kill/when a boy I'd kissed drew me/as a whiskered troll in art."
Karr surveyed her largely student audience and allowed, "I have a son about your age." She recalled the time when he was 16 and learning how to drive. "If you saw a giraffe driving your car, you'd have more confidence," she said.
Then she directed her attention to a poem, "A Blessing From My Sixteen Years' Son." She read: "Inside, he was a raw pearl: microscopic, luminous./Look at the muscled obelisk of him now."

Karr read from her work for about an hour, and fielded questions for another half-hour. Fallows, too, took several questions after his speech. When one student asked what the best part of living in Shanghai was for him — Fallows is stationed there to report and write his next essay — he said, with refreshing informality, "It's the sense that Shanghai is a happening place."
Fallows' remark echoed the sense of the evening on campus. For the first of many nights of guest lectures this year, Whitman was a happening place.
CONTACT:
Keith Raether
Office of Communications, Whitman College
509.527.4917
raethekr@whitman.edu