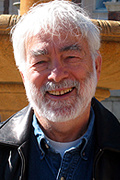 Herbert S. Klein

WALLA WALLA, Wash.— A scholar of Bolivian history will present the annual Skotheim Lecture on the Whitman campus Thursday, Sept. 21.
Herbert S. Klein, a research fellow at the Hoover Institution as well as professor of history and director of Stanford's Center for Latin American Studies, will present "The Origins of Ethnic Politics and Popular Mobilization in Bolivia" at 7:30 p.m. in Olin 130.The lecture is free and open to the public. Please call 527-5156 for more information.
Klein, who received his doctoral degree from the University of Chicago in 1963, is the author of more than 17 books on Latin American and on comparative themes in social and economic history. His latest books on Bolivian history include "A Concise History of Bolivia" (2003).
The Skotheim Lecture is made possible by the Sivert O. and Marjorie Allen Skotheim Endowment for Historical Studies, established in 1978 by then-president of the college Robert Skotheim and his wife, Nadine, to honor his parents. Income from the fund is used annually to bring a distinguished lecturer in historical studies to Whitman College.

END
CONTACT: Lenel Parish, Whitman College News Service, (509) 527-5156
Email: parishlj@whitman.edu