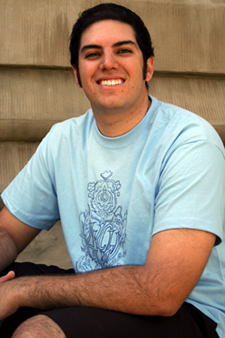 Drew Lorona

WALLA WALLA, Wash. -- Drew Lorona, from Meridian, Idaho, will take a humorous look at the nature of ambition when he serves as Senior Class Speaker at Whitman College commencement ceremonies, Sunday, May 21, at 11 a.m.
Lorona, who is majoring in rhetoric and film studies as well as physics, was chosen by his classmates to serve as commencement class speaker. While at Whitman, Lorona has been a familiar voice on KWCW 90.5 FM, the campus radio station. He has hosted radio programs in each of his four years at Whitman. He is currently hosting two shows, one on Whitman sports and one that follows a comedy/talk format.
An active member of the Phi Delta Theta fraternity, Lorona is serving as a senior class senator in the student government (Associated Students of Whitman College). He has also been an active participant in the intramural sports program, playing football, volleyball and softball, and serving as coach of a women's football team.
Following his Whitman graduation, Lorona plans to visit Thailand, Indonesia and Malaysia with friends and then move to Vancouver, British Columbia, where he hopes to find work in the film industry. His primary interests focus on directing music videos and animated feature films, but he adds, given the "difficulty in finding a job in the industry, I will take what comes my way."
Lorona also is interested in the graduate film studies program at the University of British Columbia. His senior thesis in his rhetoric and film major examines the portrayal of the city of Los Angeles throughout the history of the Film Noir genre.
In addition to Lorona, Whitman Commencement 2006 will feature a keynote address by Ronald Takaki, a professor of ethnic studies at the University of California-Berkeley and a pioneer in the field of ethic studies. Takaki and Whitman alumnus Robert Young, Class of 1955, will receive honorary degrees.
CONTACT: Dave Holden, Whitman News Service
509 527-5902; holden@whitman.edu