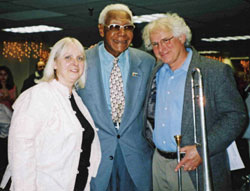 Carolyn Glenn Brewer, Buck O'Neil and David Glenn at the St. Elizabeth School Band's Shades of Blue benefit concert, Kansas City
WALLA WALLA, Wash.— "Blues for Buck O'Neil," a composition by renowned jazz musician and Whitman music professor David Glenn, will make its Walla Walla debut Friday, Sept. 15, at Whitman's Fridays@Four concert series in Kimball Theatre, along with a full slate of original Glenn compositions.
The piece, originally written for a junior high school band in Kansas City under the direction of Carolyn Glenn Brewer (David's sister), will likely sound more polished this time around as Glenn and friends perform it, but Buck O'Neil will not be in the audience — or dancing in the aisle — as he was last March at the St. Elizabeth School Band's Shades of Blue benefit concert. And Glenn will probably not be quite as nervous as he was that night.
Although a veteran composer — he's currently finishing up a piece commissioned by the Walla Walla Symphony — Glenn had never written for such a green group of musicians. He recalls thinking when his sister asked him to write the piece, "Yeah, this will be fairly easy to dash off and it'll be fun and a little extra money — and, no, it was actually quite difficult. There are so many limitations when you're writing for people who've played the instrument for only one to three years."
Glenn decided he needed to scale down his vision of "a five-movement piece of vignette pairs about Kansas City" after sitting in on a student rehearsal and discussing his ideas with his sister. He eventually winnowed his subject matter down to one Kansas City legend: baseball great Buck O'Neil. Not only did the kids in the band love baseball as much as the composer, but Glenn had once heard O'Neil speak at Whitman College, so he had a feel for O'Neil's personality.
"He talked about how when he played with the Negro Leagues, the ball players traveled a lot of times with the big bands, and they were friends with the jazz musicians. They were kind of in the same boat. I knew there was a connection with jazz, but I didn't want to make it a jazz piece because it was being written for junior high school band, and they're not going to be able to pull it off, so I used the blues form for the piece, and I used kind of a funky bass line."Add to that O'Neil's personality — "he's such a joyful kind of character and has such great spirit" — and Blues for Buck O'Neil was born. "Instead of being a sad blues, I used suspended chords instead of dominant chords and it's a much brighter sound — kind of a hopeful, joyful sound, yet strong and dignified."
Once back in Kansas City for the premiere of his piece, Glenn discovered that parents of the band students had notified the local newspaper and the Negro Baseball Museum about the piece honoring O'Neil, and on the night of the concert Buck O'Neil was sitting in the audience. Glenn had an opportunity to present him with a copy of the score before the concert, andO'Neil responded by autographing a score for Glenn."I was about as nervous as I've ever been. I've done a lot of different things and played with famous people and been on the road with famous people — but in some ways I was more in awe of him. Not just the baseball, but the way he runs his life and conducts his business. My brother-in-law asked him if he had any advice for us, and this 94-year-old says 'Every morning when I get up I look forward to the day and I'm eager to get the day started and explore it and see what can be done in this particular day. Each day is a gem to be lived to the fullest.'"
Glenn recalls thinking "He's such a good example for kids." As for the kids of the St. Elizabeth School Band, they "pretty much" did his piece justice. "They played as well as they could, and you could tell what the piece was about and the people in the audience certainly loved it. Buck really liked it." O'Neill, in fact, got up and danced with one of Glenn's former teachers who was also in the audience when his piece was played. All this was documented in the Kansas City Star.
All in all it was a memorable event, said Glenn, but he has no more plans for junior high bands. "I've got enough on my plate right now. I've got to finish this symphony piece and I really want to finish this jazz sextet project that's just for me. I'm going to put together a sextet of myself and five other players from New York City that I used to play with and record a CD; there's no deadline on that one so it lacks the priority that the symphony piece has."
"The Fridays@Four on Sept. 15 will be of chamber works I've worked on and three or four of the jazz sextet pieces; there's a group of six short piano pieces that I've finished that will be part of it as well as a number of others. One of the pieces for the jazz sextet will use the material from the 'Blues for Buck' piece, changing it around, changing the bass line and making it a lot more difficult and challenging, but using the same basic material."
END
CONTACT: Lenel Parish, Whitman College News Service, (509) 527-5156
Email: parishlj@whitman.edu