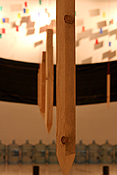 WALLA WALLA, Wash.— An exhibition of work by controversial artist Buster Simpson officially opens in Whitman's Sheehan Art Gallery on Friday, Sept. 15, with a talk by the artist.
Simpson, whose proposal for a large public art work for Walla Walla, "Walla Walla Bound," has stirred heated community conversations, will present his opening lecture at 5 p.m. in Olin Hall 130. This presentation, in which he will discuss his 30-year career as an artist, is free and open to the public and will be followed by a reception in the gallery from 6 to 8 p.m. For more information, please call (509) 527-5156.
"Implement Instrument: Work by Buster Simpson" will run through Tuesday, Oct. 5. The exhibit will present an ongoing investigation of "Walla Walla Bound," the artist's proposed public art commission project for the Walla Walla Penitentiary and the City of Walla Walla, which would be sited along an urban section of Mill Creek. The work would include a series of words stamped on license plates at the Walla Walla Penitentiary and then installed along a section of the creek as well as an installation made of farm discs that have a unique bell sound.
Sheehan Gallery director Ian Boyden said the gallery exhibition will serve as a public laboratory to test and explore various aspects of Simpson's proposal as well as provide rare insight into how a major public art work comes into being.
Simpson has been an active artist working in the public venue since the 1970s. His work, which can be viewed at www.bustersimpson.net, ranges from stand-alone sculpture to integrated and/or collaborative works. All of his work, said Boyden, incorporates ecological, historical, social and aesthetic considerations, contextualizing them into site specific values of place.
END
CONTACT: Lenel Parish, Whitman College News Service, (509) 527-5156
Email: parishlj@whitman.edu
Or Ian Boyden, Sheehan gallery director, (509) 527-5249
Email: boydenih@whitman.edu