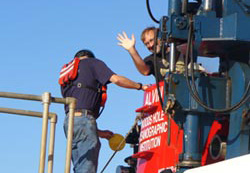 Paul Yancey
WALLA WALLA, Wash.— Paul Yancey, professor of biology, will discuss his summer explorations aboard the research vessel Atlantis at a public lecture to be held Thursday, Oct. 5, on the Whitman campus.
Yancey will detail the expedition, and especially his dive aboard ALVIN, the manned submersible best known for exploring the Titanic remains, at 7 p.m. in Gaiser Auditorium, Science 165. His presentation, "Creeps in the Deep: Submersible Explorations of Gas-Powered Ecosystems," is free and open to the public. For more information, please call (509) 527-5225.
Yancey, whose extensive research into deep sea animals can be viewed on his Web page http://people.whitman.edu/~yancey/ spent 20 days last summer on an expedition to explore the sea life that exists around frozen methane (natural gas) seeps off the California and Oregon coasts. Whitman senior Ray Andrell also went on the research trip.
End
CONTACT: Lenel Parish, Whitman College News Service, (509) 527-5156
Email: parishlj@whitman.edu