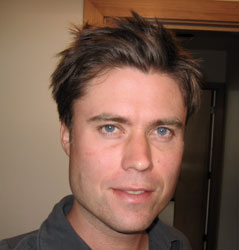 Josh Emmons
WALLA WALLA, Wash.— The author of the critically-acclaimed "The Loss of Leon Meed" will present a reading of his works when he presents the second Visiting Writers Reading Series program of the year on Thursday, Oct. 19.
Josh Emmons, visiting assistant professor English at Whitman, is currently working on his second book, "For the Love of God." He will read from both books at 7 p.m. in Kimball Theatre, Hunter Conservatory, corner of Park and Boyer, on the Whitman College campus. His presentation is free and open to the public.
Emmons, who will read equally from both of these works, describes "The Loss of Leon Meed" as the story of how 10 people in a small Northern California town respond to seeing a man magically appear and disappear in front of them. The second, "For the Love of God," is about an ordinary businessman who falls in love with the daughter of a charismatic religious leader devoted to celibacy.