"A Different Mirror: Studying the Past for the Sake of the Future"
Commencement Address for Whitman College
Sunday, May 21, 2006
By Ronald Takaki
Good morning.
Isn't this more than a good morning? Isn't this a great morning, even though we do not have California-like weather?
Isn't this also a great morning – one the students of the class of 2006 will remember for the rest of their lives?
Being here with you today brings back memories of my own graduation. I graduated from a small liberal arts college, like Whitman College. This college was also in a rural farming countryside. That countryside was in Ohio. That college was the College of Wooster.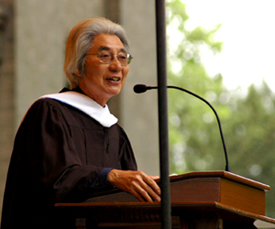 Ron Takaki
You're probably wondering: How did it happen that Ron Takaki went all the way from Hawaii to Wooster College? Well, let me tell you a little story about myself.
As I stand here today, I might look like a professor, or even a philosopher, with my silver mane.
But, when I was a teenager in Hawaii, I was not academically inclined. In fact, I used to be a surfer, a serious surfer. My nickname was "Ten Toes Takaki!"
When my Berkeley students find out about my past, they become very curious: How did a surfer become a scholar?
What happened was this. Today, President George Bridges honored Sally Bryan, his high school teacher who made a difference in his life. I, too, had a very special high school teacher. I attended Iolani High School, an Episcopalian institution, and during my senior year, I had a teacher -- Dr. Shunji Nishi, Ph.D. As students in his class, all of us were impressed. There were other Asian American doctors in Hawaii, but this one was a Ph.D. I remember going home and asking my mother a question. My mother had been born on a plantation, and had had only an eight-grade education. "Mom," I said, "my teacher's name is Dr. Shunji Nishi, Ph.D. Mom, what's a Ph.D?" She looked at me and said, " I don't know, but he must be very smart." A light went on in my head. Maybe someday I could become Ronald Takaki, Ph.D.
So, Dr. Nishi became a role model for me, and I began studying hard. He made his students write short papers every two weeks, essays about the problems of the world and the human condition. He taught us that to write is to think. He returned my essays, with extensive marginal comments. Many of them asked me epistemological questions. Do you know the meaning of "epistemology"? It's a good fifty-cent word that I teach all of my Berkeley students. Can you define it? You practice it, but perhaps you do not use the term. Let me give you a Takaki-working definition. Epistemology is a critical thinking skill. Epistemology asks the question: "How do you know, you know, what you know?" In other words, the "how" of knowing may be more important than the "what." How you know something may determine what you know about it. So, Dr. Nishi and I developed a relationship with one another, through my essays and his marginal comments.
But Dr. Nishi was more than a teacher; he was also a mentor. What is a mentor? A mentor is a teacher who also befriends the student and cares about the student's education and future. One day, in May of the second semester, Dr. Nishi flagged me on campus. I had already been accepted to the University of Hawaii, and was planning to attend this local school. He said, "Ronald, I think it would be good for you to go away to college – good for your personal growth and your intellectual development. There is this fine liberal arts college in Ohio, called the College of Wooster. Would you like to go to the College of Wooster?" I blurted out, "No." Ohio was so far away, and I had not yet even been away from the islands. But he said, "Would it be okay for me to write to the college and tell them about you?" I replied fine, and walked away and forgot about this conversation. A month later, I received a letter from the dean of the College of Wooster, which read: "Dear Mr. Takaki, you have been accepted to the College of Wooster. But please fill out the application form."
So, I went to the College of Wooster. There I found a very homogeneous student body, and experienced a culture shock. My fellow students asked me questions: "How long have you been in this country?" "Where did you learn to speak English?" My grandfather had come here in 1886, before many European immigrants. But to the students, I did not look like an American and did not have an American-sounding name.
Looking back at my Wooster experience, I realize that it was not their fault that they could not and did not see me as an American. Think about it: what had they learned (what had you learned) in courses called American history about Asian Americans, or Mexican Americans, or African Americans, or Native Americans?
My fellow students viewed me through a filter. I call this filter the Master Narrative of American History. Once we become aware of it, we can find it almost everywhere – in the curriculum and also in the news and entertainment media, and in the assumptions and language of policymakers.
The Master Narrative is the familiar story that America was settled by European immigrants, and that Americans are white or European in ancestry.
But, we can just look at ourselves here today, our students, families, and faculty, and know that not all of us came from just one shore. And even though many of us do not look like Europeans and do not have European-sounding names, we are all Americans. We all came here originally from around the world. Here we made America, and in the process, re-made ourselves into Americans.
This is the story of America that I present in my book, "A Different Mirror: A History of Multicultural America." My study seeks to illustrate and illuminate a truth about our nation that was discerned by Herman Melville over one hundred years ago. Let me share my favorite quote from Melville. He wrote: America has been settled by "the people of all nations. . . . You can not spill a drop of American blood, without spilling the blood of the whole world." We are "not a narrow tribe."
In my book, the epic story of America is told not only from the top-down, the perspectives of the rich and powerful, but, more importantly, from the bottom-up, through the lives, experiences, and stories of everyday people – the indigenous people of this continent and also the people originally from England, Africa, Ireland, China, Japan, Russia, and Mexico. Their varied voices, orchestrated side-by-side together, tell the complicated but hopeful story of America as a nation peopled by the world.
The story is an unfolding one. The nation was founded and "dedicated," to use Lincoln's language in the "Gettysburg Address," to equality as a "self-evident truth." But this very principle of equality, as Lincoln also noted, was a "proposition." To make it a reality remained "the unfinished work" of Americans.
Today, at this critical moment in America's history, as a nervousness about diversity explodes across our society and as policymakers seek to criminalize and incarcerate undocumented immigrants, A Different Mirror speaks to us.
I wish I could give every graduating student a copy of my book. But my suitcase was not big enough, and also I discovered that I would have to take a small commuter plane from Seattle to Walla Walla. However, I know many of you have already read the book, and I hope all of you will read it.
There are two other hopes I have for you.
First, I hope all of the students will cherish memories of your professors who not only taught you, but also mentored you, who "Dr. Nishi'd" you.
Second, I hope all of you will pursue and practice epistemology, a critical thinking skill that you strengthened and sharpened here at Whitman College. In your struggle not only to comprehend the world but also to change the world, ask yourselves: How do I know, I know, what I know about the America and the world I live in?
Also ask our policymakers: How do they know, they know, what they know about the America and the world we all live in? Insist that our policymakers ask themselves epistemological questions before they make choices that can have consequences like the war in Iraq and the proposed imprisonment and deportation of 12 million people. I hope all of us here today; will think hard and epistemologically about both of these issues.
Finally, let me end by thanking you.
Thank you for letting me remember and honor Dr. Nishi today.
Thank you also for honoring me today.
Thank you also for honoring the diverse and democratic America reflected in "a different mirror."
**************
February 14, 2006 news release:
Pioneering Ethnic Studies Scholar to Give Commencement Address at Whitman