WALLA WALLA, Wash. – A moment in Whitman College history was marked with formal ceremonies as George S. Bridges was installed Thursday as the 13th president in the 123-year life of the college.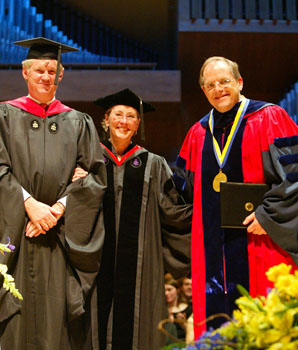 Whitman president George S. Bridges (right) with
Whitman trustees John Stanton and Kari Glover
Accepting a medallion bearing the Whitman seal and a charter defining the duties and responsibilities of the presidency, Bridges stood before a large, supportive gathering in Cordiner Hall and sounded the call for a renewed commitment to liberal arts education.
"I ask that we promise this generation of Whitman students, and every generation that follows, an intellectually demanding and vital experience in which they develop the skills to reason critically and to communicate effectively," Bridges said.
"I ask that we renew our dedication to an education that is personal, where faculty members and students know one another, where they work collaboratively, and where student scholarship and leadership are inspired," he said.
"Finally, I ask that we commit ourselves to making this great educational experience an opportunity accessible not just to those of use who are capable and can afford the price but to capable individuals from all backgrounds, life experiences, and sectors of our society."
Mark E. Emmert, president of the University of Washington, introduced Bridges at the Thursday afternoon ceremony, describing him as a caring father and husband, a talented and passionate advocate for education and scholarship, and "one of the most decent and honorable people I've ever had the pleasure to know."
Bridges, a Seattle native who took office at Whitman in July, has enjoyed a distinguished academic career spanning nearly three decades. In his previous position as dean and vice provost of undergraduate education at the University of Washington, Bridges administered the Honors Program, a liberal arts curriculum for the university's most academically capable undergraduates. He also oversaw the university's Mary Gates Endowment, which supports undergraduate scholarships for participation in research and service.
Thursday's ceremonies began with a tribal blessing from Armand Minthorn, a trustee of the Confederated Tribes of the Umatilla Indian Reservation. Those giving welcoming remarks and greetings were Karen E. Glover '72, chair of the Whitman board of trustees; Dean Nichols '70, chair of the Whitman board of overseers; Sarah O. Wang '89, president of the Whitman alumni board; Megan Clubb '79, president of Walla Walla's Baker Boyer Bank; Amy F. Kunkel-Patterson '06, president of the Associated Students of Whitman College; Mukulu Mweu, director of the Whitman Intercultural Center; and Patrick Spencer, chair of the Whitman faculty and professor of geology.
Charles Z. Smith, a retired justice of the Washington State Supreme Court, gave the ceremony's keynote address. Smith, a friend and mentor of Bridges, talked about "The Challenge to Higher Education in an Inclusive Society."
Bridges concluded the ceremonies with his presidential address, titled "A Paradigm and Pledge for Whitman's Future: Liberal Arts and Sciences, Relational Learning and Accessible Opportunity."
Those present included several college presidents: Jon Dybdahl, Walla Walla College; Steven L. VanAusdale, Walla Walla Community College; William P. Robinson, Whitworth College; Colin Diver, Reed College; and David Brandt, George Fox University. Others on hand were James Short, professor of sociology, emeritus, Washington State University; Susan Secker, provost, Seattle University; Willard Kniep, vice president of academic affairs and provost, Pacific University; Christine Moon, professor of psychology, Pacific Lutheran University; and Derek Buescher, associate professor of communications studies, University of Puget Sound.
The installation ceremonies featured a selection of music by Whitman students and faculty, including an organ prelude and processional by Stanley R. Plummer, professor of music, emeritus, and a postlude by the Whitman Trombone Quartet. Musical interludes showcased the talents of the Whitman String Quartet, professor of music Lee D. Thompson on the organ, and professor of music Robert Bode and the Whitman Chorale.
Earlier on Thursday, as part of a day-long schedule of installation activities, four former Whitman presidents took part in a panel discussion on the future of liberal arts education, and Whitman students and faculty gave a presentation on collaborative research.
The panel discussion, titled "50 Years at Whitman and the Future of Liberal Arts," featured former presidents Louis B. Perry (1959-67), Robert A. Skotheim (1975-88), David E. Maxwell (1989-93), and Thomas E. Cronin (1993-2005).
Participants in the student-faculty research presentations included Whitman seniors Tyler Phillips, Kathryn Heard, Morgan Zeliff and Marisa-Claire Mumford, and faculty members Allison Calhoun (chemistry), Timothy Kaufman-Osborn (politics), Bob Carson (geology), and Ginger Withers (biology).
Prior to his service as a senior administrator at the University of Washington, Bridges was associate dean and associate vice provost of undergraduate education and a professor of sociology. Among his many accomplishments at the University of Washington, he developed and launched major initiatives for faculty and undergraduate students on teaching and learning. These initiatives established four major institutes and programs to assist faculty in improving their teaching skills and to create small, liberal arts learning experiences for undergraduates. He received six University of Washington excellence in teaching awards, including its most notable teaching prize, the Distinguished Teaching Award.
After earning his undergraduate degree in 1972 at the University of Washington, Bridges pursued graduate studies at the University of Pennsylvania, receiving his master's in criminology (1973) and Ph.D. in sociology (1979). His areas of academic expertise include social control, criminal justice, juvenile justice, crime and its measurement, and research methods and statistics.
Bridges has testified numerous times before the U.S. Congress, Washington State Legislature, and local community councils and boards, and he has served on the Washington State Minority and Justice Commission since 1990. He has received nearly 20 research grants and contracts, and has conducted research responsible for sparking nationally recognized reforms of the Washington State justice system.
****************************
CONTACTS:
Dave Holden, Whitman News Service
509 527-5902; holden@whitman.edu
Lenel Parish, Whitman News Service
509 527-5156; parishlj@whitman.edu
---