WALLA WALLA, Wash. – The Whitman College cycling team completed its quick two-year rise to the top of the National College Cycling Association (NCCA) on Sunday, capturing the Division II national championship in Lawrence, Kan.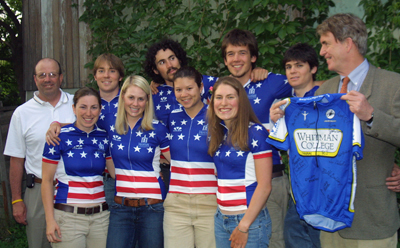 With Whitman President Tom Cronin holding a team jersey, members
of the cycling team -- decked out in their "stars & bars" jerseys --
gather for a photo to celebrate their National Collegiate Cycling
Association Div. II championship. The NCCA awards "stars & bars"
jerseys to its national champions. In the front row, l-r, are Rebecca
Jensen, Jane Rynbrandt, Laura Valaas and Mara Abbott. In the back
are coach Glenn Silver, Ian Gallaher, Sam Johnson, Sam Bell and
Bill Goulding.
Winning the women's team time trial for a second consecutive year and placing third in the men's race, Whitman wrapped up the three-day competition with 508 points. Lees-McRae College was second with 458 points while three-time defending champion Dartmouth College was third with 408 points.
Whitman coach Glenn Silver wasn't surprised to see his athletes win the Division II national title. "This is a great group of kids," he said. "There's a lot that can go wrong in a cycling race, but I knew that if we held it together, and if we didn't have too many wrecks or flat tires, that we could win it all."
NCCA Division II is for schools with enrollments of 15,000 or less. With an enrollment of about 1,450 students, Whitman was one of the smaller schools in the division.
Riders from 39 schools entered one or more of the championship events. Other schools represented in the Division II competition included Yale, Princeton, MIT, Bucknell, Swarthmore, Bates, Claremont, Carleton, Skidmore, Tufts, Johns Hopkins, Mount Holyoke, George Washington, Northwestern, Vanderbilt and Colorado College.
The NCCA also hosted its Division I championships over the weekend in Lawrence. The University of Colorado won the Division I title, amassing 446 points to beat second-place University of California-Berkeley and third-place Stanford.
Whitman was a decisive winner in Sunday's Division II women's team time trial. Juniors Laura Valaas (Wenatchee, Wash.) and Jane Rynbrandt (Petoskey, Mich.), sophomore Rebecca Jensen (Mukilteo, Wash.) and first-year phenom Mara Abbott (Boulder, Colo.) completed the 20-kilometer course in 31 minutes, 26 seconds. They finished one minute, 59 seconds ahead of the runner-up, DePauw University.
"This is an event normally won by seconds," Silver said. "Two minutes is an enormous margin of victory."
Valaas and Rynbrandt were also part of the Whitman quartet that won the women's team time trial last year, which marked Whitman's debut as a team at the NCCA championships.
In the Division II men's team time trial Sunday, Whitman took third behind second-place Western Washington University and the winner, Lees-McRae College. Whitman seniors Bill Goulding (Los Alamos, N.M.) and Ian Gallaher (Seattle, Wash.), joined by junior Sam Johnson (Santa Fe, N.M.) and freshman Sam Bell (Glouchester, Mass.), were clocked in 28 minutes, 3.2 seconds.
"Our men had a great race," Silver said. "I think they did a little better than even they expected."
A year ago, Goulding and Johnson were part of a Whitman team that placed fifth in the men's team time trial.
In a team time trial, the four riders work as a unit, rotating from front to back as each rider takes a turn at the front while teammates draft behind. "It's very much a precision event," Silver said. "It's a beautiful thing to watch because the four riders are going so fast in such a tight, changing formation."
Whitman got off to a strong start on Friday's opening day of national competition. In the women's criterium, Valaas placed second, Abbott was fourth and Jensen took 14th. In the men's criterium, Gallaher was 11th and Johnson 14th. Goulding was among the leaders and headed toward a top-three finish in the men's race before a blown rear tire sent him skidding from the race on one of the final laps.
On Saturday, Abbott won the women's race by a wide margin while Valaas placed ninth. Jensen finished 18th and Rynbrandt 21st. In the men's road, Johnson was sixth, Goulding 40th and Bell 52nd. Gallaher crashed during the race and was unable to finish.
In the women's final individual standings, combining results from the criterium and road race, Abbott and Valaas finished second and third, respectively. Johnson was third in the men's combined standings.
CONTACT: Dave Holden, Whitman Sports Information
holden@whitman.edu; 509 527-5902