WALLA WALLA, Wash. – Kaliswa Brewster, a Whitman College graduating senior from Kirkland, Wash., is one of 17 young thespians from around the nation who have been accepted for enrollment this fall in the master of fine arts program at the prestigious American Conservatory Theater (ACT) in San Francisco.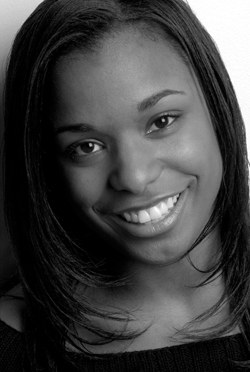 Kaliswa Brewster
Openings in the highly selective master's program are filled through an application process that includes a nation-wide audition tour. The program offers a rigorous three-year course of training designed to educate and stimulate the nation's most creative, promising actors. Actors who have studied in the program include Danny Glover, Annette Bening, Denzel Washington, Benjamin Bratt and Winona Ryder.
Brewster, a theater major who graduates from Whitman this Sunday, begins work on her master's degree in September. The daughter of Antoinette and Anthony Brewster of Kirkland, Wash., she completed her high school studies at Forest Ridge School of the Sacred Heart in Bellevue, Wash.
Upbeat, energetic and enthusiastic, Brewster is anxious to get her postgraduate studies underway.
"I couldn't ask for a better opportunity."
Of the 17 students starting the master's program this fall, Brewster is one of two who received an ACT scholarship that pays the annual $14,000 tuition fee. Melissa Smith, director of the ACT Conservatory, makes scholarship selections each year based on leadership potential and expectation of success. Brewster also received a second ACT scholarship that provides a $5,000 annual living stipend.
Brewster's relationship with the ACT program began last summer when she was accepted into ACT's nine-week Summer Training Congress. In addition to taking classes in acting, movement and voice, she performed the title role in a production of Medea.
Founded in 1965, ACT has grown into the largest theater company in the San Francisco area. It employs more than 800 people each season, and over the past three decades has staged more than 300 productions enjoyed by nearly seven million theater-goers. ACT's national and international reputation is based on its ground-breaking productions of classical works and bold explorations of contemporary playwriting.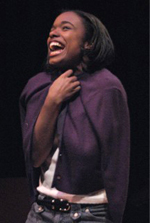 The Laramie Project
The ACT master's program is based on a compulsory curriculum in which classes in speech, voice, movement and acting are taught continuously during the first two years of study. Annual showcases are held to present third-year students to major agents and directors. ACT is the first training program in the U.S. not affiliated with a college or university to receive accreditation for a master of fine arts program.
During a busy four years at Whitman, Brewster appeared in 10 Harper Joy Theatre productions, including Pride & Prejudice, The Laramie Project, The Tempest, Phaedra & Hippolytus, Damn Yankees, and The Afghan Women. She has received Harper Joy's Jean Morgan Stone Award as well as the Joyce Cooper Johnston Theatre Award.
For her senior theater project, Brewster starred in The Gimmick, a one-woman show about a young girl growing up in Harlem. The award-winning contemporary drama, written by Dael Orlandersmith, tells the story of a young girl pursuing her dreams in spite of surroundings dominated by drugs, prostitution and pimps.
Following her sophomore year at Whitman, Brewster was one of 70 promising actors accepted into the summer-long Apprentice Program at the famed Williamstown Theatre Festival in the Berkshire Hills of western Massachusetts. The intense program features classes in acting, voice and movement, and provides first-hand insight into the world of professional theater operation. Actors who began careers at Williamstown include Gwyneth Paltrow, Kate Hudson, Benjamin McKenzie, Sigourney Weaver and the late Christopher Reeve.
While at Williamstown, Brewster played the role of "Gwennie" in Darko Tresnjak's main stage production of Under Milk Wood. She also appeared in Dictionary of the Khazars.
Brewster spent the fall semester of her senior year at the London Academy of Music and Dramatic Arts, where she took classical acting classes. She also performed in two productions, playing the roles of "Bosola" in Duchess of Malfi and "Celia" in As You Like It.
Brewster's young acting career began when she was a fifth grade student at Holy Family Parish School in Kirkland, Wash. Her first role was that of "Snoopy" in You're a Good Man, Charlie Brown. She also appeared in Once Upon a Mattress while at Holy Family. Later, at Sacred Heart, she performed in The Miracle Worker and Bye Bye Birdie.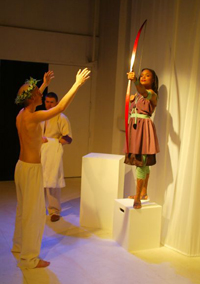 Phaedra & Hippolytus
Brewster, who was born in Richland, Wash., lived with her maternal grandparents in Liberia until she reached school age. Her parents first met when her mother came to the U.S. from Liberia to attend college. Her father, a native of Barbados, came to the U.S. as a child.
With its combination of a rigorous liberal arts curriculum and nationally recognized undergraduate theater program, Whitman has provided a perfect foundation for her next steps into the acting world, Brewster says. Exposure to a variety of academic disciplines at Whitman, she says, helps create "more well-rounded" people, she adds. "Without Whitman, I don't think my sense of who I am would be as strong as it is."
With one notable exception – singing with the Sirens of Swank, Whitman's female a capella group -- Brewster has had little time for other campus activities. "Other than going to class, I've been involved in plays my entire time here," she says.
Looking ahead to a career in acting, Brewster has no preference for any particular medium. "Live theater, film, television – it all sounds good."
CONTACT: Dave Holden, Whitman News Service
holden@whitman.edu; 509 527-5902