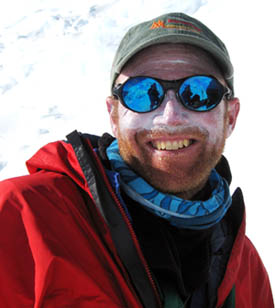 Brien Sheedy, director of Whitman's Outdoor Program, prepares to complete the 7th summit
WALLA WALLA, Wash.—In Brien Sheedy's photo collection are shots of him at the summits of the highest peaks on six continents: McKinley in North America, Kilimanjaro in Africa, Aconcagua in South America, Everest in Asia, Elbrus in Europe and, most recently, Vinson in Antarctica.


Six down, one to go for Sheedy, director of the Whitman College Outdoor Program, in his quest to become one of fewer than 150 humans to climb the highest peak on each of the seven continents. Next up is Kosciuszko in Australia, for which Sheedy is preparing as most of the world is preparing for the holidays. He leaves Dec. 27, 2005, and expects to celebrate New Year's Eve at the summit.


His quest began in 1994—sort of. The outdoor adventurer says he didn't set out to climb all seven, but opportunities set the course.


"I was working for the National Outdoor Leadership School (NOLS) in Alaska and just decided to climb Denali," he says. "Then I was working in Africa, so I decided to climb Kilimanjaro. And when I was working in Chile, it was close enough to Argentina that I decided to climb Aconcagua."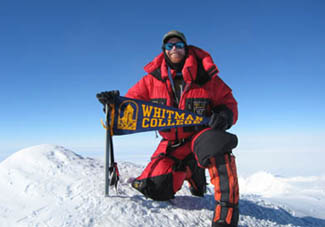 Sheedy at the summit of Mt. Vinson (16,000 ft), the highest point in Antarctica, Dec. 3, 2005.



And it went from there. Most recently—Dec. 3, 2005 – Sheedy summited Mt. Vinson, at the bottom of the world in Antarctica. He came back to campus long enough to resume his duties as director of WCOP, which offers outdoor experiences, adventures and training—including physical education programs, speakers and events, wilderness training, and more—to students and the larger community.


"One of the rewarding aspects of pursuing the Seven Summits is that it has taken me places that I would never have gone otherwise," Sheedy says. "Kosciuszko is a very short climb, so I'll have plenty of time to explore eastern Australia."


When he returns to campus from Australia, he'll bring the same Whitman pennant that went with him to the tops of two other peaks. The Everest pennant already hangs in Whitman's Penrose Library.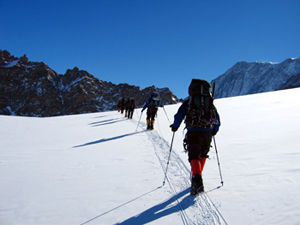 Expedition members at roughly 10,500 ft during
a load carry from Camp 1 to Camp 2 on Mt. Vinson
.

Prior to joining Whitman, Sheedy worked for the NOLS for more than a decade and has roughly 185 field weeks instructing. He has led courses in Patagonia, Kenya, Mexico, India, Canada, Alaska, Washington, Wyoming, Utah and Arizona. Sheedy started guiding in 1990 and has taught training courses for the Kenya Wildlife Service climbing rescue team, Tanzanian park rangers, Ugandan park rangers, the USFS, NPS, FWS and BLM.
Originally from Syracuse, New York, Sheedy earned his bachelor's degree in environmental studies from SUNY ESF at Syracuse and a master's degree in geography from the University of Texas at Austin.
BRIEN SHEEDY'S SEVEN SUMMIT HISTORY
Mountain

Height

Route

Location

Summit Date

Mount McKinley

20,320ft 6,195m

West Buttress

Alaska, North America

May 1994

Mount Kilimanjaro

19,339ft 5,963m

Normal Route

Tanzania, Africa

Oct. 5, 1996, 4:45a.m.

Mount Aconcagua

22,840ft

6,962m

Normal Route

Argentina, South America

Jan. 12, 1999

Mount Everest

29,029ft

8,848m

South Side Route

Nepal/Tibet

Asia

May 15, 2004, 1 p.m.

Elbrus

18,481ft

5,633m

Traverse to normal route after Irik Valley approach

Russia, Europe

July 1, 2005

Vinson Massif

16,067ft

4,897m

Traverse Route. Ascended right ridge, descended left

Ellingsworth Range, Antarctica

Dec. 3, 2005, 5:45pm

Mount Kosciuszko

7,310ft

2,228m

Australia

Planned for Dec. 2005/Jan. 2006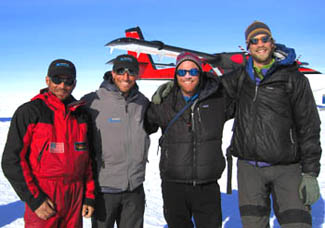 Whitman alumni and staff at Patriot Hills Antarctica.
Left to right (Phil Ershler '74; Jason Tanguay '98; Brien Sheedy, OP Director; Justin Merle '01)