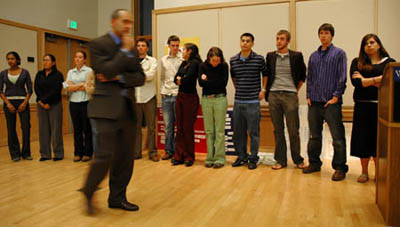 WALLA WALLA, Wash.-- The first comprehensive report on social conditions for Latinos in Washington state was unveiled Monday (Dec. 5) evening by the 12 people who wrote it—the students in Whitman's Politics 402 class, taught by Professor Paul Apostolidis.
"The State of the State for Washington Latinos" was presented in an open public meeting. In attendance was Uriel Iniguez, executive director of the Washington Commission on Hispanic Affairs, who congratulated the class members and Apostolidis for their "outstanding" work.
"My job is to advise legislators and other policy makers on the Latino community," said Iniguez, "and to do that I need data on the Latino community." Statistics, he said, have been very difficult to find, because no one has compiled them. "This report will make my job easier, and I will take it with me when I go talk to legislative policy makers."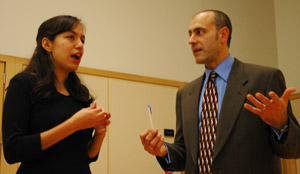 The class took on the study in response to the fact that although Latinos make up a rapidly growing portion of Washington's population, this segment sorely lacks effective political representation, Apostolidis said. "The report vividly demonstrates that the challenges and inequalities facing Washington Latinos today are multiple, interrelated and deeply entrenched," yet no official agenda exists to tackle the many social issues negatively affecting Latinos.
The students each researched a specific topic, retrieved existing data and added personal interviews with individuals from Washington's Latino communities, in order to put a "human face" on statistics. The students were assisted by a number of community professional, mainly located in Walla Walla, most of whom were associated with the Walla Walla Latino-American Forum.
The 360-page report is comprised of 12 segments. Among the highlights are the following findings and recommendations:
K-12 Education: Less than half of Latino students in Washington (47%) graduate from high school. Public schools need to expand dramatically their abilities to offer the forms of instruction that best enable students with limited English proficiency to succeed academically and on the WASL, especially given that passing this test soon will be required for a high school diploma.
Juvenile Justice: Poverty and the dynamics of family life lead too many Latino youth to meet their needs for "social capital" through involvement through gangs. Public schools should take major steps toward fostering the social ties between generations that compose "social capital."
Early Childhood Education: Low levels of parental education and high poverty rates generate low preschool enrollment for Latino children. Head Start can positively impact the education of children in both the short and long term, especially when it engages parents.
Farm Labor: Poverty wages, severely inadequate housing, a gap in labor rights, and the lack of legal residency combine to place great stress on farm workers families. Despite these hardships, women farm workers take profound pride in their work and in their dedication to their families.
Service Workers: Latinos are concentrated in the lower paying and more dangerous jobs in hospitals. A creative solution to the nursing shortage in Washington should involve making nursing education more accessible to Latinos already working in the health industry.
Adult Education: Latinos lack the support necessary to gain access to community colleges and obtain success in adult education programs. The government should provide greater financial assistance and address the marginalization of Latino culture within community colleges.
Health Insurance: Limited job prospects, poverty, and often the lack of legal residency all help explain the low rates of health insurance coverage by Washington Latinos. Lack of health insurance, in addition to the existing language and cultural barriers, severely restricts health care access.
Health Services: While Latinos have relatively good birth outcomes, they receive disproportionately lower levels of medical care. More research is needed into the specific health needs of Washington Latinos, and more funding and support are needed for community-based clinics serving the Latino population.
Housing: Latinos are disproportionately represented in the lower income brackets, have a lesser chance of obtaining home loans and are at a higher risk for substandard lending. Realtors and public agencies should expand education in Spanish for homebuyers, and government should ensure better enforcement of mobile home park tenants' rights.
Domestic Violence: Latina immigrants face barriers that prevent them from seeking community services for domestic violence survivors; barriers include language, lack of education and job training, and legal status. Better domestic violence training for law enforcement and for judges, and more funding of domestic violence outreach services to immigrants are needed.
Political

Participation: In 2004, Walla Walla County Latinos made up 12 percent of the total voting-age population, but only 4 percent of the population voted. In Yakima County, the figures were 29 percent and 11 percent, respectively, yet Latinos are highly receptive to voter mobilization efforts when they are specifically targeted.
Voting Rights: The U.S. Department of Justice recently mandated that Yakima County comply with federal voting rights provisions to ensure the full participation in elections of Spanish speakers. While registration has increased in the wake of the consent decree, Yakima City still rarely has Latino candidates for City Council elections—in a city that is one-third Latino.
PHOTOGRAPHER: Asiya Khaki '09