WALLA WALLA, Wash. – Michelle Johns, a Whitman College senior from Tucson, Ariz., is the 2005 recipient of the David Nord Award in Gay and Lesbian Issues.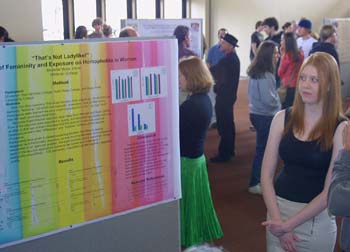 Michelle Johns (right) gave a poster presentation on her
research at the recent Whitman Undergraduate Conference. 
Johns, a graduate of Catalina Foothills High School in Tucson, is a Whitman psychology major with a minor in gender studies. Her receipt of the annual Nord Award was based on her senior thesis research, which she titled, "That's Not Ladylike! Effects of Femininity and Exposure on Homophobia in Women."
Johns received her award, and gave a presentation on her work, at an April 13 dinner in Hunter Conservatory.
The Nord Award, which includes a $1,000 cash prize, is an endowed award open to Whitman students, faculty members, and student/faculty teams. The late David Nord, a 1983 honors graduate in political science, created the award program in 1996, three years before he died of AIDS. The award is given annually to one or more recipients in recognition of valuable and innovative scholarly work that addresses issues of importance to the gay and lesbian community.
Johns, the daughter of Jacqueline and Bradley Johns of Tucson, is the 11th recipient of the award, and the first psychology major to be so honored. Johns, an active sorority member and staff member of the Whitman literary magazine for two years, will graduate in May. She plans to begin graduate studies in gender studies in the fall of 2006.
Johns began her thesis research with the concept that homophobia is a pervasive problem in all sectors of American society, and that much attention has been given to how this issue affects men – specifically in terms of how masculinity factors into the way heterosexual men view homosexuality. Her thesis project then focused on women and their struggles with homophobia.
Johns designed a job-hiring exercise aimed at assessing female attitudes and actions toward lesbians. A total of 55 participants took part in the exercise. All were female students at Walla Walla College, Walla Walla Community College, and Whitman, ranging in age from 18 to 41.
The job-hiring exercise was designed to assess whether an applicant's sexuality affects her perceived qualification for a job opening. Participants were also asked to complete several surveys targeting potential reasons for homophobia, with a focus on the level of the femininity of the participant, but also looking at experience with homosexuality and attitudes and actions toward homosexuality.
In analyzing her study's findings, Johns found that femininity levels in women had no significant relationship with homophobic attitudes or actions. Her research may shed new light on important predictors of homophobia in women, which she believes is an essential step in confronting the issue on a societal level.
While a student at Whitman, David Nord served as president of the student government and was an active member of his fraternity. He received a Harry S Truman scholarship for post-graduate study, as well as a U.S. Senate Leadership Award. After graduation, he worked as an intern with the late U.S. Sen. Henry M. Jackson and served as a delegate to the 1996 Democratic Party Convention. He earned his master's degree in psychology from Antioch University and was a practicing therapist, researcher and author.
CONTACT: Dave Holden, Whitman News Service
509 527-5902; holden@whitman.edu