Lisa L. Johnson, a Whitman College honors graduate in Asian Studies, is the latest recipient of the annual Connie Jill Carlstrom Endowed Award for Japanese Studies. The Carlstrom Award, which includes a $2,000 cash prize, is presented each spring to one or more outstanding students of Japanese language and culture.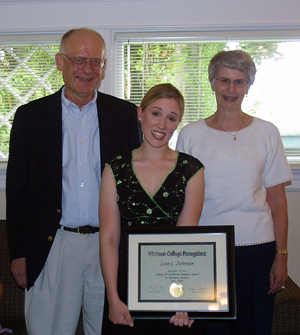 Lisa Johnson with Roger and Connie Carlstrom.
Johnson, who graduated cum laude on May 22, wrote her honors thesis on Furuta Oribe, a 16th century warrior-aristocrat who became one of the highest-ranking teachers of the tea ceremony in Japan.
A graduate of Lewis & Clark High School in Spokane, Wash., Johnson is the daughter of Linda and Paul Johnson of Spokane.
The Carlstrom Award honors the late Connie Jill Carlstrom of Yakima, Wash., who graduated from Whitman in 1993 and was teaching English in Japan when she died in September of that year. Ms. Carlstrom's family and friends, including her parents Connie and Roger Carlstrom of Yakima, established the awards program. This marks the 12th year the award has been given.
According to Ron Takemoto, an assistant professor of Japanese at Whitman, Johnson brought tremendous energy and effort to her Japanese studies. "Lisa took every Japanese class that was offered at Whitman," he said. "She never missed a single class, and she worked harder than any student I have had in recent years."
Takemoto also praised Johnson's thesis study of Furuta Oribe (1544-1615), which incorporated an exploration of the history, politics and aesthetic ideas that defined the Momoyama period of Japan. "Using numerous sources, Lisa showed the kind of tenacity and hard work that is required to write a strong honors thesis," he said.
Oribe provided a fascinating study subject, Johnson said. He spent most of his younger years on the battlefield involved in skirmishes that marked a tumultuous and bloody period of Japanese history in which warlords fought to unite the country under one rule. His primary legacy, however, stems from his commitment later in life to the tea ceremony.
"In fact, more than his political or martial acumen, his aesthetic sensibility greatly influenced tea taste in the Momoyama period and he quickly became noted as one of the most important tea teachers in the land," Johnson said. "But his interests lay not only in tea; a style of ceramic art carries his name, and scholars suspect he started a new and bolder style of pottery that differed from the tastes of the earlier tea masters. Oribe also designed the Ennan (Swallow's Rest) Tea House that has been preserved as a National Treasure at the residence of the Yabunouchi family in Kyoto."
Johnson began her studies of the Yabunouchi School of Tea during her sophomore year at Whitman, when she also lived in Tekisuijuku, the Japanese language house on campus. She then spent her junior year in Japan, taking classes as part of the Associated Kyoto Program. Whitman is one of 15 liberal arts colleges in the U.S. that selects about 40 students for intensive studies at Doshisha University in Kyoto, Japan.
While Johnson was in Kyoto, she was one of three Whitman students who were introduced by Takemoto to Yabe Keishu, a head teacher and adviser to the Grand Master of the Yabunouchi Tradition of Tea. During their eight months in Japan, Johnson and her classmates continued their weekly lessons in the tea ceremony at Yabe's residence in Kyoto.
With grant funding from AsiaNet and the Freeman Foundation, Johnson returned to Kyoto last summer (with Takemoto, two other Whitman students, and a recent Whitman graduate) for three weeks of additional studies of the tea ceremony. Last fall, Johnson and her classmates worked with Takemoto to host a series of five tea ceremonies in Chikurakken, the Whitman tea room. Three more tea ceremonies were performed this spring, and in late April, Takemoto and his students gave a tea ceremony performance at AsiaNet's national convention in Whittier, Calif.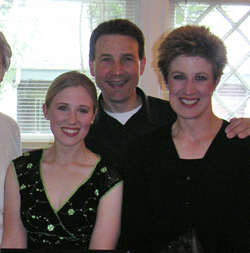 Lisa Johnson with proud parents, Paul and
Linda Johnson.
Johnson's interest in the Japanese language and culture began at a young age. Her uncle Akira Yoshida, a native of Kawasaki, Japan, first came to the U.S. as a college student and provided his niece with early and ongoing inspiration.
"From a very young age, I remember being curious about the country he represented," she said. "Every time his relatives came to visit my uncle and his family, they brought me small gifts, and through those presents, a new and fascinating world opened for me. They put me on their laps and spoke to me while my uncle translated. I remember thinking impatiently to myself that he took too long to translate what they were saying. I wanted to talk to them myself without help from anyone else."
Johnson began taking Japanese culture classes while in middle school and eventually took four years of Japanese language classes at Lewis & Clark High School.
Johnson, who minored in politics at Whitman, worked as a student intern in the registrar's office throughout her four years on campus. In August, she starts work as a business analyst in the Seattle office of Deloitte Consulting.
"While many people find it hard to believe that an Asian Studies major would go into the business world, Whitman taught me to not be afraid of doing something different, and instead to take the opportunity, learn from it, and grow from the new and exciting experiences that await," Johnson said. "The people I met at Deloitte enjoy challenging themselves, problem solving and working together to come to the best solution for their clients. Deloitte did not advertise for people with a background of economics or business. Instead, they looked for characteristics not learned from book knowledge – communication skills, analytical skills, interpersonal skills – and Whitman honed my abilities in those areas over the past four years."
Although Deloitte has member firms in Japan and around the globe, Johnson noted, she anticipates most of her immediate business travel and transactions will take place within the U.S. "I was not hired because of my Japanese skills, but I hope to find a way to use them," she said. "In my free time, I'm planning to read a lot and find Japanese conversation partners to keep up my language skills. In the future, I would like to work in some facet of U.S.-Japan relations."
CONTACT: Dave Holden, Whitman News Service
holden@whitman.edu; 509 527-5902