Whitman Education, Medical Field and Heritage Influence Alumna's YA Novel
By Whitney Rich '20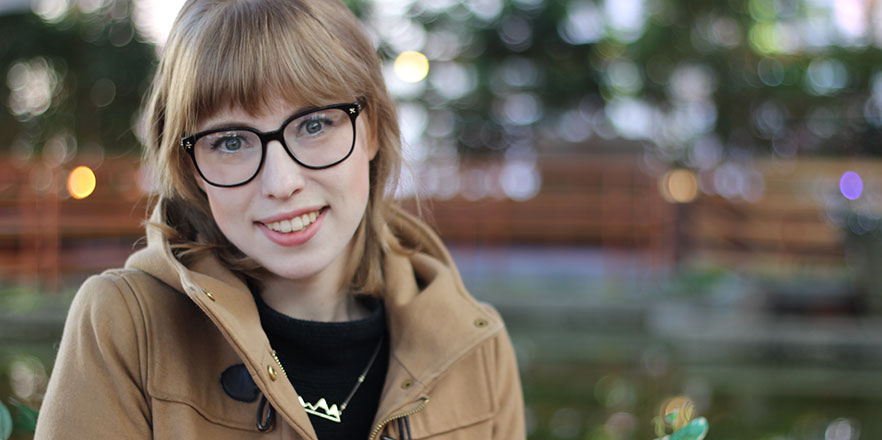 Aleksandra Ross '14 believes that she wouldn't have written the same book if it weren't for her Whitman education.
Ross' first young adult novel will be released April 28, 2020. Titled "Don't Call the Wolf," the book is fantasy at a faster pace, Ross said, and is heavily influenced by Polish and Slavic folklore. Set in the late 19th century, the book has a very gothic take on the fantastic magical world of frightening monsters. Full of dragon slayers, haunted forests, enchanted mountains and tenuous alliances, "Don't Call the Wolf" brings Polish folklore to life.
Ross grew up in Vancouver, British Columbia, Canada, enthralled by these mythical tales, due in part to the Polish heritage of her mother's family. But it was not until she was a student at Whitman that she revisited these fairytales and was inspired to write her own story with them. In 2012, Ross' grandmother passed away and Ross found herself reading about Polish history as a way to remember her grandmother.
"I came across an internet article about the Baba Yaga, which is probably one of the most famous of Polish monsters and myths and I had this powerful memory of my grandma telling me about it when I was a kid," Ross said.
It was then that Ross knew she wanted to write a book that was a Western take on a Slavic fairytale.
"I wanted to represent my background, it was a way for me to get back in touch with my heritage and to learn more about myself as a person, and about my grandma as well," Ross said.
As ideas of dragons and mythical battles percolated in the back of her head, Ross continued her life as a Whitman student, attending classes in history, English literature, and the sciences. As a biochemistry, biophysics and molecular biology (BBMB) major, Ross found that her writing became more of a hobby as she took on the demanding course load of the major. Many at Whitman probably never knew of Ross' interests in fantasy and writing.
"To be totally honest I didn't really talk about wanting to write fiction. It was something that I kind of kept to myself," Ross said. The only person at Whitman that knew of her ambitions to be an author was Don Snow, her first-year Encounters professor.
"I think that Encounters with Don Snow was the single biggest factor at Whitman that made me want to be a writer. He is so generous with his time and mentorship," Ross said.
After graduation, she returned to Canada to attend medical school in Alberta. She continued to pursue her love of writing with a master's in science writing at Johns Hopkins University that she completed during her holiday breaks from medical school. In 2018 Ross received her master's in science writing and in 20019 she graduated from University of Alberta medical school. She is now a resident at the British Columbia Children's Hospital in the genetics department.
"I love genetics because it is a mixed bag of things. I love working with kids with different abilities and needs," she said.
Completing medical school, a master's in science writing and a book is no easy feat and Ross credits her ability to manage her time effectively to her love of what she does.
"I think that writing the book while a medical student was fun in a weird way. I would sometime dictate parts of the book while on the bus or walking home from work," Ross said.
Ross' passion for medicine is not left out of "Don't Call the Wolf." One of her characters is a medic in the Army that provides first aid in the form of medicinal herbs to the other characters. The medicinal herbs come from Ross' knowledge of Polish and Slavic folklore. In another scene, a character sutures up a wound.
"That scene in the book talks about how she puts in the sutures and the instructions that she gives are taken from my own emergency medical training," she said.
It wasn't until she reflected on her writing process and the finished product of the book that she realized the myriad of influences it contained: from medical training, to history and English classes at Whitman, to family heritage and her first-year Encounters course – "Don't Call the Wolf" is truly a product of the complex, and inspiring life of its author.
"I don't know if I would have written the same book without Whitman and I don't know if would've become an author as quickly as I did," she said. "Whitman gave me the background to pursue a very prerequisite, GPA-driven specialty, but it also gave me the background to write a very interdisciplinary story and a lot of the research that went into 'Don't Call the Wolf' were research techniques I learned at Whitman."
Editor's Note: Aleksandra Ross is the author's pseudonym, and it was used here by her request.
Published on Apr 27, 2020