President's Gift Societies

The members of the President's Gift Societies are an exceptional group of contributors who help maintain the outstanding academic reputation of Whitman College. More than 80 percent of all incoming first-year students cite reputation as very important in their decision to attend Whitman.
Contributors who invest at the President's Gift Societies' levels help make it possible for Whitman to:
Award more than $30 million in scholarships
Support a variety of academic and co-curricular programs
Attract the most qualified faculty members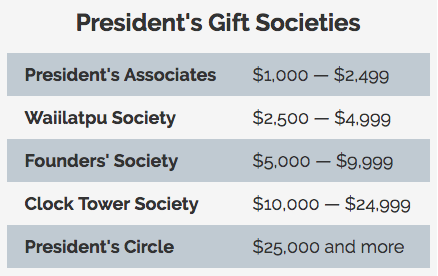 All fiscal year (July 1 - June 30) gifts are counted toward gift society membership and matching gifts can help you qualify. Whitman is proud to recognize members of the Gift Societies in the Annual Report of Gifts.

President's Gift Societies Gift Form