Whitstock
The third annual Whitstock, Whitman's celebration of peace and love, is coming up on Friday! It's a free event that will be held in Young Ballroom in the Reid Campus Center. Here is the lineup of musicians:

The 205 6:30 p.m. to 6:45 p.m.
Sami Braman, Mary Noyes, Claire Maurer

Tasha Waterman 6:50 p.m. to 7:05 p.m.

Still Standing 7:10 p.m. to 7:35 p.m.
Keith Farrington, George Smith, Jim McNett


Schwa 7:40 p.m. to 7:55 p.m.
Madison Wray, Lizzy Gazeley, Serina Vue, Ellery Shore, Rachel Evered, Rajesh Narayan, Katie Darrow, Yan Dardonville, Ben Adams, Blake Killingsworth, Jules Choquart, Noah Cavanaugh, Andy Burnstein


My Sister Linoleum 8 p.m. to 8:20 p.m.
Bill Bogard, Janet Berger


Phil Lynch Trio 8:25 p.m. to 8:50 p.m.
Phil Lynch, Michael Simon, Doug Scarborough


Crossing Isaacs 8:55 p.m. to 9:25 p.m.
Jake Barokas, Steven Aslin, Hunter Dunn, Eve Goldman, Pono Brown, Madison Wray, Jeffrey Gustaveson, Aiyana Mehta, Takka Olds


Josephine Fox 9:30 p.m. to 10 p.m.
Brian Griffith, Lindsay Mulholland, Nate Carlile, Steve Leamy, Topher McLellan
Nagasaki-Hanford Bridge Project
Beginning on March 5, Japanese "hibakusha" (atomic bomb survivor) Mitsugi Moriguchi, a child at the time of the Nagasaki bombing, will visit the Hanford region near Richland, Washington, where the plutonium for the dropped bomb was produced. He comes on a mission of peace as the first messenger to Hanford from Nagasaki. Hanford's radiation releases have created a legacy of diseases in the population downwind and downriver of the site. Therefore, despite being on opposite ends of a war, Nagasaki and Hanford remain connected through this toxic history.
The events of the Nagasaki-Hanford Bridge Project are sponsored by Consequences of Radiation Exposure (CORE), a Washington State nonprofit, and Global Studies at Whitman College. Below are the events of the project that will be hosted at Whitman.
Hanford Reach Reception
Meet Glenna Cole Allee, the artist of Hanford Reach, an installation combining photography, sound, and video projection to create a map of Hanford, the Manhattan Project site in Washington State where plutonium was manufactured beginning in World War II.
Tuesday, March 6 at 4 p.m. at Maxey Auditorium in Maxey Hall
Hanford Reach Artist Presentation
Glenna Cole Allee will present her installation, Hanford Reach.
Tuesday, March 6 at 6:30 p.m. at Maxey Auditorium in Maxey Hall
Hibakusha at the End of the World
Directed by Hitomi Kamanaka, Hibakusha at the End of the World (2003) is about radiation victims and survivors around the world, from post-Gulf War Iraq to Hanford to Hiroshima and Nagasaki.
Tuesday, March 6 at 7 p.m. at Maxey Auditorium in Maxey Hall
Nagasaki-Hanford Bridge Project
Introduction of program by Trisha Pritikin, chair of CORE and Hanford downwinder.
Introduction of the Nagasaki-Hanford Bridge Project by Yuki Miyamoto, CORE board member; associate professor of religious studies at DePaul University; author of Beyond the Mushroom Cloud (Fordham University Press, 2011) and a second-generation hibakusha
"From Walla Walla to Nagasaki/Hanford via Chernobyl, Fukushima, and the University of Chicago," a presentation by Norma Field, CORE board member; professor emerita of East Asia studies at the University of Chicago; researcher and teacher on the global nuclear age, with current focus on Fukushima
Testimonial by Moriguchi in Japanese with English translation.
Panel discussion of health impacts of plutonium production/bomb detonation with Moriguchi, Pritikin, and Tom Bailie, Hanford downwinder.
Q&A session
Wednesday, March 7 at 7 p.m. at Maxey Auditorium in Maxey Hall
Workplace safety presentation
On March 19, the Walla Walla Area Crime Watch, Walla Walla Police Department and the City of Walla Walla sponsor a presentation, "Workplace Safety/Active Shooter," in Maxey Hall. The college will pay for the registration of any Whitman faculty and staff interested in attending. Those who are interested in attending but are not employed by Whitman may attend by paying a fee of $15.
Whitman faculty and staff members may attend one of the three sessions. Contact Kathy Rogers no later than March 12 to indicate which session you want to attend.
News Briefs
Professor of Film and Media Studies Robert Sickels and Sheehan Gallery Collections Manager Kynde Kiefel won Best Experimental Short at the Arizona Underground Film Festival last weekend for Molasses & Lemon. You can view pictures of the film here.
Campus Events
Whitman Studio Music Instructor Michael LeFevre will be the featured soloist with the Walla Walla Symphony in a performance of Joaquín Rodrigo's "Concierto de Aranjuez" for guitar and orchestra. The program will also feature orchestral works by Mozart (Symphony No. 40 in G minor) and Ravel ("Le Tombeau de Couperin"). Though a ticket is needed to attend the performance, there will be a free "Inside the Music" pre-concert talk at 6 p.m. in the Cordiner Lobby. Concert tickets, $5-$29, can be purchased here.
Tuesday, March 6 at 7 p.m. at Cordiner Hall
2011 winner of the People's Choice Award at the Toronto International Film Festival, this satire is set in a village where Christians and Muslims live together in an uneasy peace. When sectarian violence erupts in the surrounding countryside, a group of Lebanese women decide to take matters into their own hands.
Tuesday, March 6 at 7:30 p.m. at Kimball Theatre in Hunter Conservatory
The Whitman College Music Department presents the Harrington String Quartet with Rossitza Goza and Evgeny Zvonnikov, violin; Vesselin Todorov, viola; Emmanuel Lopez, cello. The event is free and open to the public.
Wednesday, March 7 at 7:30 p.m. at Chism Recital Hall
Athletic Events - Home Games
Saturday, March 10 at 11 a.m.
Saturday, March 10 at 12 p.m.
Saturday, March 10 at 12 p.m. and 3 p.m.
Sunday, March 11 at 9 a.m.
Sunday, March 11 at 12 p.m.
Sunday, March 11 at 12 p.m.
Parting Shot
by Digital and Social Media Specialist Bryce Heuett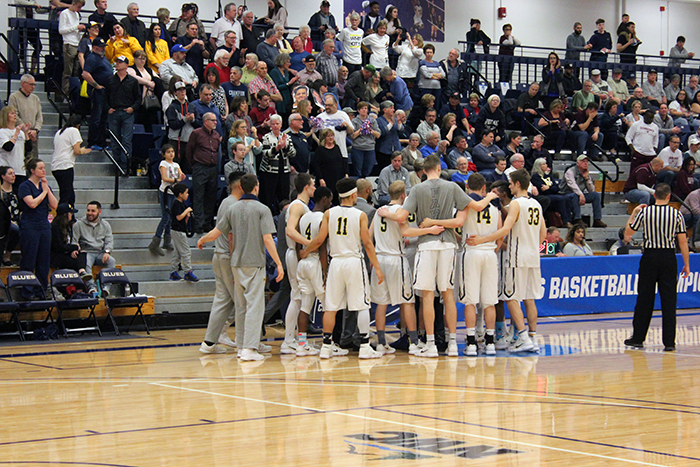 The Fountain is published by the Office of Communications.
Send news relevant to staff and faculty members to thefountain@whitman.edu for inclusion in The Fountain. Photos are accepted and submissions are due by Tuesday at 5 p.m. for the following week's issue.
For news relevant to external audiences, use our online News Tips form.

Compiled by: Bryce Heuett