Tom Edwards Memorial Service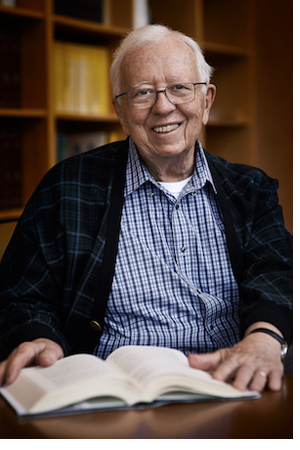 G. Thomas Edwards, historian, teacher, scholar, and mentor to generations of Whitman students, passed away on Jan. 10.
A memorial service is planned for Sunday, Feb. 11, at 1:00 p.m. at Marylhurst University, 17600 Pacific Highway, Marylhurst, OR 97036. Once on campus, look for signs directing you to the service. Parking is available on campus.
Edwards accepted a position in the Whitman History Department in 1964. A respected colleague, dedicated teacher, and active scholar, Edwards held numerous leadership positions on the faculty, including elected chair of the faculty. He was named the William Kirkman Professor of History in 1985 and earned the Burlington Northern Teaching Achievement Award and the Robert Y. Fluno Teaching Award. Upon his retirement, his former students joined together to fund the G. Thomas Edwards Award for Excellence in the Integration of Teaching and Scholarship, marking Edwards' special ability to combine these complementary talents.
When approached in 1982 by then President Bob Skotheim about the possibility of writing a scholarly history of Whitman, Edwards, after careful consideration of the sources and scope of the project, accepted the opportunity. The publication of The Triumph of Tradition, winner of the Governor's Award, in 1992, and Tradition in a Turbulent Age in 2001 added significantly to scholarship on the history of higher education in the Pacific Northwest. To Whitman alumni, those volumes capture the spirit that defines much of the Whitman experience, regardless of their year of graduation.
After his retirement from Whitman in 1998, Edwards returned with his wife, Nannette, to his home state of Oregon. Former students will recall vividly Edwards' ability to present the saga of the Civil War from the cacophony of battle to the dynamics of military leadership, and from political struggles leading up to the war to the impact on free and enslaved people during the war. Recent days were filled with emails, notes and phone calls from former students, Whitman presidents, faculty and staff, reminding him of his influence on them and on Whitman.
Edwards is survived by his daughter, Stephanie Plowman '85 (Gary); son, Randall Edwards (Julia Brim), of Portland, who also attended Whitman; and five grandchildren: Katherine, Thomas and Jackson Brim-Edwards, and Reid and Marie Plowman.
Faculty & staff news briefs
Director of Business Engagement Kim Rolfe was quoted by George Anders, author of You Can Do Anything: The Surprising Power of a Useless Liberal Arts Degree (Little, Brown, 2017), in a LinkedIn post last week. Anders spoke highly of Rolfe's tips and insights on helping college students get value out of career-focused meetings: "Be mindful of different attitudes toward smartphone use across the generations," Anders wrote of Rolfe's ideas. "Students may pull out their phones, partway through a networking moment, to start taking notes.
"Older-generation managers, employers, etc., may think (mistakenly) that this is a prelude to a selfie. (That wouldn't be nearly as welcome.) So," he continued, "in the interests of keeping it all harmonious, there's a lot to be said for having students explain what they want to do with the phone, and asking permission. Then everyone stays happy."
---
Carl E. Peterson Endowed Chair of Sciences Professor Paul Yancey provided footage of the Mariana Trench for BBC's new documentary, Blue Planet II, with David Attenborough. On Jan. 27, Episode 2 explored the deep sea, including video featuring the discovery of the world's deepest known fish. That footage was obtained on a Schmidt Ocean Institute funded expedition in 2014 that included Yancey, Mackenzie Gerringer '12, Anna Downing '16 and Chloe Weinstock '17.
Staff additions and transitions
Welcoming the latest addition to Whitman College:
Kristen Handley
IT Data Specialist
Rebecca Devereaux
Video and Multimedia Producer
Campus Events
With Global Studies, the Geology Department is hosting O'Donnell Visiting Educator Luke Bowman.

At this presentation, he will discuss his career path, his life in Latin America and how he's been able to contribute to international geology.
Monday, Jan. 29 at 4 p.m. in Hall of Science, 151
Martinez, author of Best Worst American: Stories (Small Beer Press, 2017), was a visiting professor at Whitman during the 2011-12 academic year. He is currently an assistant professor of English at Northwestern University.

The Visiting Writers Reading Series brings established and emerging writers to share work with the community. The series is sponsored by the English Department with additional support from the Mabel Groseclose Fund.
Thursday, Feb. 1 at 7 p.m. in Kimball Theatre - Hunter Conservatory
Professor Emeritus of Anthropology, Rollefson specialzes in paleolithic and neolithic stone tools, prehistoric religion and social organization, and paleoclimate and its effect on social development. He has conducted fieldwork in Jordan, Saudi Arabia, and Israel, and his publications include Prehistoric Archaeology in the Deserts of Jordan (American Center of Oriental Research, 2009).
Saturday, Feb. 3 at 7:30 p.m. in Olin Auditorium, Room 129
Tunisia, in the months preceding the Arab Spring: this film shadows Farah, a rebellious young woman seeking her place in the world.
Sunday, Feb. 4 at 7:30 p.m. in Kimball Theatre - Hunter Conservatory
Parting Shot
by Noah Leavitt, Director of the Student Engagement Center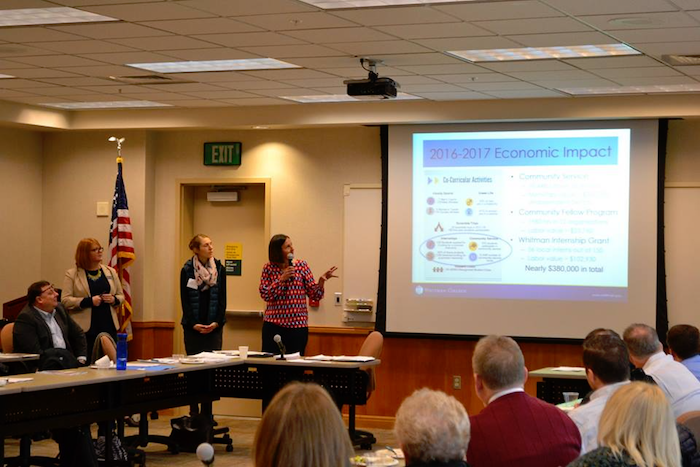 The Fountain is published by the Office of Communications.
Send news relevant to staff and faculty members to thefountain@whitman.edu for inclusion in The Fountain. Photos are accepted and submissions are due by Tuesday at 5 p.m. for the following week's issue.
For news relevant to external audiences, use our online News Tips form.

Compiled by: Bryce Heuett