Whitman receives $800,000 Mellon grant
Whitman College has received a three-year grant of $800,000 from the Andrew W. Mellon Foundation.

The Mellon grant will help the college infuse diverse perspectives into the curriculum and promote community engagement, with an emphasis on the humanities and humanistic social sciences (the focus of the Mellon Foundation), and it will also provide faculty with professional development opportunities. The grant will be overseen by Provost Alzada Tipton, with faculty management led by Professor of Anthropology & Interdisciplinary Studies Jason Pribilsky '93 (representing Division I), Associate Professor of Studio Art Nicole Pietrantoni (representing Division II), and a faculty advisory committee. The program that was created through the grant was developed by a group of faculty and staff, with broad consultation with multiple campus constituents. Faculty professional development programs will be overseen by Associate Dean for Faculty Development Lisa Perfetti and Vice President for Diversity and Inclusion Kazi Joshua, in collaboration with faculty.
With this Mellon grant, Whitman will increase its commitment to community engagement as a means to broaden students' perspectives and provide a variety of high-impact community experiences that are tied to the academic program. In addition, several programs will provide faculty development opportunities in inclusive pedagogy, course revision/development, and community-based learning. Finally, the grant will strengthen the Student Engagement Center so it can provide greater support to faculty in their development of community partnerships and community-based learning courses. Program planning will begin in the spring, with the first initiatives scheduled to launch in the summer.
Banff Mountain Film Festival this Wednesday

The Banff Mountain Film Festival, an international film competition and an annual presentation of short films and documentaries about mountain culture, sports and environment, will be held at Cordiner Hall at 7 p.m. on Wednesday, Jan. 24. Doors open at 6:30 p.m.
Tickets are available at the Whitman College bookstore, the OP Rental Shop (both located in the Reid Campus Center), and at the door. Whitman students, faculty and staff get in free with their ID and those tickets will only be available at the door. Adult ticket: $15; non-Whitman students with ID: $10; and children age 16 and younger and Whitman alums: $5.
As always, local sponsors have gone big with donations for raffle prizes! Sponsors this year are Graze: A Place to Eat, Allegro Cyclery, Bicycle Barn, Dusty's Ski and Snowboard Shop, Ski Bluewood, Blue Mountain Credit Union, Lost Boardroom, Frog Hollow Farm, and Greg Lehman Photography, and new this year is Revolver Yoga!
For more information, contact Outdoor Program Rental Shop Manager Lish Riley.
Premera is going paperless
Did you know that you can reduce your clutter and help protect your privacy by notifying Premera to communicate with you electronically? In a few short steps you can update your profile to receive your explanation of benefits via email.
Log in at www.premera.com, look on the left under "Member Services," click "Manage My Account," select "Go Paperless," and then select, "Yes I want email notifications instead of mailed paper copies." You can change your settings at any time. Make sure that your secure email notification settings are set to "On" and that you have provided a notification email address. (Select Secure Inbox under Manage My Account to check these settings.)
Campus Events
Join O'Donnell Visiting Educator Dr. Luke Bowman for a public lecture, "Disaster Risk Reduction and the United Nations' Sustainable Development Goals."
Tuesday, Jan. 23 at 7 p.m. in Brattain Auditorium, Hall of Science
With daring maneuvers and displays of contortion, flexibility, and control, the Peking Acrobats are masters of agility and grace. Their gravity-defying acts will be accompanied by musicians playing traditional Chinese instruments.
Tuesday, Jan. 23 at 7 p.m. in Cordiner Hall
Entrepreneur Jonathan Sposato '89 was the first person to sell two businesses to Google. He only invests in women-led startups. Sposato, who is also a Whitman College trustee, believes that organizations perform at their best when men and women support one another.
Wednesday, Jan. 24 at 7 p.m. in Young Ballroom, Reid Campus Center
A French take on the Florence Foster Jenkins story, with Catherine Frot as Marguerite Dumont, the rich diva who can't sing.
Sunday, Jan. 28 at 7:30 p.m. in Kimball Theater, Hunter Conservatory
Athletic Events - Home Games
Friday, Jan. 26 at 6 p.m.
Friday, Jan. 26 at 8 p.m.
Saturday, Jan. 27 at 4 p.m.
Saturday, Jan. 27 at 6 p.m.
Parting Shot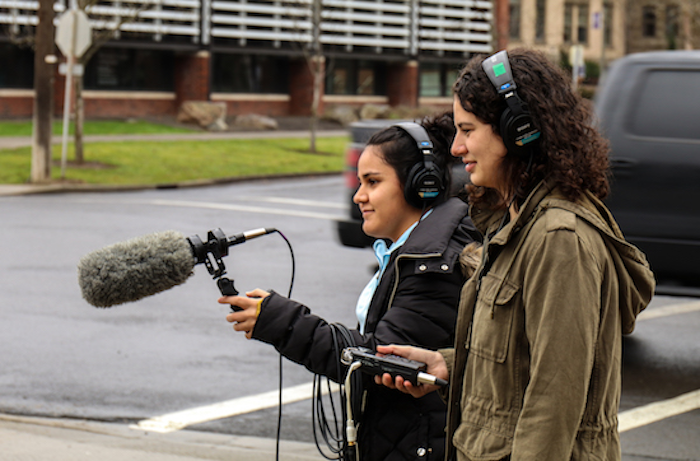 The Fountain is published by the Office of Communications.
Send news relevant to staff and faculty members to thefountain@whitman.edu for inclusion in The Fountain. Photos are accepted and submissions are due by Tuesday at 5 p.m. for the following week's issue.
For news relevant to external audiences, use our online News Tips form.

Compiled by: Bryce Heuett