Workplace safety presentation
On March 19, the Walla Walla Area Crime Watch, Walla Walla Police Department and the City of Walla Walla are sponsoring a presentation, "Workplace Safety/Active Shooter," in Maxey Hall.
Whitman faculty and staff members may attend one of the three sessions. Contact Kathy Rogers no later than March 12 to indicate which session you want to attend.
Premera mobile app
You can now manage your Whitman Premera Blue Cross health plan through the new Premera app. The free app's personalized tools let you:
Find care: Search for in-network doctors, hospitals, urgent care and more.
Access your ID card: Forgot your insurance card? Don't worry, you can show your proof of coverage through the app.
Call the 24-Hour NurseLine: Get advice for your health questions.
See your spending: Tabulate your deductible and out-of-pocket maximum balances.
Use touch ID: You won't have to remember a password.
You can download the free mobile app on your Android or iOS devices.
Faculty and staff news briefs
Mackenzie Gerringer '12, a postdoctoral researcher at University of Washington's Friday Harbor Laboratories, and Carl E. Peterson Endowed Chair of Sciences Paul Yancey copublished a paper, "Distribution, Composition and Functions of Gelatinous Tissues in Deep-sea Fishes," which explores building a robotic deep-sea fish to understand why so many deep-sea fishes contain gelatinous tissues in place of muscle. Coauthors include UW's Adam Summers, science consultant for Finding Nemo, the 2003 hit movie. Science News' coverage of the study can be found here.
---
Assistant Professor of Composition in General Studies Lydia McDermott, who also directs the Center for Writing and Speaking, has received the Graves Award in the Humanities, administered by Pomona College under the auspices of the American Council of Learned Societies. The grant will further her research into the pedagogy of writing for non-native English speakers, with a focus on those from China. McDermott will visit writing centers and English language classrooms in China, attend conferences on second language acquisition, and extend her own Chinese language study in the summers of 2018 and 2019. She will take two Whitman student researchers with her. She will also collaborate with recent Whitman graduates teaching English at Yunnan University as part of the Whitman in China program. Whitman can nominate one candidate for the Graves Award every other year.
Staff additions
Andy Asmus, landscape specialist
Campus Events
Associate Professor of Creative Writing and English Scott Elliott will speak about the power of story and the impact reading and writing have on people of all ages. A group discussion will follow; complimentary tea and scones will be available for the first 20 guests. This event is hosted by one of Whitman's school-based volunteer programs, Story Time Project.
Wednesday, Feb. 28 at 4:30 p.m. in Olin Hall, 128
Whitman College Department of Music presents a lecture recital featuring guest artists Emery Stephens, baritone; and Carolina Helton, soprano; along with Whitman Senior Lecturer of Music Monica Griffin Hunter, soprano. This project proposes ways in which music teachers can help overcome barriers to integrating art songs and spirituals by African­-American composers into the canon of solo concert repertoire, as well as enable voice students from all racial backgrounds to forge a more visceral understanding of the range of African­-American experiences, both contemporary and historical.
Wednesday, Feb. 28 at 7:30 p.m. in Chism Recital Hall
New Mexico State University Professor of History Margaret Malamud will lecture about "Figuring Classical Heroism: African-American Uses of the Classical Tradition."
Thursday, March 1 at 6:30 p.m. in Olin Hall, 223
Jenny Price, a ranger at Los Angeles Urban Rangers, a group that sparks creative explorations of everyday habitats, will discuss how her organization and counterparts create participatory public projects to remake urban environments and public spaces.
Thursday, March 1 at 7 p.m. in Maxey Hall, Auditorium (W33)
Mahato, author of In Between: Poetry Comics, will discuss her book and experiences as an artist and writer. She taught at Whitman in 2004-05 and is currently an associate professor of English at University of Puget Sound and part of this year's Visiting Writers Reading Series.
Thursday, March 1 at 7 p.m. at Kimball Theatre in Hunter Conservatory
Morton will speak about the archaeology of health in the early 20th-century American West. She is a registered cultural resource management archaeologist with the Fort Walla Walla Museum.
Thursday, March 1 at 7:30 p.m. at Kimball Theatre in Hunter Conservatory
Chaos, conflict and confusion abound as a bitter presidential campaign divides the country. It is 1968, Martin Luther King Jr. has just been assassinated, and nearly 550,00 soldiers are in Vietnam when nine ordinary people commit an act of civil dissent in Catonsville, Maryland, and galvanize a national protest movement. Click here for ticket information.
Thursday, March 1 - Saturday Mar. 3 at 8 p.m. at Harper Joy Theatre; Sunday March 4 at 2 p.m. at Harper Joy Theatre
The Kappa Alpha Theta sorority hosts its annual Walla Walla's Got Talent event. Tickets are $10/adult and $7/student and are available at the door. Proceeds benefit the Walla Walla and Columbia counties Court Appointed Special Advocates programs. For more information, call 509-524-2807.
Friday, March 2 at 7 p.m. in Cordiner Hall
Whitman College Department of Music presents a student recital for students of Lecturer of Music Amy Dodds and Studio Music Instructor Sally Singer Tuttle.
Saturday, March 3 at 7:30 p.m. in Chism Recital Hall
Athletic Events - Home Games
NCAA National Tournament - First Round
Friday, March 2 at 7:30 p.m.
Saturday, March 3 at 10 a.m.
Saturday, March 3 at 12 p.m. and 3 p.m.
Sunday, March 4 at 10 a.m.
Sunday, March 4 at 12 p.m. and 3 p.m.
Parting Shot
by Video & Multimedia Producer Rebecca Devereaux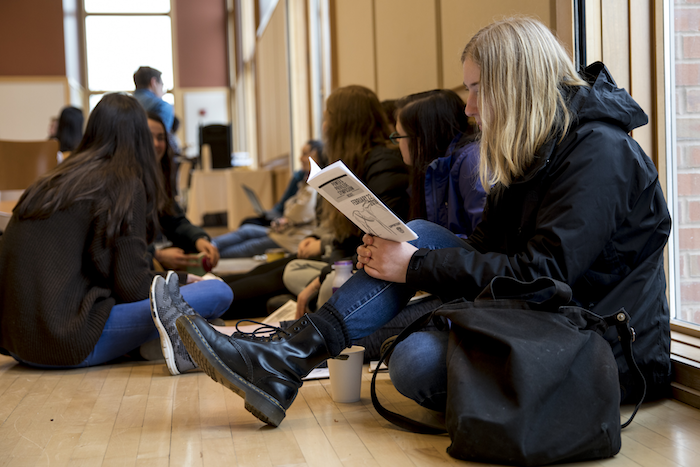 The Fountain is published by the Office of Communications.
Send news relevant to staff and faculty members to thefountain@whitman.edu for inclusion in The Fountain. Photos are accepted and submissions are due by Tuesday at 5 p.m. for the following week's issue.
For news relevant to external audiences, use our online News Tips form.

Compiled by: Bryce Heuett