Local suicide prevention website launched
Last semester, the Walla Walla County Suicide Prevention Work Group invited Whitman staff and faculty to take part in an anonymous survey regarding suicide and mental health-related issues in the community. The group is now in the phase of beginning to implement county-wide suicide prevention strategies. One such resource is this website: reachoutww.org. Questions? Contact Assistant Director of Counseling Tracee Anderson.
Campus Events
Karma Chávez, author of Queer Migration Politics (University of Illinois, 2013), explores how immigrant communities were often the primary target of federal legislation and policy surrounding HIV/AIDS. The talk will examine how legislators used the rhetoric of "common sense" to target racialized immigrants from the early days of the pandemic and what that meant for the making of a national identity based on age-old anxieties around immigrants as parasitic and diseased.
Tuesday, Sept. 19 at 4 p.m. in Olin Auditorium
Ranging from the Nez Perce Nation in Idaho to the Kamchatka Peninsula in Russia, University of Arizona Visiting Educator of Environment Studies Benedict J. Colombi lectures on the relationships between indigenous peoples and salmon and the complex challenges posed by dams and other human-environmental problems in the Columbia River Basin and North Pacific.
Wednesday, Sept. 20 at 4 p.m. in Maxey Hall, Room 207
Keith Watenpaugh, professor and founding director of the Human Rights Studies Program at the University of California, Davis, presents the Sivert O. and Marjorie Allen Skotheim Lecture in History. He connects his historical work and his contemporary humanitarian efforts to explore the dilemmas posed by the Syrian War.
Thursday, Sept. 21 at 7 p.m. in Olin Auditorium
The Visiting Writers Reading Series presents Kimberly Johnson, poet and professor of English literature and creative writing at Brigham Young University. Johnson's writing has appeared in publications such as The New Yorker, Slate and The Iowa Review. Her poetry collections include Leviathan with a Hook (2002), A Metaphorical God (2008) and Uncommon Prayer (2014), all published by Persea Books.
Thursday, Sept. 21 at 7 p.m. in Kimball Theatre, Hunter Conservatory
Jennifer Tobin, associate professor in the Department of Classics and Mediterranean Studies at the University of Illinois at Chicago, has published two books, Black Cilicia: A Study of the Plain of Issus during the Roman and Late Roman Periods (British Archaeological Reports, 2004), and Herodes Attikos and the City of Athens: Patronage and Conflict under the Antonines (Brill Academic Publishers, 1997), as well as articles, papers and reviews.
Thursday, Sept. 21 at 7:30 p.m. in Olin Hall, Room 201
Athletic Events - Home Games
Saturday, Sept. 23 at 8 a.m.
Saturday, Sept. 23 at 5 p.m.
Sunday, Sept. 24 at 8 a.m.
Parting Shot
by Assistant Professor of Biology Arielle Cooley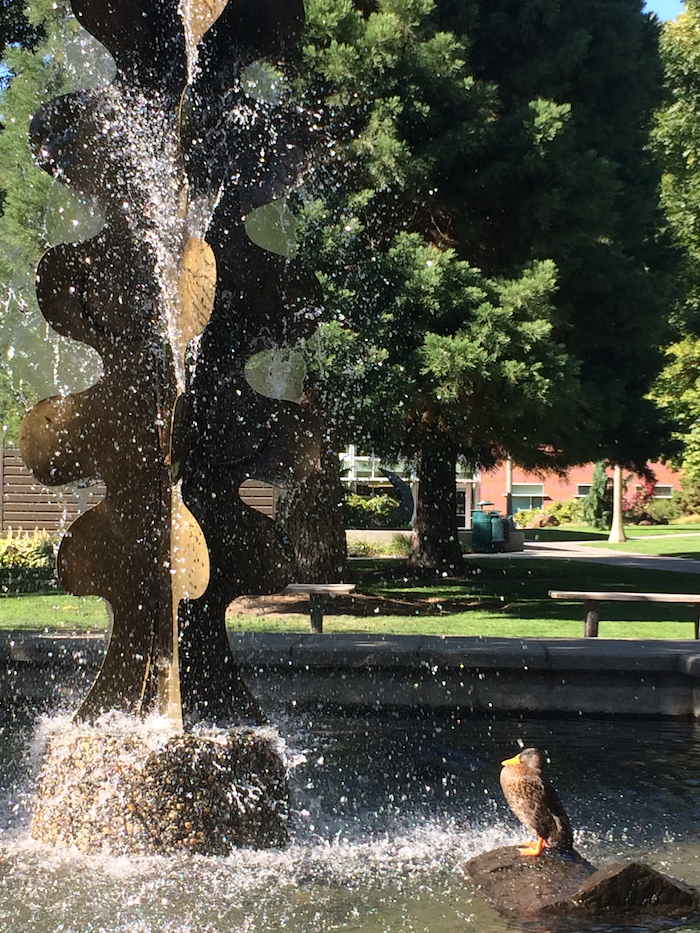 The Fountain is published by the Office of Communications.
Send news relevant to staff and faculty members to thefountain@whitman.edu for inclusion in The Fountain. Photos are accepted and submissions are due by Tuesday at 5 p.m. for the following week's issue.
For news relevant to external audiences, use our online News Tips form.

Compiled by: Bryce Heuett