Take the Campus Climate Survey
The Campus Climate Survey is now live, and all staff and faculty are encouraged to share their perspective on what it is like to live and work here at Whitman. The results of the survey will help Whitman achieve its goal of increasing diversity and inclusion so that all members of the community can thrive. Responses to the survey will go directly to Rankin and Associates, a consulting firm with the highest standards of confidentiality possible. It is important to have broad participation of staff, faculty and students in order to provide a fuller picture of how this environment works or does not work for members of the Whitman community.
Take the Campus Climate Survey.
Whitman faculty member involved in gravitational waves discovery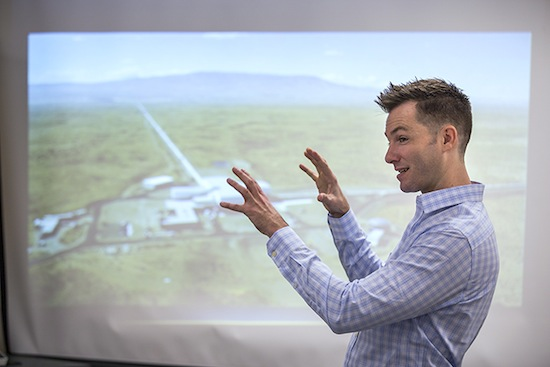 Last week, LIGO announced the success of its large-scale experiment to detect gravitational waves for the first time. Scientists from around the world contributed to this historic breakthrough, including Assistant Professor of Physics Greg Ogin, who has worked with the project since 2006. Gravitational waves are considered ripples in the fabric of spacetime, in this case revealing the collision of two black holes more than a billion light-years away. Their existence confirms a major prediction of Albert Einstein's general theory of relativity, which was published in 1916.
Learn more about Ogin's work and student collaboration at Whitman in this new video.
Acclaimed artist Paul McCarthy speaks on campus today
Whitman College and the Walla Walla Foundry present this rare opportunity to hear world-renowned artist Paul McCarthy speak on campus. His talk will take place today, Tuesday, Feb. 16 at 7 p.m. in Maxey Auditorium, and space is expected to be limited. McCarthy has been producing art with the Walla Walla Foundry since 2010, and tonight's event is made possible by this relationship and the support of the college.
According to Associate Professor of Art History and Visual Culture Studies Matt Reynolds, "It's not an exaggeration to call him one of the most important contemporary artists working today."
Please be advised: the lecture may include graphic images not suitable for all ages or dispositions. Attendees are encouraged to familiarize themselves with the nature of McCarthy's work prior to the presentation if there are any questions or concerns regarding its content.
Counseling Center launches Whitman Well Challenge
This semester, the Counseling Center is promoting happiness and wellbeing on campus with a new program modeled after the popular #100HappyDays social media challenge. Whitman Well was created this fall as a way for staff, faculty and students to "take in the good" by focusing on something positive for the next 100 days. Whitman is the first college to join two million other challenge participants from around the world. To take part, send in one photo that represents something positive to the Whitman Well website for 100 days during the semester. Questions? Contact Assistant Director of Counseling Tracee Anderson.
Save the date: Whitstock Music Festival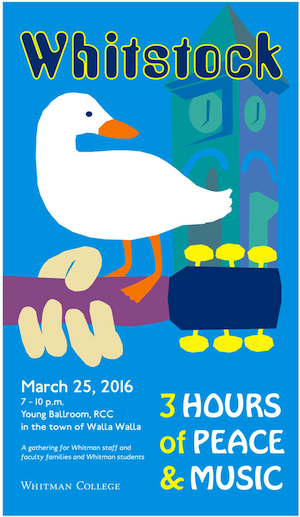 Staff and faculty and their families are invited to attend Whitstock, a free three-hour concert that takes place Friday, March 25 beginning at 7 p.m. in Reid Campus Center. Food, beverages and music will be provided. Please bring Whitman IDs. For updates, visit the event's Facebook page.
Faculty & staff news briefs
Assistant Professor of Biology Arielle Cooley received an American Philosophical Society Franklin Research grant to support her ongoing research on the monkeyflower genus Mimulus. This grant will support the purchase of supplies for experiments that will help determine the molecular mechanisms responsible for the evolution of flower color diversity in Mimulus.

Assistant Professor of Art Nicole Pietrantoni received the Graves Award in the Humanities, a competitive grant available to early-career faculty from liberal arts colleges in Washington, Oregon and California who demonstrate outstanding teaching and scholarly work and who are nominated by their college's president. The grant will facilitate a new body of artwork that explores humans' complex relationship to nature and enable the development of Whitman's first environmental studies-art course, Art in the Anthropocene. With this funding, Pietrantoni will conduct archival research at the Center for Art and the Environment at the Nevada Art Museum, travel to historic land art sites in the American West and participate in The Practice of Art in the Anthropocene conference at the University of California-Los Angeles during her sabbatical in Spring 2017.
Campus Events
Join Dr. Keren R. McGinity as she weaves together "Sex in the City" with real men's intermarriage experiences to reveal how love across religious lines dismantles myths and stereotypes as Jewish men negotiate what it means to be a husband and father in America. Q&A and book signing to follow.

Tuesday, Feb. 16 at 7 p.m. in Olin Hall, Room 157
World-renowned artist Paul McCarthy has been producing art with the Walla Walla Foundry since 2010, and it is through this relationship and the support of the college that this opportunity has arisen. Free and open to the public. Seating will be limited. May include graphic content and images not suitable for children.
Tuesday, Feb. 16 at 7 p.m. in Maxey Hall, Maxey Auditorium
The 2016 Power and Privilege Symposium presents Constance Rice, a civil rights lawyer and co-director of Los Angeles' The Advancement Project, which fights inequality and injustice in today's society to achieve high impact policy change.
Wednesday, Feb. 17 at 7 p.m. in Cordiner Hall
Bon Appétit introduces a new way to try its hot from the oven dessert creations, including gluten free options. Menu changes each week, with dates planned through March 9. Items available for purchase with flex, cash or check.
Wednesday, Feb. 17 at 8 p.m. in Reid Campus Center
Whitman's annual Power and Privilege Symposium, a day-long, student-organized event, provides a space to learn about the hierarchies of power and others' experiences within this framework. Includes workshop sessions and campus-wide lunch.
Thursday, Feb. 18
Whitman College's Department of Music presents a faculty recital featuring Diane Gray-Chamberlain (soprano) and Jackie Wood (piano) with a lecture by Dr. Susan Pickett. Free and open to the public.
Friday, Feb. 19 at 4 p.m. in Chism Recital Hall
Visiting artist Adnan Charara has spent his life collecting and expressing ideas from a wide array of cultural sources. Photographs from Charara's collections will be on exhibit in the Sheehan Gallery through April 14.
Friday, Feb. 19 at 5:30 p.m. in Olin Hall, Olin 130
Whitman College's Department of Music presents a violin recital by Lena De Guzman.
Saturday, Feb. 20 at 3 p.m. in Chism Recital Hall
Whitman's Beyond Borders Club hosts a night of sharing cultures through dance and music.
Saturday, Feb. 20 at 5 p.m. in Reid Campus Center, Young Ballroom
Director of Global Studies and Associate Professor of Islamic World/Middle East History Elyse Semerdjian discusses "Pontecorvo's Silent Mujahidat: Orientalism and Colonial Representations of Algerian Women in Celluloid."
Monday, Feb. 22 at 7 p.m. in Olin Hall, Olin 130
Athletic Events - Home Games
Saturday, Feb. 20 at 11 a.m.
Saturday, Feb. 20 at 11 a.m.
Saturday, Feb. 20 at 2 p.m.
Sunday, Feb. 21 at 11 a.m.
Sunday, Feb. 21 at 11 a.m.
Sunday, Feb. 21 at 11 a.m.
Sunday, Feb. 21 at 2 p.m.
Parting Shot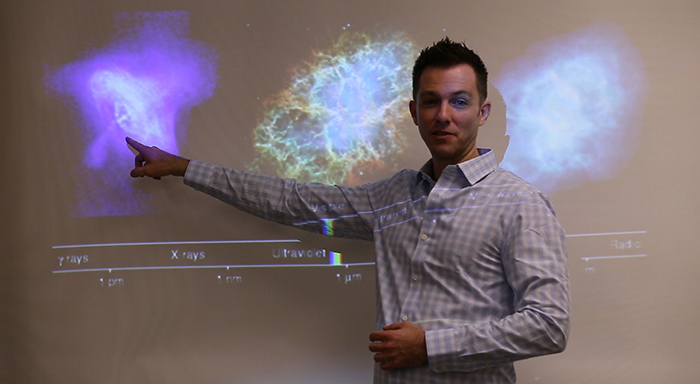 The Fountain is published by the Office of Communications.
Send news relevant to staff and faculty members to thefountain@whitman.edu for inclusion in The Fountain. Photos are accepted and submissions are due by Tuesday at 5 p.m. for the following week's issue.
For news relevant to external audiences, use our online News Tips form.

Compiled by: Bryce Heuett