Whitman reunions - Sept. 24-27
It is the time of year when alumni return to campus to see their friends and celebrate their relationship with Whitman. Reunion activities begin on Thursday, Sept. 24, and conclude on Sunday morning, Sept. 27. Reunion classes celebrating throughout the weekend include:
1950, 1955, 1960, 1969, 1970, 1971, 1975, 1990, 1994, 1995, 1996 and 2005
Want to know what is happening on campus? Check out the schedule of events and the list of alumni registered to attend this weekend.
All staff and faculty members are invited to watch the Alumni Parade and attend Reunion Convocation on Saturday, Sept. 26. Line up along Boyer Ave. in front of Memorial Building to watch the parade, which starts at 11 a.m., then follow along to Cordiner Hall for Reunion Convocation. There, we will recognize the reunion classes, honor alumni award recipients and hear remarks from President Murray. We hope you will join us.
Please note: Preparations for the weekend will mean that the Baker Center parking lot will be closed on Wednesday, Sept. 23, and periodically through Sept. 27. We apologize for any inconvenience.
"Boyer & Park" community magazine
This month, the Office of Communications is launching Boyer & Park, a new Whitman College publication that highlights the connections we have with Walla Walla and builds on our relationship with the local community.
Boyer & Park will highlight the intersections of Walla Walla and Whitman College. The stories featured in the magazine center around organizations and individuals from the Walla Walla community, with Whitman College as a small player in those stories. The magazine also includes a list of upcoming public events over the next six months, a great advertising vehicle for these happenings.
The magazine was produced by the Whitman Magazine team and will be distributed via Every Door Direct Mail to homes surrounding Whitman College: 13 routes and a total of 7,000 homes across all socioeconomic levels. Five hundred copies will be distributed on Main St., at local businesses and to select community contacts. It will also be available online.
The publication was originally presented and vetted at last year's Communications Council meetings (Sept. 2014-May 2015), and the need for community outreach was further endorsed by the Whitman Leadership Program group, which recently studied and presented ways to reach out to the local community, including the local Hispanic population. Funding for Boyer & Park was requested and granted in the regular budget process (added to the ongoing Whitman Magazine budget).
Scheduling Coordinator Debi Evans, a long time Walla Wallan who served as an adviser on the project, said, "I think the magazine is amazing, really well done, and written phenomenally well for the audience."
Associate Dean of Students Noah Leavitt, who also helped vet the idea, stated that the inaugural magazine includes "a wide range of topics, consistent appreciation of the place where we are, awesome images, warm inviting feel, crispness, accessibility."
Faculty and Staff News Briefs
Associate Professor of Sociology Helen Kim and Associate Dean of Students Noah Leavitt were featured in a Huffington Post article last week, titled "What it's like for non-white Jews during the High Holidays." The reporter talked to racially and ethnically diverse Jewish families to share their thoughts on their relationship to Judaism during the High Holidays.
Assistant Professor of Psychology Erin Pahlke co-authored a paper recently published in the Journal of Adolescent Research, titled "Parents' School Satisfaction and Academic Socialization Predict Adolescents' Autonomous Motivation: A Mixed-Method Study of Low-Income Ethnic Minority Families." Relying on both quantitative and qualitative data, the authors examined the processes through which parental involvement influences adolescents' achievement motivation. This paper adds to the small but growing body of literature focused on how low-income ethnic minority parents support and promote their children's education.
Assistant Professor of Art History and Visual Culture Studies Lisa Uddin's book Zoo Renewal: White Flight and the Animal Ghetto was excerpted by The Utne Reader, which features ideas and thinking from the world of culture and the arts. Uddin's book presents a counterhistory of American zoos in the 1960s and 1970s, examining the familiar narrative of zoo reform in light of questions of urban decay, suburban growth and the dilemmas of postwar American whiteness.
Whitman wins local community engagement award
Whitman College was just named as the winner of the Catalyst Award in the Walla Walla Valley Chamber of Commerce Business Awards Showcase. The award goes to organizations that are creating change in our community through collaboration and community effort. Whitman was nominated along with the Downtown Foundation, City of Walla Walla and DeSales High School for its collaboration and successful execution of the Gentlemen of the Road tour. The full list of winners was announced in the Walla Walla Union-Bulletin last Sunday.
Just in case: how to report or question suspected financial impropriety anonymously
As a matter of prudent business practice, several years ago the college established a method for campus community members to anonymously question or report suspected financial impropriety at Whitman. A report can be made either by phone or online using a website provided by an outside vendor called EthicsPoint.

"While we hope the system never has to be used, it's important as a matter of course to have it in place given our widely decentralized culture," said Walter Froese, controller. "It is exclusively for financial issues. Some examples would be theft of college property or an improper travel reimbursement. Anyone noticing something that seems odd or off in any way is encouraged to raise questions. This resource provides for anonymous reporting and is available if a campus community member is uncomfortable about using normal college channels to raise questions or bring attention to a matter."

He adds that the college also provides systems and resources for questioning or reporting issues that are not financial in nature. "If a campus community member suspects an issue that does not have a financial impact for the college, they should go through channels such as Human Resources or a supervisor or budget officer, whichever is most appropriate for the situation."

To anonymously report or question a financial issue, call (888) 278-1497 or visit this website.

Questions? Concerns? You are encouraged to contact Froese at froesewr@whitman.edu or x4936.
New hires
Please welcome our newest addition to the Whitman College staff and faculty.
Melaina Lewis
Digital and Social Media Specialist, Admission
Campus Events
Sept. 24 at 6 p.m. (Reception and opening). Hours: Thursdays, noon to 4 p.m. and 6 to 8 p.m.; Fridays and Saturdays, noon to 4 p.m. Maxey Museum, Maxey Hall
Sept. 24 at 7 p.m. Kimball Theatre, Hunter Conservatory
Sept. 25 at 4 p.m. Kimball Theatre, Hunter Conservatory
Sept. 25 at 7:30 p.m. Chism Recital Hall, Hall of Music
Sept. 26
Sept. 26 at 3 p.m. Fouts Center for Visual Arts, Fouts front lawn
Sept. 26 and 27 at 8 p.m. Alexander Stage, Harper Joy Theatre
Sept. 27
Sept. 27 at 4:30 p.m. Kimball Theatre, Hunter Conservatory
Athletic Events - Home Games
Sept. 23 at 6 p.m.
Sept. 25, 26, 27 and 28 at 9 a.m.
Sept. 25 at 7 p.m.
Sept. 26 at noon and Sept. 27 at 8 a.m.
Sept. 26 at 2:30 p.m.
Sept. 27 at 2:30 p.m.
Parting Shot
By Matt Banderas, visual editor/photographer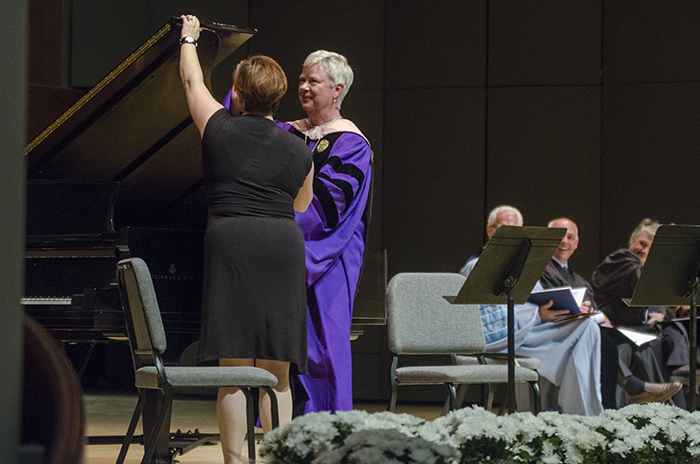 The Fountain is published by the Office of Communications.
Send news relevant to staff and faculty members to thefountain@whitman.edu for inclusion in The Fountain. Photos are accepted and submissions are due by Tuesday at 5 p.m. for the following week's issue.
For news relevant to external audiences, use our online News Tips form.

Compiled by: Bryce Heuett