Insurance Changes Open Enrollment
There are several important changes to the staff and faculty benefits plan in 2016, including a change in provider for group life, supplemental life and long-term disability plans, and new medical premium rates.
Based on a review of Whitman's benefit plan offerings, as of Jan. 1, 2016, the following changes regarding our benefits were made:
Life and disability benefits will now be offered through Lincoln Financial Group.
Our Employee Assistance Plan will change to Employee Connect, given our change to Lincoln Financial Group.
You will continue to be able to set aside pretax dollars into a Flexible Spending Account for healthcare or dependent care services.
Whitman's plan is a self-insured plan, meaning that the cost of non-catastrophic claims is borne by the college. Because our claims experience thus far in 2015 has exceeded our budget, we are increasing our projected expenses for 2016. This means that premiums paid by staff members, faculty members and the college will be increasing by 5 percent, which does not completely cover the expected costs for 2016, but Whitman will use some of its self-insured fund reserves to cover the costs in an effort to adjust our reserve account downward to desired levels.
Actual medical, vision and Rx costs will continue to be based on your salary. This change will not affect what percentage you pay for dependent premiums. Employees will continue to equally share the medical, vision and Rx premium costs for covered family members (50/50). Whitman will continue to pay the full employee-only premiums for dental coverage and employees will continue to be responsible for the cost to cover eligible family members.
A major change for 2016 involves our Group Life, Supplemental Life and Long Term Disability carrier. After a review of benefits and costs, we will be changing carriers from CIGNA to Lincoln Financial Group. Your current group life insurance and optional supplemental life insurance elections will automatically roll over to the Lincoln. You may want to look at the increased guaranteed issue coverage and special enrollment options available to you only during this open enrollment period. We encourage you to use this opportunity to also update your life insurance beneficiary designation.
If you want to make changes to your current medical, dental and/or life insurance elections, or to participate in an FSA plan for 2016, you will need to return the necessary forms to Human Resources. Otherwise, no action is necessary.

The Human Resources website presents a special Open Enrollment section which provides information you and your family need to make decisions about your benefits during this year's open enrollment. Open Enrollment will be from Nov. 16 to Dec. 4, 2015. You can read about the plan changes, the open enrollment process and plan costs. Please take a few minutes to review this important information so you can make the best healthcare coverage decisions for you and your family.
A Decade of Giving Fundraiser
This year marks the 10th anniversary of the annual "Workout-for-Helpline" items-drive, which is held in the Baker Ferguson Fitness Center on Thanksgiving Day.
The Walla Walla Helpline organization assists indigent and working-poor individuals and families on an emergency basis, providing food, clothing, prescriptions, transportation, utilities, short-term shelter, homelessness prevention rental assistance, infant-care needs and referrals for crisis advocacy and counseling.
Although grateful for the food donations you have made in previous years, this year, Helpline is hoping to collect personal hygiene items.
To tie into the 10th annual theme, the goal this year is a 10-item list of giving! Please come together as a community to donate items within the following categories:
Laundry detergent
Socks for men
Socks for women
Body soap of any kind (bar or gel)
Toothbrush
Toothpaste
Shampoo
Deodorant
Feminine hygiene products
Continence products for men or women
In addition, we are looking for donations of gently used blankets, coats, hats, boots, etc. to help keep out the cold. Another way you can get involved is to donate toward bus passes. Helpline gives out a lot of of bus passes, so if you would like to donate, please contact Michele Hanford for more information.
Bins will be set up in the Baker Ferguson Fitness Center for each of the items listed above, with the goal of taking in 1,000 items (just 10 items donated from 100 people).
Faculty & staff news briefs
Last Monday in Chicago, Associate Dean of Students Noah Leavitt was a panelist for a session that explored the ways to understand and describe the return on investment of a college education. The panel was organized by higher education commentator and author Jeff Selingo and was part of the American Marketing Association's annual Symposium for the Marketing of Higher Education. Leavitt reflected on his experience in a column that was published in The Huffington Post the following day.
Parting Shot
By Matt Banderas, visual editor/photographer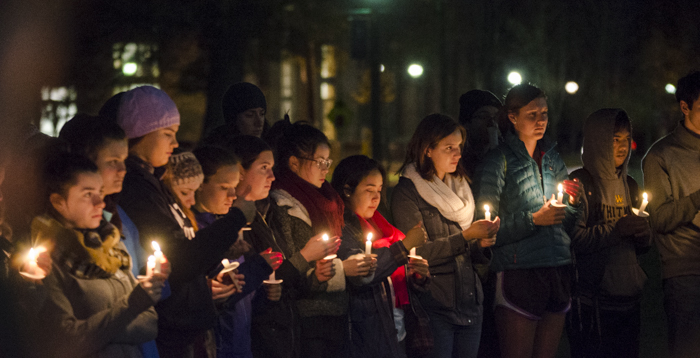 The Fountain is published by the Office of Communications.
Send news relevant to staff and faculty members to thefountain@whitman.edu for inclusion in The Fountain. Photos are accepted and submissions are due by Tuesday at 5 p.m. for the following week's issue.
For news relevant to external audiences, use our online News Tips form.

Compiled by: Bryce Heuett