Dr. Elaine Hansen - Living at Whitman Initiative
The Whitman community is invited to a talk by Elaine Hansen, former president of Bates College, on Wednesday, Nov. 4, at 5 p.m. in Maxey Auditorium.
Dr. Hansen's talk, "Room for ideas: Frameworks for 21st-century facilities planning at selective liberal arts colleges," will focus on building campus community, specifically in residential and dining facilities. Her talk is in conjunction with the fall governing board meetings, which begin on Thursday morning.
Faculty news briefs
Assistant Professor of Music David Hyun-su Kim was recently an invited guest artist at the University of California, Berkeley's annual Piano Institute. Kim performed, gave a lecture on new pathways in 21st-century musicianship and participated in a roundtable discussion on modern pianism. Of special note was the impressive collection of pianos, which included an 1840 Viennese Graf, a recently restored 1854 French Erard and an 1880 German Steinway.
Associate Professor of Sociology Helen Kim just published an article in The Huffington Post titled "Multiracial Millennial Jewish Children of Intermarriage—Are We Meeting Them Where They Are At?" The article discussed a recent report from the Cohen Center for Modern Jewish Studies at Brandeis University. Kim's book on the intersection of race, religion and ethnicity in the increasing number of households that are Jewish American and Asian American, co-written with Associate Dean for Student Engagement Noah Leavitt, was also just added to the University of Nebraska Press' website.
Catharine Gould Chism Chair of Music Susan Pickett's book Marion and Emilie Frances Bauer: From the Wild West to American Musical Modernism was recently reviewed in Women's Philharmonic Advocacy and Journal of the International Alliance for Women in Music. In the latter publication, the reviewer said: "The sisters' writings are so forthright and colorful that the reader enjoys a front-row seat in the exciting cultural climate of the period. [...] This book would make good supplemental reading for courses in women's studies, music history, American history, and even writing classes."
How to Order the New Campus Directory
The 2015-16 edition of the printed, comprehensive campus directory is nearing completion. It includes alphabetical staff and faculty member listings as well as departmental listings. Copies cost $1.50 each and can be charged to your department budget.
To order the directory, send an email to Amber Dobbs at dobbsar@whitman.edu. Please include the following information: number of copies, budget number and delivery location.
Intercultural Center Open House on Nov. 3
The Intercultural Center would like to invite the campus to an open house to meet with its staff, many of whom are in new roles this year: Kazi Joshua, Associate Dean for Intercultural Affairs and Chief Diversity Officer; Maggi Banderas, Assistant Director of the Intercultural Center; Adam Kirtley, Assistant Director of the Intercultural Center and Coordinator of Religious & Spiritual Life; Christina Irvine, Program Adviser; Kyle Martz, International Student and Scholar Adviser; and Sonja Aikens, Administrative Assistant and WISE Coordinator.

Please join us from 4 to 5 p.m. on Nov. 3 outside the Intercultural Center office (Reid Campus Center 216). We look forward to seeing you and talking about our new initiatives and the direction of the Intercultural Center. ​Refreshments will be served.
Parting Shot
By Matt Banderas, visual editor/photographer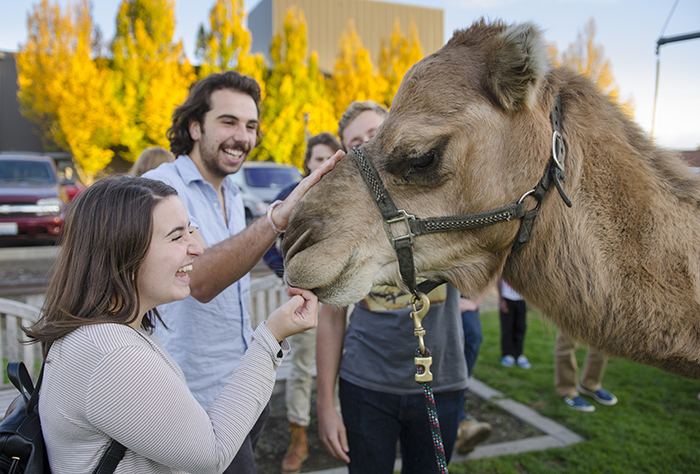 The Fountain is published by the Office of Communications.
Send news relevant to staff and faculty members to thefountain@whitman.edu for inclusion in The Fountain. Photos are accepted and submissions are due by Tuesday at 5 p.m. for the following week's issue.
For news relevant to external audiences, use our online News Tips form.

Compiled by: Bryce Heuett