GiveBIG: Whitman joins Seattle Foundation for annual stretch
Staff and faculty are invited to stretch their gifts to Whitman College by donating during GiveBIG day on May 5, 2015. GiveBIG puts extra power behind your gifts by increasing the amount with funds from a stretch pool contributed by The Seattle Foundation.
All gifts to Whitman via GiveBIG 2015 will benefit students, strengthening their educational experiences, and will count as gifts toward the Annual Fund and staff/faculty campaign.
Farewell celebrations for President Bridges begin
Over the past few weeks, the Student Engagement Center has hosted President George Bridges in a series of events that celebrated his support of the many programs sponsored by the SEC. Over the last five years, Bridges' commitment to and investment in Whitman students' success has contributed to thousands of educational and professional experiences that have significantly impacted both students and the Walla Walla community.
Bridges visited Green Park Elementary School's bilingual program, where student mentors work one-on-one with Spanish-speaking students, as well as the Walla Walla Downtown Foundation, where Whitman interns have worked with the WWDF staff on highlighting downtown Walla Walla. Pictured above at Green Park: School Principal Gina Yonts, Elissa Picozzi '15 (2014-15 intern), Bridges, Devyani Gupta '15 (program creator and prior intern).
Read more on the SEC's blog.
Professor James Winchell to retire
Adjunct Assistant Professor of Foreign Languages and Literatures (French) James Winchell has announced his retirement effective this June.

"If you count grad school, I've been teaching pretty much nonstop since 1978, which adds up to about 37 years," Winchell said. "It's time I got some days off!"

After completing a graduate diploma at the Université de Paris IV (in Sorbonne), Winchell went on to earn a Ph.D. in comparative literature at the University of Washington in 1988. He subsequently taught as assistant professor of French at Stanford University for five years before going on to achieve the rank of associate professor of French at the University of Alabama in Huntsville.

Winchell then spent a decade helping to establish and gain accreditation for a new arts- and project-based independent secondary school in downtown Portland, Oregon, The Northwest Academy.
"Helping to create and ensure continuity for a cutting-edge school for young artists is one of my proudest accomplishments," he said.

In 2008, Winchell was hired to teach in Whitman's year-long required course for first-year students, called at that time "Core: Antiquity and Modernity." By 2010 he was teaching courses in both Encounters and in French language and literature, his area of specialization. Winchell has published numerous articles on a wide range of topics, treating works by Flaubert, Oscar Wilde, Jorge Luis Borges, cinéaste Eric Rohmer and the history of Holocaust Memorials in France. He is a founding and contributing editor of the journal Paradoxa: Studies in World Literary Genres, and has recently published a series of essays online for Tablet Magazine: A New Look At Jewish Life.

He will continue to offer literature courses in the Quest program for lifelong learners at Walla Walla Community College. But most importantly, he says, "I'm excited to be free to write full-time, with uninterrupted days to work." His ongoing book-length project, with the working title Cinema Year Zero, treats films made by directors in defeated countries in the decades after World War II. Winchell's son Ezra will be a junior next year at Wa-Hi and his spouse, Jennifer, will continue to serve as stewardship coordinator in the development office.
Whitman recognized for experiential learning successes
Whitman's leading role in national conversations about liberal arts education has been recognized by a new report on experiential learning.
"Best Practices in Experiential Learning at Liberal Arts Institutions," conducted by Hanover Research, selected Whitman as one of four exemplar institutions, highlighting unique ways in which Whitman provides students with access to high-impact experiences.
Kimberly Rolfe, director of business engagement at the Student Engagement Center, provided information to the researchers about Whitman's programs. Victoria Wolff, internship coordinator at the SEC, was also asked to comment.
The report, which was prepared for an unidentified college in New England, "focused on administrative structures, internship program management, student engagement and marketing, implementation strategies, and the relationship between liberal arts skills and the current job market" and was completed in April.
Read the full report here.
Faculty news brief
Assistant Professor of Art Nicole Pietrantoni just completed a 10-week artist residency at the Anderson Ranch Art Center outside Aspen, Colorado, as part of her spring semester sabbatical. Pietrantoni was selected to be an artist-in-residence through a competitive jury process. During her time at Anderson Ranch she completed several new installations, met with curators and critics, and also spent a week collaborating with poet Devon Wootten, adjunct assistant professor of general studies and Language Learning Center manager. Together they created a new bookwork titled Havened, which functions as both an installation and a series of nine accordion books featuring Wootten's poems. More of Pietrantoni's new artwork can be seen at nicole-pietrantoni.com
The Fountain relies on community submissions. Email your news about faculty and staff publications, successes or awards to thefountain@whitman.edu for inclusion in an upcoming edition of The Fountain.
Intercultural Center candidate meet-and-greet
The search committee for the position of co-assistant director of the Intercultural Center would like to invite members of the Whitman community to meet the second of their three candidates at an open session on Monday, May 4, at 4 p.m. in the Glover Alston Center.
The second candidate is Raymond Plaza. The final candidate will be on campus May 11 at the same time (4 to 5 p.m.) and in the same location. If you would like background information on the candidates, please contact Sonja Aikens at aikenssl@whitman.edu.
Staff Coffee with the President
New hires
Please welcome our newest additions to the Whitman College staff and faculty.
Marshall Lynch
Security on-call
Jaimee Maurer
Administrative Assistant for Alumni Relations
Craig McKinnon
Security on-call
Chad Pederson
Security on-call
Nicole Redman
Administrative Assistant for the Health Center
Ali Walker
Administrative Assistant for Development
Campus Events
Tickets available April 24. Performances May 7 to 10, May 21 to 23, Harper Joy Theatre, Alexander Stage
May 5 at 9 a.m.
May 4 at 5 p.m. Reid Campus Center, Reid side lawn.
May 4 at 7.30 p.m. Hall of Science, Brattain Auditorium.
Parting Shot
By Matt Banderas, visual editor/photographer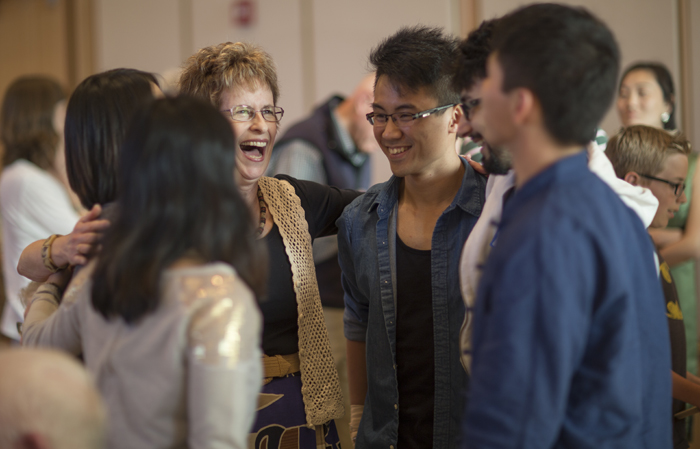 The Fountain is published by the Office of Communications.
Send news relevant to staff and faculty members to thefountain@whitman.edu for inclusion in The Fountain. Photos are accepted and submissions are due by Tuesday at 5 p.m. for the following week's issue.
For news relevant to external audiences, use our online News Tips form.

Compiled by: Bryce Heuett