Class of 2015

Rob Manning '80 ponders the aesthetics of blue Martian sunsets. Contemplating solar events on the Red Planet makes sense for Manning, who led the NASA team that designed Curiosity, the rover currently exploring Mars. Speaking at Whitman College's 129th Commencement, the Mars exploration program chief engineer at NASA's Jet Propulsions Laboratory gave graduates six simple life lessons on the south lawn at Whitman's Memorial Building on Sunday. Read more
Campus Landscape News by Bob Biles '74, landscape supervisor
Recently, I was speaking with my friend Mary Cleveland '82, who was telling me about the campus nature walks she went on with biology professor Art Rempel during her time at Whitman. She recalled that, on one of her walks, he made reference to a special tree that we have which had come from China.
Although it is now known that Dawn Redwood (Metasequoia glyptostroboides) graced the landscape of the world's northern temperate regions during the time of the dinosaurs (the Late Cretaceous period), fossils of this species were first discovered in 1941 in Japan. At that time, the tree was believed to have been long extinct. But in 1944, live trees were found in a remote valley in central China. Fossils have since been discovered in the Columbia River Gorge. Harvard University's Arnold Arboretum arranged for seeds to be collected in China in 1947; these seeds were dispersed to several arboreta and institutions in the U.S. in 1948. The Hoyt Arboretum was one of the recipients of the seeds and they were planted in 1948. In the fall of 1952, the Hoyt Arboretum's Dawn Redwood became the first in the Western Hemisphere to produce cones in about 6 million years.
I recently contacted the curator of the Hoyt Arboretum in Portland, Oregon, and he confirmed that trees from those original seeds were distributed to many institutions in the Pacific Northwest around 1950. That coincides nicely with the age of our own Dawn, which is located just east of the Maxey Bridge a short distance beyond the marked Eastern Redbud.
Working Group reports and Architect Selection Committee
In a recent email to the campus community, President Bridges and Chair of the Board of Trustees Brad McMurchie '84 reported on the Science Facilities, Sustainability and Residence Life Working Group reports to the trustees. To review the full reports of each of these working groups, click here (login required).
Bridges and McMurchie also reported that the trustees have asked the administration to explore design and funding for additions to our residence life program prior to the November meetings. Incoming President Kathy Murray has asked Vice President for Student Affairs/Dean of Students Chuck Cleveland to chair a committee charged with selecting architects to assist in this process. Other committee members will include: Kathy Murray; Peter Harvey, treasurer/chief financial officer; Nancy Tavelli, associate dean of students (in charge of residence life); Michelle Janning, professor of sociology; Nicole Pietrantoni, assistant professor of art; Kazi Joshua, associate dean of intercultural affairs/chief diversity officer; Andrew Johnson, assistant director of residence life; Joe Davis, trustee; Jim Moore, trustee; Yo Hakomori, overseer; Dan Park, director of the physical plant; Roger Edens, general manager of Bon Appetit; Chris Ponce, associate vice president for development; Hannah McCarthy '16, student; and Adam Dawson '16, student.
Sign up for Movement That Matters
Movement That Matters, the exercise program for staff and faculty members, as well as their families, is starting its 13th session. Developed through the Staff Fringe Benefits Committee, Manager of Student Accounts Deb Wright and Fitness Facilities Director Michele Hanford crafted the program to encourage everyone to grab some of the amazing health benefits of regular exercise. Anyone with a valid staff, faculty or family ID card can take part.
The Summer 2015 schedule of classes starts on Monday, June 1, with Wellness Instructor Stephen Garnett's core class at noon in Sherwood 114. There is something for everyone, from core class to restorative yoga (led by two different yogis) to stretch and strength, which is tailored to suit many different types of limitations, not to mention the cardio burn of step aerobics and spinning classes. There are eight classes per week, most between noon and 1 p.m., as well as one yoga class on Tuesday evening after work. That makes a total of 104 classes at a cost of $45.
To see a full schedule or to download the enrollment form for Movement That Matters, go to whitman.edu/MTM. If you have already filled out the enrollment form, please send a check for $45 made out to "Whitman College" to Manager of Student Accounts Deb Wright (Memorial 233) via campus mail, and write "MTM 2015-SUM" on the memo line. You can also pay the fee in cash by stopping off at Wright's office between 9 a.m. and 4.30 p.m. Monday through Friday.
Campus Events
There are no upcoming events in the next couple of weeks.
Parting Shot
By Matt Banderas, visual editor/photographer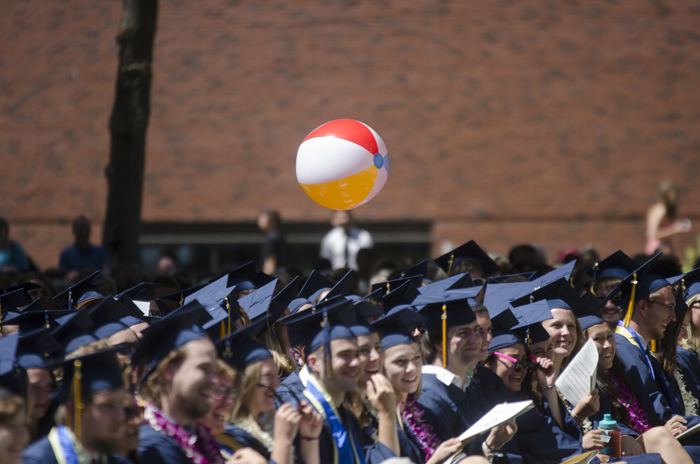 The Fountain is published by the Office of Communications.
Send news relevant to staff and faculty members to thefountain@whitman.edu for inclusion in The Fountain. Photos are accepted and submissions are due by Tuesday at 5 p.m. for the following week's issue.
For news relevant to external audiences, use our online News Tips form.

Compiled by: Bryce Heuett