Faculty and staff news briefs
Ladley Endowed Chair of Cognitive Science and Professor of Psychology Wally Herbranson traveled with 22 psychology majors to the annual meeting of the Western Psychological Association (April 30 through May 3) in Las Vegas, Nevada. Presenting research were Herbranson, Jade Anderson '15, Jyotica Barrio '15, Aislyn Booth '15, Ellen Cambron '15, Nicolette Carnahan '15, Kelly Chadwick '15, Kate Coll '15, Morgan Einwaller '15, Hannah Frankel '15, Devyani Gupta '15, Andi Horwege '15, Lachlan Johnson '16, Dane Kawamoto '15, Kaileen Kersting '15, Courtney Lawless '15, Morgan Lawless '15, Paul MacGowan '15, Fabiola Ochoa '15, Serena Sanders '15, Mats Sanyer '15, Melissa Shaffer '15 and Molly Streeter '15.
An essay by Director of Fellowships and Grants Keith Raether appears in the current edition of the literary journal Sport Literate. Raether's personal essay, "Innocence in Rerun: Lessons from Little League," is part of a nonfiction book in progress. Other pieces have appeared in The Southern Review, Antioch Review, Brilliant Corners and other journals.
The Fountain relies on community submissions. Email your news about faculty and staff publications, successes or awards to thefountain@whitman.edu for inclusion in an upcoming edition of The Fountain.
ASWC Club Advisers of the Year
On May 10, ASWC held its annual Awards Dessert to celebrate this year's many successes and recognize outstanding contributions to student life by both students and staff members. ASWC was pleased to name the Student Engagement Center's Outreach Coordinator Susan Prudente and Community Service Coordinator Abby Juhasz as Club Advisers of the Year at this banquet.
The Club Adviser of the Year is awarded annually to a college staff or faculty member who shows exceptional commitment to their role as an adviser to an ASWC-recognized club or organization, and who provides generous support and assistance to their club and individual student members. The Club Adviser of the Year award honors not only the tangible resources but also the intangible and often countless hours of support and mentoring that advisers offer to Whitman students. Award winners are chosen by ASWC's Executive Council from nominations solicited from club leaders and general members.
Juhasz and Prudente were honored as co-winners this year for their extensive support of service clubs at Whitman. They both advise multiple organizations on campus and supervise interns who run several of these groups. Prudente advises school-based programs which include the Mentor Program, Storytime Project, College Coaches and the Green Park Bilingual Program. She also oversees Whitman Teaches the Movement. In describing her many qualifications for the award, Nate Higby '15 said that "her amiable, warm and optimistic personality is infectious, leaving her interns—despite how vexing the problems that arise—filled with renewed positivity and dedication to fulfilling the challenging duties that come with being a club president."
Juhasz serves as adviser for Adopt-a-Grandparent, Service Trips, Glean Team and the Buddy Program. George Felton '15 thanked Abby for her commitment to her students and shared that "beyond being an adviser, she's been an incredible mentor to me."
Premera cyber attack – free Experian membership
Premera Blue Cross was the target of a recent cyber attack. For those who have coverage through Premera, including Whitman employees and their families, personal information may have been accessed by the attackers. Premera is taking steps to protect its customers by offering two years of free credit monitoring through Experian. This is a free membership in Experian's ProtectMyID alert program. To take advantage of this free service, you must enroll by September 30, 2015.
We encourage you to do so as soon as possible, particularly on behalf of your minor children. While your identity and credit are vulnerable, your minor children may be more so because they do not already have a credit history.

To enroll in the Experian program:
Ensure that you enroll by September 30, 2015
Visit the ProtectMyID website: protectmyid.com/premera, or call (888) 451-6558. Use engagement number PC92585.

Once your membership is activated, you will receive a free copy of your credit report and alerts for new accounts, daily monitoring for fraud, identity theft resolution and free ExtendCare, and $1 million identity theft insurance.

Additional information from Premera Blue Cross about the privacy breach is available through this link. Please feel free to contact the Office of Human Resources if you have additional questions.
Campus Events
Thursday, May 21
Grace Farnsworth Phillips Professor of Geology and Environmental Studies Bob Carson, Provost and Dean of the Faculty Pat Spencer and noted biologist Mike Denny will talk on the geography, geology, paleontology and ecology of this region. This event is in connection with the release of the book MANY WATERS: Natural History of the Walla Walla Valley and Vicinity, illustrated by painter Leslie Cain, photographer Duane Scroggins and others.
May 21 at 7 p.m. Olin Hall, Olin 130
Tickets available now. Box office hours: 9.30 a.m. to 12.30 p.m. and 1.30 to 4 p.m., Monday to Friday, or call (509) 527-5180. Book and lyrics by James Rado and Gerome Ragni, music by Galt Macdermot. A searing indictment of the war in Vietnam and a plea for freedom, love and understanding, Hair's iconic songs include "Aquarius," "Good Morning Starshine," "Hair" and "Let the Sunshine In." Join the tribe as they take over Harper Joy Theatre, presenting a fresh new take on one of the most revolutionary musicals of all time. $12 for adults, $8 for seniors 60 and over and students, free for Whitman students. May 23 performance sold out.
May 21 to 23 at 8 p.m. Harper Joy Theatre, Alexander Stage
Saturday, May 23
May 23 at 1.30 p.m. Olin Hall, Olin 130
Sunday, May 24
Make your plans now to attend the commencement ceremony for the Class of 2015. Tickets are not required for either the commencement ceremony or the baccalaureate ceremony. For more information on Commencement, click here.
May 24 at 11 a.m. Memorial Building, south lawn
Parting Shot
By Matt Banderas, visual editor/photographer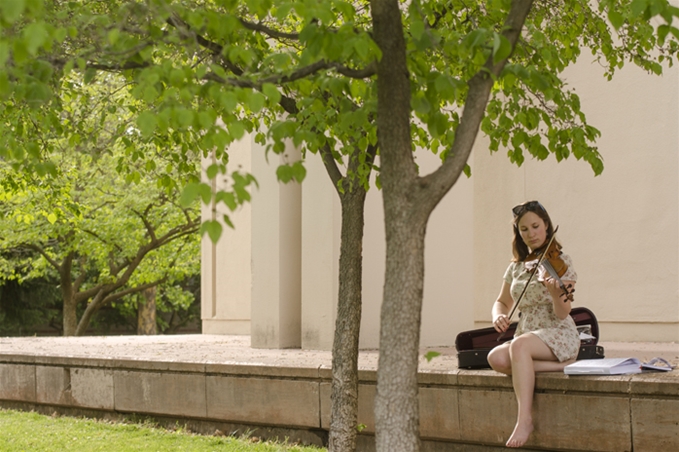 The Fountain is published by the Office of Communications.
Send news relevant to staff and faculty members to thefountain@whitman.edu for inclusion in The Fountain. Photos are accepted and submissions are due by Tuesday at 5 p.m. for the following week's issue.
For news relevant to external audiences, use our online News Tips form.

Compiled by: Bryce Heuett