Retirement celebration for Bruce Jones '67
Please join the Offices of Admission and Financial Aid Services for a retirement celebration to honor Associate Director of Admission Bruce Jones '67 on Thursday, May 14 at 3 p.m. in the Baker Center.
Jones joined Whitman as a staff member in 2005, working primarily in New England. He has recruited many Whitman students, formed lasting relationships with regional high school counselors and served as a mentor for Whitman admission officers.
Faculty news brief
Elyse Semerdjian, associate professor of Middle East history and director of Global Studies, attended the Armenian Genocide centennial activities in Turkey on April 24, 2015. She joined a multinational delegation of intellectuals, journalists, academics and activists who traveled to eastern Turkey to engage in dialogue and joint ceremonies with Kurdish politicians and activists. The delegation met with regional Kurdish mayors and participated in Diyarbakir's first Armenian Genocide commemoration procession, wherein participants quietly marched, raising purple forget-me-nots symbolizing genocide recognition, a characterization that the Turkish government continues to deny. The march ended with a rally which was co-sponsored by the Turkish People's Democratic Party (HDP) and London-based Gomidas Institute, headed by historian Ara Sarafian. Semerdjian will be showing images and video from this trip at noon on Tuesday, May 12 in Maxey 207 in a public talk titled "Turkey and the Armenian Genocide: Between Remembrance and Denial." Some of her remarks about the centennial activities at the rally in Diyarbakir were quoted in an article in The Economist.
The Fountain relies on community submissions. Email your news about faculty and staff publications, successes or awards to thefountain@whitman.edu for inclusion in an upcoming edition of The Fountain.
Class of 1965 returns to campus
Nearly 50 years ago, members of the Class of 1965 marched across the stage in the Whitman College Amphitheatre to collect their diplomas. Next week, they will return to celebrate this special occasion and be honored once again as they march in the Commencement processional on Sunday, May 24.
More than 50 percent of the remaining class members will in attendance for the celebration, and we hope you will help us welcome them back to campus. The schedule of activities and the list of attendees can be found online.
Events taking place at Baker Center will necessitate the closure of the driveway periodically throughout the weekend beginning on Thursday, May 21. The alumni office apologizes for any inconvenience and thanks you in advance for your cooperation.
Campus Events
A semi-staged production of the complete opera this Saturday and Sunday. Cast: Sarah Mattox, Carmen; Wesley Rogers, Don Jose; Anton Belov, Escamillo; Max Mendez, Zuniga; Kyle Ferrill, Morales; Craig Allen, El Remendado; Justin Raffa, El Dancairo; Monica Griffin Hunter, Michaela; Diane Gray Chamberlain, Frasquita; Lexa Ferrill, Mercedes. Youth Choir directed by Lori Parnicky. Walla Walla Choral Society directed by Rob Dennis, artistic director and conductor. Tickets available here.
May 16 at 7.30 p.m. and May 17 at 3 p.m. Cordiner Hall
Parting Shot
By Matt Banderas, visual editor/photographer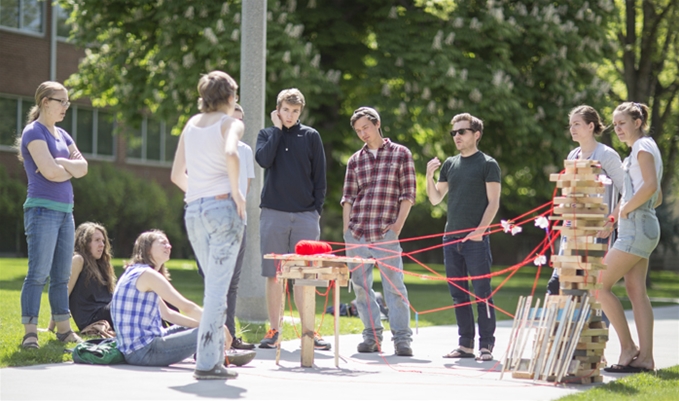 The Fountain is published by the Office of Communications.
Send news relevant to staff and faculty members to thefountain@whitman.edu for inclusion in The Fountain. Photos are accepted and submissions are due by Tuesday at 5 p.m. for the following week's issue.
For news relevant to external audiences, use our online News Tips form.

Compiled by: Bryce Heuett