What do you want to #AskKathy?
Do you have a question for Whitman's incoming president Kathy Murray? We are now accepting questions via social media for an upcoming video series called #AskKathy. Just tag your question with #AskKathy on Facebook, Instagram or Twitter, and Kathy will select her favorites (from silly to serious) to answer as part of this new series. The videos will be shared online over the coming months. It's a chance for faculty, staff, students, alumni and community members to get to know Kathy a little better.
So, what do you want to #AskKathy?
Second round of Whitman Leadership Program announced
The second round of the Whitman Leadership Program was announced last week by Dennis Hopwood, director of human resources. The Leadership Program, launched in 2013, is an initiative designed to prepare a select group of administrative staff members for future leadership roles at Whitman. The inaugural class of the two-year program will complete their studies and graduate in June 2015.
Treasurer and CFO Peter Harvey, whose vision prompted the development of the program, said, "It's important that we invest in developing the full potential of our talented staff and strengthen the foundation for the next generation of leaders at Whitman. In many ways, visible and unseen, the work and leadership of the staff make the academic promise of Whitman possible."
According to Hopwood, selection is competitive, with a focus on high achievers who "exemplify Whitman's core values and have the interest and potential, with further development, to expand their contributions to the college in leadership roles." As with the inaugural class, staff members selected for the second round cohort will represent a diversity of campus roles and functions, as well as a wide range of experience and expertise.
The two-year Whitman Leadership Program furthers staff leadership at Whitman by integrating three development approaches.
First, rigorous instructional and study programs, where emerging leaders are exposed to diverse and broadly-conceived leadership principles and competencies. Seminars are complemented by the opportunity to meet and interact with highly seasoned leaders inside and outside higher education.
Second, experiential learning assignments in complex, varied and strategic cross-functional projects that test the participants' capacity to lead and learn, and accelerate their development.
Third, individualized feedback about personal styles and aptitudes, as well as 360-degree assessments from coworkers, culminating in a development plan crafted for each individual.

Applications for the second class of the Whitman Leadership Program (2015-2017) will be accepted through May 1. Campus community members may nominate outstanding staff members by emailing Dennis Hopwood, director of human resources, at hopwoodt@whitman.edu. Further information and application forms may be found at the following link on the Human Resources website.
Final selection of approximately 12 candidates will be made by budget officers and applicants will be notified no later than Monday, June 8. The second class will begin their studies in August 2015.
Preview: Members of the current inaugural class of the Whitman Leadership Program will be conducting informational panel discussions open to all interested prospects on the following dates.
Thursday, April 16, noon - 1 p.m., Reid 207
Tuesday, April 21, 4 p.m. - 5 p.m., Reid GO2

"I'm very excited to continue this strategic ambition, to build a community of emerging leaders at Whitman; people who are passionate and thoughtful about what it means to lead, to inspire, and to bring out the best in themselves and others," Hopwood said.
ARC launches a redesigned website
The Academic Resource Center has launched a new, redesigned version of their website. The ARC's section of the Whitman site has been reworked to provide quick access to the most relevant resources and information, including information on faculty advising, disability support services and much more.
Check out the new website at http://www.whitman.edu/academics/academic-resource-center.
Campus Landscape News by Bob Biles, landscape supervisor
Some pests of the campus evergreens
On campus, we have a variety of insect pests which have been causing damage to some of our evergreen trees.
The sequoia pitch moth, which does not actually attack the giant redwood but does take a liking to pine trees, lays eggs which bore into the trunk as they develop, leaving a hole that allows pitch to run out, forming big globs of the sticky deposits.
The larch case borer is an interesting insect that migrated from Europe in the late 1800s. By the mid 1980s, it had infested tamaracks across the entire United States and most of southern Canada. The case borer larvae generally reach maturity and pupate in late May or early June. At that time, one might notice what looks like rice kernels moving slowly about on the needles or on the ground in the tree ring, and the borer can be easily observed.
The white pine aphid is actually black and has a central white stripe, white spots on the sides and long stiff hairs on the body. These aphid colonies are often accompanied by ants, which feed on the honeydew secreted by the aphids.
We have another critter which can appear most any time of year but is most often seen beginning on the first day of April. It is a voracious chewer and can quickly destroy even a big tree. It is better known as the Stihl Chain tooth crawler. Its mouth parts often extend anywhere from 20 to 36 inches. It leaves an oily residue, is quite noisy and belches blue smoke.
These pernicious pests have some natural predators, but in the urban environment, chemical controls are usually the only remedy. Humor—like a good April Fool's Day joke and/or a good chainsaw—is sometimes the only remedy.
Do you know your Title IX rights, how to recognize a violation, and how and when to ask for help?
Title IX is not just about sports; it is the prohibition of sex-based discrimination in education. It also addresses sexual harassment, gender-based discrimination and sexual violence (including sexual assault, sexual harassment, stalking, voyeurism, exhibitionism, verbal or physical sexuality-based threats or abuse and intimate partner violence). Learn more at one of many upcoming sessions hosted by the Office of Civil Rights on April 22 and 23 at Whitman.
Faculty and Staff News Briefs
Assistant Professor of History Sarah Davies was featured in NerdScholar's 2015 "40 Under 40: Professors Who Inspire" feature. One person nominating Davies said that her classes "reflect a great deal of hard work and passion, which in turn engages students in the material and spurs them to put in extra effort."
Instructional and Learning Technologist for the Humanities Kaitlin Justin, Instructional and Research Librarian Ben Murphy, and Archivist and Special Collections Librarian Melissa Salrin just returned from the biennial Association of College and Research Libraries National Conference, where they presented a talk titled "Teeming with Technology, Teaming with Technologists: Using Digital Tools to Enhance Primary Source Literacy."
37th annual Stevens Gallery Photography Contest
The 37th annual Stevens Gallery Photography Contest is all about CONTRAST. Please submit a pair of photographs that illustrate some form of contrast. This could include (but is not limited to) subject matter, shape or color. Submissions are due by Friday April 3 at 5 p.m. Email digital copies of your images to Kyra Arnett at arnettkn@whitman.edu. Physical copies can be given to Assistant Director of Student Activities Katharine Curles in Reid 202.
Individuals may submit up to two pairs of images. Include your name and a title for your pair of images in your submission. Images will be printed as 8- by 10-inch prints, so please crop them as appropriate before submission. Prizes will be awarded to the three photo pairs that receive the most votes.
Tuition and fees set for 2015-2016
Over spring break, letters were sent to students revealing a modest increase in tuition and fees for 2015-2016. Tuition will be $45,770, room and board will be $11,564 and the Associated Students of Whitman College fee will be $368. Financial aid packages for returning students currently with need-based scholarships will be adjusted as appropriate to reflect these changes.
The campus Budget Advisory Committee developed critical elements of the 2015-2016 budget. The students, faculty and staff who comprise the committee review and provide feedback on budget plans and requests for the year.
Setting tuition levels that are as affordable as possible while also ensuring that we have the resources needed to improve the quality of our programs and services is an institutional imperative and therefore one of the committee's primary responsibilities. Tuition increases last year and this year were lower than any in the previous decade.
To read the full letter online, click here
Whitman in the News
Tommy Lloyd '98 has been the key to Gonzaga's 17 straight NCAA tournament appearances.
Whitman College makes the list of top colleges nationwide for intramural sports at BestColleges.com.
Campus Events
March 30 at 7 p.m. Maxey Hall, Maxey Auditorium
March 31 at 7 p.m. Maxey Hall, Maxey Auditorium
April 3
April 3 at 7 p.m. Reid Campus Center, Reid Coffeehouse
April 4 and 5, Athletic Field Sports Complex (1129 E. Sumach St.)
April 4
April 4 and 5
April 4 at 7.30 p.m. Hall of Music, Chism Recital Hall
Athletic Events - Home Games
April 3, 11 a.m. to 2 p.m.
April 3, 11 a.m. to 2 p.m.
April 3, noon to 3 p.m.
April 3, noon to 3 p.m.
April 3, 3 p.m. to 6 p.m.
April 3, 4 p.m. to 7 p.m.
April 4, 8.30 a.m. to 11.30 a.m.
April 4, 8.30 a.m. to 11.30 a.m.
April 4, noon to 3 p.m.
Parting Shot
By Matt Banderas, visual editor/photographer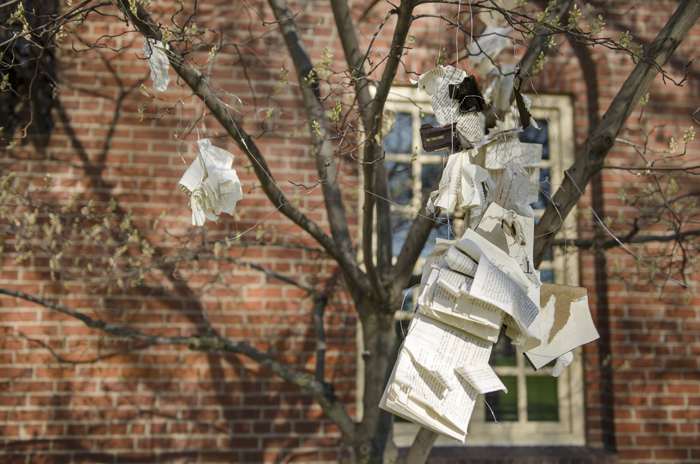 The Fountain is published by the Office of Communications.
Send news relevant to staff and faculty members to thefountain@whitman.edu for inclusion in The Fountain. Photos are accepted and submissions are due by Tuesday at 5 p.m. for the following week's issue.
For news relevant to external audiences, use our online News Tips form.

Compiled by: Bryce Heuett