Mumford & Sons' "Gentlemen of the Road" Music Festival Coming to Whitman this August
Grammy Award-winning British folk rock band Mumford & Sons has selected Walla Walla as one of their 2015 Gentlemen of the Road Stopover festival locations. The City of Walla Walla and the Downtown Walla Walla Foundation, in cooperation with Whitman College and DeSales Catholic High School, will host the community celebration Friday and Saturday, Aug. 14 and 15, 2015.
Mumford & Sons will headline the Saturday show on the Main Stage, located at the Whitman College Athletic Fields, along with an eclectic roster of artists selected by the band themselves. Foo Fighters will kick off the action on the Main Stage on Friday evening. A series of smaller music events and activities involving local businesses, artists and local musicians will happen in and around downtown Walla Walla on Thursday, Friday and Saturday of that week.
Tickets to the two-day Stopovers will be $199, with no additional service fees or hidden charges. Tickets for all Stopovers will be available at gentlemenoftheroad.com beginning on Friday, March 6, at 10 a.m. A limited number of Walla Walla Stopover tickets will be sold to the local community at the Tourism Walla Walla Visitor Center located at 26 E. Main St. in downtown Walla Walla. The Visitor Center will accept credit card purchases only and will be open Friday from 10 a.m. to 5 p.m. and on Saturday and Sunday from 9 a.m. to 5 p.m. Ticket purchases will be limited to six per person.
Walla Walla's Best Dance Crew Gala
Walla Walla's Best Dance Crew is an annual fundraiser presented by Kappa Alpha Theta at Whitman College to benefit Court Appointed Special Advocates (CASA). This year's gala takes place in Cordiner Hall at 7 p.m. on March 7.
Dance crews from Whitman and the Walla Walla community will compete for the titles of People's Choice, Judge's Choice and Walla Walla's Best Dance Crew. Tickets are $5 pre-sale at Book & Game Co. (38 East Main St.) or at Reid Campus Center, and $7 at the door. Tickets will be available in Reid Campus Center between noon and 1 p.m. and 4 and 5 p.m., March 2 through 6.
Whitman in the News
Professor of Sociology Michelle Janning was quoted in the Miami Herald on her research into technology and relationships.
Politics professor Paul Apostolidis weighed in on tensions in Pasco in the wake of the death of Antonio Zombrano-Montes.
A cheering program for students with special needs started by Sarah Cronk '15 has taken off across the country.
Whitman in Tech Events Next Monday
A series of events next Monday, March 9, will celebrate and discuss Whitman College and its place in the tech and startup industries. All events are open to faculty and staff members, and the third event of the day is open to the public
Positioning Yourself in a Tech Startup
March 9, noon to 1 p.m. | Reid Campus Center, room 207
A noon discussion with Stephanie Silver '10, whose art history degree led to a career in tech startups, first at venture-backed InsightSquared in Cambridge, Massachusetts, and now as a project manager for Dynamit, a data, design and technology company in Columbus, Ohio. Hear how she did it and strategies she recommends to help interested students get in the door at their dream company. Lunch is provided by the SEC.
RSVP here

Becoming a Developer with a Humanities Background
March 9, noon to 1 p.m. | Reid Campus Center, room 110
A noon discussion with Scott Silver '05, who taught himself coding languages and programming to score his current role as a front end engineer with Square, a financial services provider for businesses small and large. Hear what aptitudes and self-teaching resources he recommends and where a liberal arts background fits into the technology field. Lunch is provided by the SEC.
RSVP here
Whitman in Tech
March 9, 7 to 8 p.m. | Hunter Conservatory, Kimball Theatre
A moderated event with Stephanie Silver '10 and Scott Silver '05. The Silvers graduated from Whitman with humanities degrees - art history and English, respectively. Post-graduation, their careers have touched on public broadcasting, AmeriCorps, White House internships and public policy organizations before landing them both in technology startups that are changing the way things get done in the world of business and commerce. Stephanie and Scott understand the many ways that Whitman values translate into the world of technology. They will share their knowledge and experience with the Whitman community.
RSVP here
Whitman Leadership Program
Diversity Starts With You!
The Whitman Leadership Program, a two-year on-campus professional development program with eight Whitman staff member participants, is working on a project this spring that explores Whitman's relationship with the Latino/Hispanic communities in the region. At its core, this project is about 'place' and Whitman's engagement in the region. Our team's end goal is to develop and propose a strategic plan that will support more meaningful and enduring relationships between Whitman College and the region's Latino/Hispanic community.
Some of the sub-questions that we are asking include how Whitman can build its reputation as an Employer of Choice within the region's Latino/Hispanic communities, resulting in greater diversity in applicants and hiring. Another question is: How can Whitman attract and better serve the needs of academically promising Latino/Hispanic high school students in the region? For us to become better informed about how to succeed in attracting Latino/Hispanic applicants, we'd like to speak with anyone, but particularly staff members, who identify as Latino/Hispanic or are connected with the local Latino/Hispanic community.
Please contact Cate Lyon via email lyoncd@whitman.edu or 527-5764 if you'd like to participate. Thank you on behalf of the Whitman Leadership Program.

Diversidad Inicia con usted!
El Programa de Liderazgo Whitman, un programa de desarrollo profesional de dos años en el campus con ocho participantes miembros de personal de Whitman, está trabajando en un proyecto de esta primavera que explora la relación de Whitman con las comunidades latinas / hispanas en la región. En su esencia, este proyecto se trata de "lugar" y el compromiso de Whitman en la región. Objetivo final de nuestro equipo es desarrollar y proponer un plan estratégico que apoyará relaciones más significativas y duraderas entre Whitman College y comunidad latina / hispana de la región.
Algunos de los "sub-preguntas" que estamos pidiendo incluye cómo Whitman puede construir la reputación de la universidad de Whitman como un "patrón de la opción 'dentro de las comunidades latinas / hispanas de la región, lo que resulta en una mayor diversidad de los solicitantes y la contratación. Otra pregunta es: "¿Cómo puede Whitman atraer y servir a las necesidades de los estudiantes académicamente prometedores latinos / hispanos de secundaria en la región mejor?" Para convertirnos en mejor informados sobre cómo tener éxito en la atracción de los candidatos latinos / hispanos, nos gustaría hablar con nadie, pero en particular los miembros del personal, quienes se identifican como latinos / hispanos o se refieran a la comunidad latina / hispana local.
Por favor, póngase en contacto con Cate Lyon por correo electrónico lyoncd@whitman.edu o 527-5764 si desea participar. Gracias en nombre del Programa de Liderazgo Whitman.
A Whitman Student's March to WWI France
William (Bill) E. Berney '15 was a local of the Walla Walla Valley. When the U.S. joined the war effort in 1917, President Penrose encouraged male students to request the creation of a compulsory military training program on campus. This program would keep students from enlisting and also prepare them for service to their nation after graduation. To emphasize the strength of Whitman's commitment to war service, Penrose invited male alumni to participate in campus military drills; Berney gladly accepted the invitation. Berney enlisted in the military and was sent to training at the University of Oregon and later to Benicia, California, in early 1918. He later moved east to other training camps before crossing the Atlantic to join the war effort in France. Throughout his training and his tour in Europe, Berney sent letters to his family that detailed his life in camp and communicated his fond memories of home. While his experience cannot stand in for that of the 344 other members of the Whitman community who directly participated in the war effort, his letters do help bring us closer to understanding the impact of World War I on Whitman.
His collection of letters starts on March 9, 1918, in Benicia, California, and ends on August 26, 1918, in France.
Visit the display on the first floor of Penrose Library (across from Cafe '41) for a glimpse of the Whitman of WWI and the life of a Whitman graduate in the war. Curated by Maikor Pereira Azuaje '15.
Seeking Club Sports Chaperones
Whitman's Club Sports Student Representatives are looking for Whitman community members who are interested in being potential chaperones for Club Sports teams.
Each team is required to have a chaperone accompany them to any off-campus competition, and their role includes supporting and supervising teams as they travel. Many teams have struggled to find chaperones until the last minute, simply because they do not always know who to ask.
If you are interested in offering your time to the Club Sports community, please fill out this survey and you will be added to the teams' databases. You will have the opportunity to select preferences for specific teams or accommodations when you fill out the survey, and you can elect to be removed at any time by contacting Student Activities Director Leann Adams.
Interested staff and faculty members:
Must be 25 years or older, or employed by the college.
Are expected to enforce Whitman- and Club Sport-specific policies while serving as chaperone. It is understood that this person is in charge of and responsible for the group, and should take all measures necessary to keep the athletes safe.
Will meet with the Club Sports Director before each trip.
Will be paid $100 per day for travel/competition away from campus. Food and lodging will be provided for the chaperone at the cost of the Club Sports program.
Teams are encouraged to discuss expectations with chaperones prior to travel in order to ensure shared understanding of the role chaperones will play on the trip.
More information is available in the Club Sports Handbook and Chaperone Contract available on the Club Sports webpage. If you have any questions, please feel free to contact Molly Olmsted '15 (olmstemw@whitman.edu) or Zander Guzy-Sprague '17 (guzyspab@whitman.edu).
Faculty News Brief
Senior Adjunct Assistant Professor of Art Charly Bloomquist has several pieces in juried photographic exhibitions at the PhotoPlace Gallery in Middlebury, Vermont. His work "Domestic Debris: Hair and Lint 002" won the Director's Choice Award in the exhibition "Marvelous Things: the Art of Still Life," which ran in January and February. He also has pieces in the exhibitions "The Traces Left Behind" and "Open 2015."
Campus Events
Filmmaker Lisa Gossels brings her amazing film to Whitman. The Children of Chabannes reveals the untold story of how the people in a tiny village in unoccupied France chose action over indifference to save the lives of 400 Jewish refugee children. A celebration of human kindness, the film delivers a profound message of tolerance and the remarkable efforts made by the citizens of Chabannes, who risked their lives to protect these children simply because they felt it was the right thing to do. Watch the trailer here.
March 3 at 7 p.m. Olin Hall, Olin 130
The second performance in the Spring Studio Series is titled Residuo. Born in Caguas, Puerto Rico, Nibia Pastrana-Santiago graduated with a bachelor's degree in dance and women's studies from the University of Puerto Rico, where she was a member of the dance company Hincapié, directed by Cuban choreographer Petra Bravo. From 2012 to 2013 Nibia lived in Brussels, Belgium, where she developed her research project, Residue: Dance Making through Destruction at A.PASS.
March 3 at 7.30 p.m. Dance Studio (16 Boyer Ave.)
Spanning seven years, My So-Called Enemy follows six Palestinian and Israeli teenage girls committed to justice and mutual understanding after participating in a women's leadership program called Building Bridges for Peace. This heart- and mind-opening film from Emmy Award-winning director Lisa Gossels documents how the young women's transformative experience of knowing their "enemies" as human beings in the United States relates to the realities of their lives back home in the Middle East. Watch the trailer here.
March 4 at 7 p.m. Hunter Conservatory, Kimball Theatre
The Bierman Spring Lecture features Elliott West, alumni distinguished professor from the University of Arkansas. "The West Before Lewis and Clark: Three Lives" will trace what the lives of one man and two women tell us about interaction of the Native and European cultures across the Great Plains in the tumultuous century-and-a-half that preceded the Lewis and Clark expedition in 1804 to 1806. Their stories bring us to a murder in Texas, deadly ambushes in New Mexico and Nebraska, a Plains Indian delegation at the French royal court, and to St. Louis for the reunion of a mother and lost son after four decades.
March 5 at 7 p.m. Olin Hall, Olin 130
March 5 at 7 p.m. Hunter Conservatory, Kimball Theatre
Lecture by visiting artist/educator Peter Christian-Johnson, whose work is in "The Hand and the Machine" exhibit in the Sheehan Gallery.
March 5 at 7.30 p.m. Fouts Center for Visual Arts, Fouts 201
Hilarious and terrifying, Stoppard's absurdist comedy turns Shakespeare's Hamlet on its head by following the misadventures of two minor characters as they struggle to understand their role in the great tragedy unfolding around them. Tickets: $12 for adults; $8 for seniors and students; free for Whitman students.
March 5 through 7 at 8 p.m.; March 8 at 2 p.m. Harper Joy Theatre, Alexander Stage
Snowshoe by the light of the full moon at Horseshoe Prairie. No experience necessary. Sign up at the Outdoor Program rental shop.
March 6
Sponsored by FACE (Femists Advocating for Change & Empowerment), these Breaking Ground Monologues are written and performed by Whitman students, staff, faculty and alumni. This year, the Breaking Ground Monologues tackle a range of personal experiences with topics including gender, mental health, sex, sexuality, race and identity. With performances on Friday, Saturday and Sunday, there's no reason to miss this awesome event.
March 6 and 7 at 5 p.m.; March 8 at noon. Hunter Conservatory, Kimball Theatre
Learn how to backcountry ski! Sign up at the Outdoor Program rental shop.
March 7
Walla Walla's Best Dance Crew is an annual fundraiser presented by Kappa Alpha Theta at Whitman College to benefit Court Appointed Special Advocates. Dance crews from Whitman and the Walla Walla community will compete for the titles of People's Choice, Judge's Choice and Walla Walla's Best Dance Crew. Come early to enter to win fabulous raffle prizes and get a good seat! Tickets are $5 pre-sale at Book & Game Co. (38 East Main St.) or at Reid Campus Center, and $7 at the door. We will be selling tickets in Reid between noon and 1 p.m. and 4 and 5 p.m., March 2 through 6. If you can't attend the event in person, please consider making a donation. Court Appointed Special Advocates (CASA) is a nonprofit organization that provides advocates for children in the court system who have been abused or neglected and who need a strong adult voice to represent them in court. These advocates are trained experts in child abuse cases. They work hard to secure stable and permanent home placements for foster children who could otherwise be lost in a complicated and under-funded court system. Please visit www.nationalcasa.org for more information. This year, Kappa Alpha Theta is proud to celebrate 25 years of partnership with CASA. All proceeds from this event will support the Walla Walla and Columbia counties' CASA chapter.
March 7 at 7 p.m. Cordiner Hall
Whitman College's Department of Music presents a vocal recital featuring Randy Brooks '16 and Olivia Coackley '17. This recital is free of charge and open to the public.
March 8 at 3 p.m. Hall of Music, Chism Recital Hall
Parting Shot
By Matt Banderas, visual editor/photographer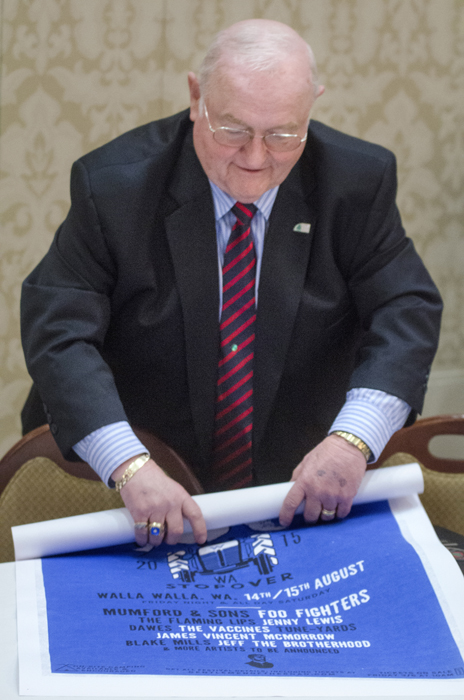 The Fountain is published by the Office of Communications.
Send news relevant to staff and faculty members to thefountain@whitman.edu for inclusion in The Fountain. Photos are accepted and submissions are due by Tuesday at 5 p.m. for the following week's issue.
For news relevant to external audiences, use our online News Tips form.

Compiled by: Bryce Heuett