George Bridges named new president of The Evergreen State College
This afternoon, the Board of Trustees of The Evergreen State College in Olympia, Washington, announced the appointment of George Bridges as the college's next president.
Bridges was selected from a large pool of accomplished candidates and says that he became more committed to Evergreen's unique approach to post-secondary learning throughout the interview process. Bridges will leave Whitman College June 30, 2015, and will begin his new position at The Evergreen State College on October 1, 2015.
To read more about the appointment: http://whitman.edu/evergreen_release
Faculty News Briefs
Assistant Professor of Art Richard Martinez recently had work featured in two exhibits. One piece was exhibited in INTERSTATE, a national juried exhibit which ran in February and March at Central Washington University's Sarah Spurgeon Gallery. The other is featured in Rodin to Warhol: 60th Anniversary Gifts and Acquisitions at the McNay Art Museum in San Antonio, Texas, which runs until May 17. The McNay Art Museum acquired one of Martinez's paintings for its permanent collection.
This March, Assistant Professor of Chemistry Mark Juhasz, Assistant Professor of Physics Moira Gresham and Assistant Professor of Chemistry Dalia Rokhsana received research grants through the Murdock College Research Program for Natural Sciences. Juhasz's research is in organic chemistry and focuses on trying to understand the chemistry of a specific molecule with the ultimate goal leading to the development of new drugs; Gresham's work is in theoretical physics, examining the nature of dark matter; Rokhsana's research is in computational chemistry, using computational modeling to understand the chemistry of certain enzymes.
Campus News
Jaime Dietenhofer '99 and his father Jim are a team with a passion for quality beer. Both businessmen and entrepreneurs, they have grown Figueroa Mountain Brewery on hard work and quality products.
Associate Professor of Biology Kate Jackson has identified a new species of snake from the Democratic Republic of Congo. Jackson's research was recently published in African Journal of Zoology.
Campus Events
In the Penrose Library third floor display case: Community and Culture: The Diverse Roots of Early Walla Walla. Grant Rommel '15 and Emma Philipps '17 use artifacts from both the Maxey Museum and the Whitman College and Northwest Archives to explore the histories and legacies of the French-Canadian, Chinese and Italian communities in Walla Walla. Outside Maxey 108: Whitman College in the 1950s. Madeline Duppenthaller '16 and Brenna Two Bears '17 offer a glimpse of campus culture in the middle of the last century with an exhibit that highlights life in the dorms, social clubs, rules for women and the football team. In the Maxey West foyer: Hand & the Machine (Maxey Edition). At the Sheehan Gallery's The Hand & the Machine exhibit, the work of contemporary artists provokes questions about how, in this digital age, art is and can be made. In the spirit of cross-campus collaboration, student curators at the Maxey Museum use artifacts from the museum's collections to explore a related set of historical, cultural and material questions.
March 16 through September 1. Locations listed above.
March 19 at 7 p.m. Olin Hall, Olin 157
Athletic Events - Home Games
March 21 at noon
March 21 at 3 p.m.
March 22 at noon
Parting Shot
By Matt Banderas, photographer/visual editor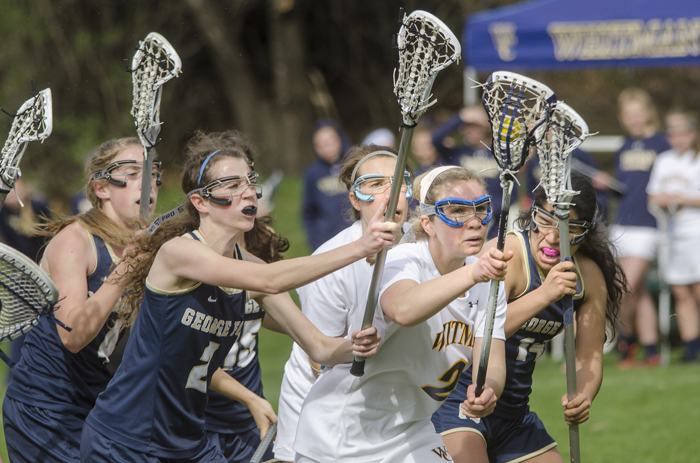 The Fountain is published by the Office of Communications.
Send news relevant to staff and faculty members to thefountain@whitman.edu for inclusion in The Fountain. Photos are accepted and submissions are due by Tuesday at 5 p.m. for the following week's issue.
For news relevant to external audiences, use our online News Tips form.

Compiled by: Bryce Heuett