School Outreach newsletter
You can now view the latest School Outreach newsletter online to see how Whitman College's work has connected to the community, helped educate K-12 students and teachers, and engaged in experiences that cultivate futures and inspire exploration of science.
For a more thorough look at what Science Outreach Coordinator Heidi Chapin and Outreach Coordinator Susan Prudente have been working on, click here.
Whitman Night at the Walla Walla Sweets on July 18
This summer's Whitman Night at the Walla Walla Sweets game will take place on Saturday, July 18, at 7.05 p.m., when the Sweets will play the Bend Elks.
Complimentary tickets (two per Whitman employee) will become available one week prior to the game. Stay tuned for more details on how to get your free tickets.
Faculty news brief
Last week, Associate Professor of Sociology Helen Kim gave a talk in Washington, D.C., to Jewish Peace Corps volunteers. The news website GatherTheJews.com published a short article on Kim's presentation, in which she spoke about her experiences growing up as a Korean-American and her research in interfaith, interethnicity marriages. You can read the full article here.
Whitman Leadership Program announcement
On behalf of the President's Council, Director of Human Resources Dennis Hopwood is pleased to announce the selection of the next class of the Whitman Leadership Program. The program is one step in developing the full potential of Whitman's talented staff and strengthening the foundation for the next generation of leaders at the college. The program is an intensive two-year course of study, exploration and experiential learning in critical thinking and best practices of principled leadership, the changing landscape of higher education, and complex issues of strategic importance to Whitman College. Following are the 14 members selected for the 2015-2017 program:
Maggi Banderas, Administrative Assistant for Residence Life and Housing
Amy Blau, Instructional and Data Services Librarian
Stuart Chapin, Assistant Director of Outdoor Programs
Randy Coleman, Maintenance Supervisor
Katharine Curles, Assistant Director of Student Activities
Katie Deponty, Director of Conferences, Events and Scheduling
Kristin Erskine, Institutional Research Analyst
John Hopkins, Project Engineer
Adam Kirtley, Stuart Coordinator of Religious and Spiritual Life
Brenda Michels, Annual Giving Officer
Gina Ohnstad, Media Relations Strategist
Kimberly Rolfe, Director for Business Engagement
Andrew Rountree, Landscape Specialist
Shalini Uppu, Associate Director of Admission
Moreover, please join the President's Council in recognizing and congratulating those intrepid souls of the inaugural cohort who've completed the program and represent the first graduating class of the Whitman Leadership Program:
Leann Adams, Director of Student Activities
Susan Holme, Director of Off-Campus Studies
Juli Dunn, Associate Dean of Students
Brian Griffith, Information Security Officer
Noah Leavitt, Associate Dean of Students for Student Engagement
Cate Lyon, Consultant for User Support Services
Justin Rodegerdts, Financial Analyst
Melissa Salrin, Archivist and Special Collections Librarian
Fountain summer schedule
This summer, The Fountain will be moving to a monthly schedule. The three summer editions of The Fountain will be published on the following dates:
Please submit articles for The Fountain to thefountain@whitman.edu at least one week prior to the date of publication for inclusion.
Campus Events
June 6 at 5 p.m. Cordiner Hall
The Dance Center of Walla Walla presents its annual all studio recital, produced and directed by Idalee Hutson-Fish. Featuring the famous Shakespeare story of A Midsummer Night's Dream with music by Mendolsshon, including guest artists Danielle Tolmie and Mark Tucker from Eugene Ballet Company as Tatania and Oberon, and with Ashley Akacich as the mischievous Puck. Our own dancers Lisi Dobson, Sophia Rolph, Caleb Leitch and James Innes will be dancing the roles of Helena, Hermia, Lysander and Dimitris. Charles Gordon will be dancing the role of Bottom along with 85 dancers from the Dance Center as sprites, fairies and Athenians. Also on the program will be Five Hebrew Love Songs, choreographed by Walla Walla High School senior Caleb Leitch and sung by the WaHi Chamber Singers. Included on the program will be a new untitled work choreographed by Idalee Hutson-Fish. A delightfully entertaining evening of ballet for all ages. Sponsored by: Columbia Rural Electric Association, Danza Classica Ballet Foundation and Alexandra Communications. Tickets available at the Dance Center and at Earthlight Books.
June 6 at 7.30 p.m. Cordiner Hall
Parting Shot
By Matt Banderas, visual editor/photographer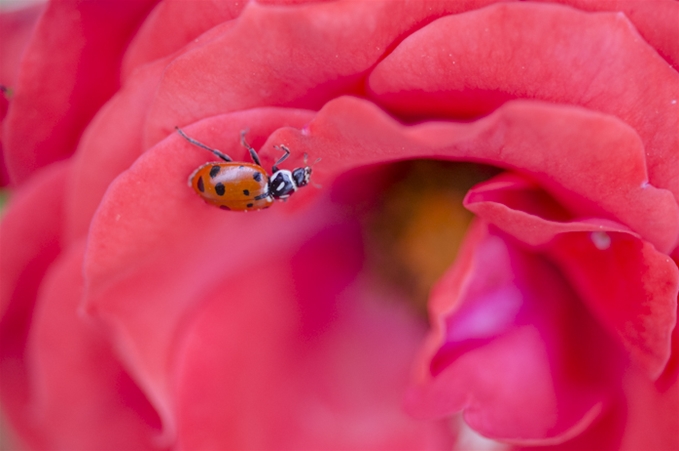 The Fountain is published by the Office of Communications.
Send news relevant to staff and faculty members to thefountain@whitman.edu for inclusion in The Fountain. Photos are accepted and submissions are due by Tuesday at 5 p.m. for the following week's issue.
For news relevant to external audiences, use our online News Tips form.

Compiled by: Bryce Heuett