Banff Mountain Film Festival
The Banff Mountain Film Festival takes place Tuesday, Jan. 20 from 7 p.m. (doors open at 6.30 p.m.) in Cordiner Hall. Banff is the world's greatest collection of outdoor films, and brings an awe-inspiring show every year. Experience the adventure of rock climbing, skiing, paddling, mountain expeditions, remote cultures and the world's last great wild places all brought to life on the big screen. There will be a raffle featuring prizes from Allegro Cyclery, Bicycle Barn, Dusty's Ski and Board Shop, Graze, Ski Bluewood, Greg Lehman Photography, Frog Hollow Farm and Bristol Siren Salmon Company! Check out the trailer here.
Tickets are available at the Whitman Bookstore and the Outdoor Program Rental Shop in Reid Campus Center. Free for Whitman students, faculty and staff members with a valid Whitman ID card; $15 for community members; $10 for non-Whitman students with a valid ID; $5 for those 17 years and under or for Whitman alumni.
Temporary Relocation for Office of Admission
The Office of Admission has been temporarily relocated to two locations on campus due to water damage suffered in Penrose House earlier this month.
The first floor of Baker Center will serve as the temporary lobby for prospective students and families who are visiting Whitman. Vanessa Ruiz, the admission office receptionist, and Mary Beth Ehrhardt, the campus visit coordinator, are based in that location. The rest of the admission office staff have moved to the old Alumni House (219 Marcus St.). It is currently estimated that admission staff will be able to move back into Penrose House by Spring Break.
Due to this change in location, the lunch service provided in the Baker Center on Mondays, Tuesdays and Thursdays has been temporarily relocated to Prentiss Hall as of Jan. 20. You can enter Prentiss by swiping your card at the main door (facing Memorial). Once inside go to the hall on the right. A few feet in will be a door on your left. Food will be available in that room, along with tables both there and across the hall in the meeting room.
Title IX/Campus Save Act Training for New Employees
All new faculty and staff members hired since July 1, 2014 are required to attend a Title IX/Campus Save Act Training. If you are a new faculty member or staff member and have not yet attended this training, we ask that you sign up to participate in one of the upcoming February sessions. The dates of the training sessions are:
Tuesday, Feb. 3 from 4 to 5 p.m. in Reid Campus Center G02
Tuesday, Feb. 10, 2015 from noon to 1 p.m. in Memorial 331.
To sign up, fill out this form online.
Changes to the Whitman Retirement Plan and IRS limits
There are some changes to Whitman's retirement plan which mean good news for your retirement savings.

IRS Announces New Higher Contribution Limits
The annual contribution limit for employees who participate in the college's 403(b) and 457 plans is now $18,000 for 2015, up from $17,500 in 2013 and 2014.
The 'catch-up' contribution limit for employees aged 50 or older in these plans goes to $6,000 for 2015, up from $5,500. Even if you don't turn 50 until Dec. 31, 2015, you can make the additional $6,000 catch-up contribution for the year.
Note: If you want to adjust your contributions, complete the TIAA-CREF Salary Reduction Agreement and bring a signed copy to Human Resources. Changes received by Feb. 1, 2015 will be included in the Feb. 27 payroll.

2015 Enhancements to Whitman's 403(b) Retirement Plan
Matching Contributions Threshold: Once employees meet eligibility for the College Matching funds and continue to contribute 2 percent of their pre-tax income, they will remain eligible for the Match, even if their work hours later drop below the original minimum threshold.
Roth Contributions: Until now, the Plan allowed Roth (post-tax) contributions to be made only to supplemental employee contributions. Effective Jan. 1, 2015, participants may also apply Roth monies to the 2 percent contribution required to receive College Matching funds.
Loans and Hardship Withdrawals: The plan document now sets clearer guidelines and specific provisions for loan options and hardship withdrawals.
In-Service Distributions at Age 59 and a Half: Consistent with best practice, as of Jan. 1, 2015, the Plan will allow In-Service Distributions of elective deferrals at age 59 and a half. This allows those who reach 59 and a half to begin taking distributions while still working, without penalty.

See the revised Summary Plan Description for the Whitman College Retirement Plan at http://www.whitman.edu/Documents/Human Resources/TIAA-CREF/2015 SPD Whitman College.pdf
Faculty News Briefs
This spring, Devon Wootten, adjunct assistant professor of general studies and Language Learning Center manager, will have poems published in LIT, Drunken Boat, The Volta and Storm Cellar. The selected poems are from two of Wootten's projects – Ice/Land, which examines the way place is constituted through language, and the coincidence machine, a conceptually-driven project that explores the validity of poetic authority.
In honor of Martin Luther King, Jr. Day, Associate Professor of Psychology S. Brooke Vick spoke at Walla Walla University's WWU CommUnity on Jan. 19. Vick addressed the psychology of perceiving prejudice. "Pausing on this day reminds us to celebrate progress, take stock of where we are, determine what still needs to be done and look at how we will go about continuing the work that he left for all of us," Vick said. "I'm honored to have the opportunity to do some of that reflecting, and I hope that I can help encourage this type of reflection in those who attend[ed]."
Using the Baker Ferguson Fitness Center this Semester
There are a couple of changes to use of on-campus fitness facilities this semester.
Firstly, the Baker Ferguson Fitness Center will observe a one-hour shift in opening times Monday through Thursday. BFFC will now be open at 7 a.m. (rather than 6 a.m.), a change which grew out of consideration for both of our campus fitness facilities. To that end, we are happy to announce that those who are using Sherwood Athletic Center between noon and 1 p.m. will now have access to a service desk associate between 11 a.m. and 1 p.m. from Monday to Thursday.

The second and more important change is the recent installation of a Whitman ID card reader at the front desk located inside the BFFC weight room. Everyone will be asked to have their WID card handy in order to gain access to the center. Cards will be scanned in order to give you access to both the weight room and fitness area. This change is due to the increased usage of patrons and guests. Please note that a card swipe resulting in a negative response will not stop your use of the fitness center at that time. However, we will need to resolve the negative read before your next attempt at use.
Here is a reminder of BFFC policies and rules of use:
Whitman College community members may use BFFC with a valid Whitman ID card (WID).
Valid card holders may bring a guest once per 30 day period. For extended guest requests, please contact the Fitness Facilities Director.
All guests must be accompanied by a WID card representative and must register at the front desk.
Minors under 14 years of age may not use the BFFC.
All people under 18 years of age must be accompanied by a parent or legal guardian while using the BFFC or Paul Harvey Pool, unless prior arrangements have been made with the Fitness Facilities Director and/or Aquatic Director.
Spousal, domestic partner and familial WID card requests (min. age 14 with the limiting age of 25) are made through the Human Resources department.
Whitman in the News
Paul Carduner '09 is leading a growing Facebook office in Seattle.
Angela Fonnesbeck '97 becomes the first female judge in Utah's 1st District Court.
Sam Henessey '11 completes the first official ascent of the west face of Chugimago in the Himalayas.
Campus News
Professor of Biology Paul Yancey and his students uncover new deep-sea species in the Mariana Trench.
Callan Carow '16 - writer for CollegeFashion.net - talks style, budget shopping and fashion blogging.
Professional opera singer Adam Lau '06 traces his path to the mainstage.
Campus Events
Doors open at 6.30 p.m. and the program starts at 7 p.m. Tickets are available at the Whitman Bookstore and the Outdoor Program Rental Shop in Reid Campus Center. Free for Whitman students, faculty and staff members with a valid Whitman ID card; $15 for community members; $10 for non-Whitman students with a valid ID; $5 for those 17 years and under or for Whitman alumni. Check out the trailer here.
Jan. 20 from 7 p.m. to 10 p.m. Cordiner Hall, Auditorium and Foyer
Learn to make a guitar from scratch! Sign up here.
Jan. 20 and Jan. 22 at 7 p.m. Reid Campus Center, Resource Room
Whitman Teaches the Movement is a partner program between Whitman College, Walla Walla Public Schools and the Southern Poverty Law Center. Created in 2011, its goal is to increase civil rights education in the Walla Walla Valley. Whitman students are trained in one of four curricula associated with the civil rights movement before teaching in local classrooms. For training times and locations, call the Whitman College Student Engagement Center at (509) 527-5183.
Jan. 22 and 23. Multiple times and locations.
Jan. 23 at 4 p.m. Hunter Conservatory, Kimball Auditorium
Jan. 23 at 7 p.m. Reid Campus Center, Coffeehouse
Jan. 24
Jan. 24 at 3 p.m. (opening reception). Show runs until Feb. 13. Olin Hall, Sheehan Gallery
All are welcome to attend an interfaith service for peace and justice. This event is free and open to the public. For more information, please contact Adam Kirtley in the Office of Religious and Spiritual Life at (509) 522-4449. Sponsored by the Office of the President, Student Engagement Center, Intercultural Center, Black Student Union, Associated Students of Whitman College, Office of Spiritual Life and the Pre-Law Advising Program.
Jan. 24 at 4 p.m. Prentiss Hall, Spirituality Room
Athletic Events - Home Games
Jan. 23 at 6 p.m.
Jan. 23 at 8 p.m.
Jan. 24 at 4 p.m.
Jan. 24 at 6 p.m.
Parting Shot
By Matt Banderas, visual editor/photographer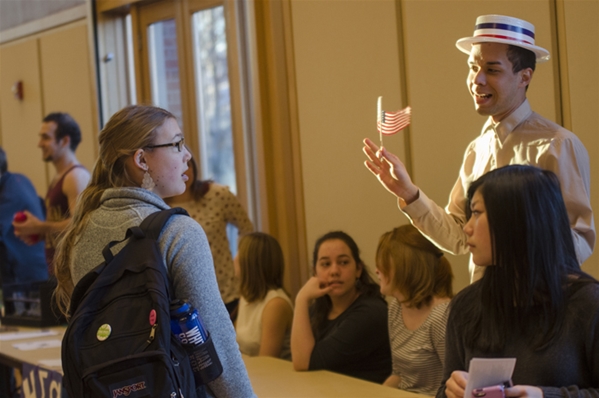 The Fountain is published by the Office of Communications.
Send news relevant to staff and faculty members to thefountain@whitman.edu for inclusion in The Fountain. Photos are accepted and submissions are due by Tuesday at 5 p.m. for the following week's issue.
For news relevant to external audiences, use our online News Tips form.

Compiled by: Bryce Heuett