Sherlock Library Catalog Interface Launches
Penrose Library is very pleased to announce the successful launch of our new Sherlock library catalog interface. As of today, all searches of Whitman's library collections and of items in Summit libraries will go through Sherlock. Many of the library's online journal and database contents can also be searched through Sherlock. (You can also continue to access electronic resources such as discipline-specific databases directly through the library's subject guides or e-resources list.)

Overall, Sherlock functions like our previous catalog and Watson, but you will notice a few differences. First among these is a sign-in prompt when you conduct a search. You are always free to search as a guest without signing in, but some electronic content may not be accessible to you, especially if you are not on a campus network. The ability to request Summit books with a single sign-in is a great advantage of our new system.

We are looking forward to introducing Sherlock to the Whitman community. There are a few ways you can receive additional information about the new system:
We would be happy to meet with you individually or at a department meeting to demonstrate Sherlock and answer questions.
If you prefer to explore Sherlock on your own and then find that you have questions or run into difficulties finding the items you need, we are here to help - email sherlock@whitman.edu with questions or problems.
If the faculty members or students you work with have questions, please ask them to email sherlock@whitman.edu or contact Lee Keene (keenelp@whitman.edu) directly.
Last but not least, we have also scheduled a few information sessions on Sherlock for students and community members, on Tuesday, Feb. 3 at noon and Thursday, Feb. 5 at 7 p.m. in the Center for Teaching and Learning in Penrose Library. Please RSVP to Amy Blau (blauar@whitman.edu) if you are interested in attending.
Find out more at sherlock.whitman.edu.
President Bridges Joins College Success Foundation Board
Whitman College President George Bridges was just appointed to the board of the College Success Foundation, a leader in improving college access to thousands of underrepresented students on both the east and west coasts. CSF was founded near Seattle, Washington, in 2000 and aims to provide college scholarships and mentoring to low-income, high-potential students. Whitman is among the colleges whose students have benefited from programs run by CSF.
Faculty News Briefs
Rob Schlegel, visiting assistant professor of English, recently published a poem titled "Taurus Teez" in Poetry magazine. Poetry, established in 1912, is the most prestigious and longest-running publication for poetry in the United States.
At last week's 225th meeting of the American Astronomical Society, Assistant Professor of Astronomy Nathaniel Paust (pictured right with Whitman student and alumni presenters) presented work outlining the different mass distributions of stars in enriched and unenriched populations in globular clusters. This work supports the idea that star formation takes long enough to occur that it is possible for star clusters to self-enrich. Emma Dahl '15 presented a poster reporting her discovery of a large number of previously unknown variable stars in several open clusters in the Milky Way. This work was started in a Research Experiences for Undergraduates (REU) program, and Dahl will be writing a paper for publication in a peer-reviewed journal this spring. David Ball '15 presented a poster showing how resolution differences between different surveys can make it difficult to determine the actual morphology of objects in the distant universe. A number of other Whitman students and alumni presented posters and talked about a wide range of topics from computer simulations of the universe to merging galaxies containing black holes to space telescope design.
Choice Magazine's January 1 issue has awarded Cushing Eells Emeritus Professor of Philosophy and Literature Patrick Henry's edited volume Jewish Resistance Against the Nazis with an Award for Outstanding Academic Titles for 2014. Henry's book is published by the Catholic University of America Press and documents Jewish resistance across Europe in a collection of essays by the most renowned Holocaust authorities in Israel, Europe, Canada and the United States.
Campus Events
We are excited to have Walla Walla be a stop on the Mariners Caravan once again this year. Information for the Walla Walla visit date is posted on the Seattle Mariners website. Scheduled to appear: Danny Farquhar, James Jones and Mike Blowers.
Jan. 15 at 4.15 p.m. Sherwood Athletic Center, Main Gym
Jan. 15 at 7 p.m. Olin 157
Several community service projects are scheduled throughout Walla Walla to celebrate the Rev. Dr. Martin Luther King, Jr. federal holiday. These community service projects, including descriptions, contact information and more, are listed online here. Participation is free and open to the public.
Meet in the Reid Campus Center lobby (corner of Park St. and Boyer Ave.) at 4 p.m. for a peace march and candlelight vigil in honor of Martin Luther King, Jr. The vigil will occur at 1st Ave. and Main St. The march will return to the Reid Campus Center coffeehouse for a reception at around 5 p.m. Refreshments will be provided. Both events are free and open to the public. Sponsored by Whitman's Office of the President, Student Engagement Center, Intercultural Center, Black Student Union, Associated Students of Whitman College, Office of Spiritual Life and the Pre-Law Advising Program.
Jan. 19 at 4 p.m., Reid Campus Center, Lobby
Parting Shot
By Matt Banderas, visual editor/photographer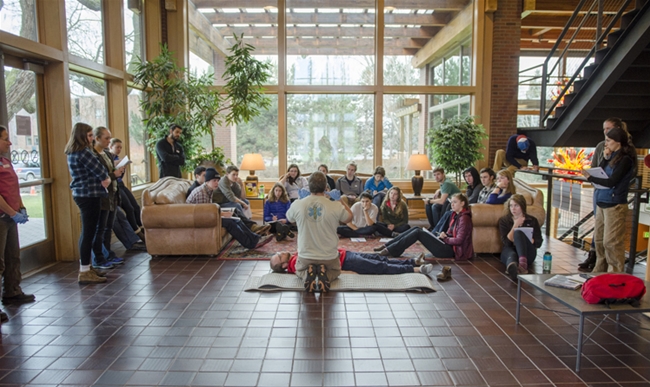 The Fountain is published by the Office of Communications.
Send news relevant to staff and faculty members to thefountain@whitman.edu for inclusion in The Fountain. Photos are accepted and submissions are due by Tuesday at 5 p.m. for the following week's issue.
For news relevant to external audiences, use our online News Tips form.

Compiled by: Bryce Heuett