Annual Arts and Crafts Fair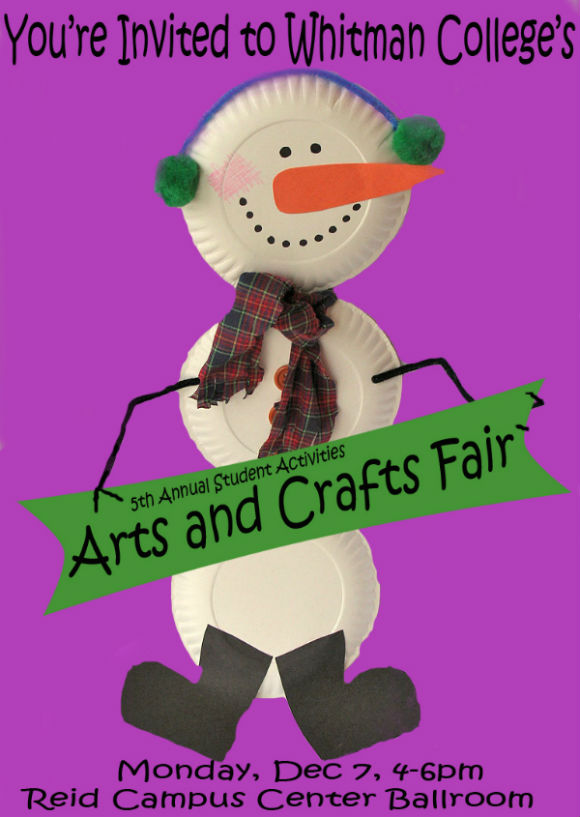 Pete and Hedda Reid Award Winner
Associate Professor of Astronomy and General Studies Andrea Dobson was awarded the 2015 Pete and Hedda Reid Service to Walla Walla Award at the Walla Walla Chamber Awards Banquet last week. Dobson, who came to Whitman in 1989, was presented with the award in recognition of her outstanding service to Walla Walla while a member of the Whitman College faculty. Dobson has been a tireless advocate for women in science and for educational outreach in the sciences and astronomy in particular. Her service and volunteer work within the Whitman and Walla Walla communities is "unmatched in its breadth of contact and number of personal encounters," from leading regular observation nights on the roof of Whitman's Hall of Science to presentations and workshops at the Clise Planetarium, where she has worked with more than 25,000 students and parents. Dobson has engaged with "an enormous number of students within a remote region at risk for basic literacy in science, technology and mathematics."
This award was given in honor of longtime Whitman biology professor Arthur "Art" Rempel, who died in 2007 at the age of 97. For 37 years, Art instilled in "generations of Whitman students a love for biology and the world of nature," according to Baker Ferguson Chair of Politics and Leadership Tim Kaufman-Osborn. After his retirement in 1976, Art led multiple expeditions around the world, sharing his love of learning with Whitman alumni.
Faculty & staff news briefs
Associate Dean of Students Noah Leavitt published a column for The Huffington Post yesterday titled "Rural Colleges Are the Best." In it, he describes the benefits of attending a small liberal arts college like Whitman in a rural town such as Walla Walla, which offers many opportunities for community engagement.
Associate Professor of Anthropology and Interdisciplinary Studies Suzanne Morrissey was quoted in this month's Atlantic. In the article "How Poor Single Moms Survive," Morrissey discussed her work on motherhood and poverty, which will soon be published in a new book, Life Strategies: Motherhood, Poverty, and the WIC Program in Urban America, forthcoming from Roman and Littlefield.
AFLAC Representative on Campus
AFLAC representative Liz Stroe will be on campus Thursday, Dec. 10 from 10 a.m. to 2 p.m. in Reid 207. To make an appointment, contact Krista Garcia, administrative assistant in human resources.
Campus Events
Agnes La Voie sees the Virgin Mary in her kitchen window. Rumor has it the Holy Mother will appear again - this time in the parking lot of Arvid Gurney's gas station. In Hadley, New York, the voices of the townspeople accumulate and propel us forward in this funny, lyrical, uneasy play about community, motherhood and the investments we make in belief.
Tickets on sale: Dec. 7 to Dec. 11, Harper Joy Theatre, Box Office
Play dates: Dec. 10 to Dec. 13, Harper Joy Theatre
Writer/director Andrew Bujalski's Results, which premiered at the 2015 Sundance Film Festival, tells the tale of two mismatched personal trainers whose lives are upended by the actions of a new, wealthy client. Come see the film that critic Wesley Morris calls "the year's best American pure comedy." Bujalski will be present at the screening and will host a Q&A afterwards.

Dec. 9 at 7:30 p.m. Hunter Conservatory, Kimball Theatre
Join the Backcountry Ski and Snowbard Club, the Freeride Club and the Alpine Ski Team for a screening of Paradise Waits, the latest ski and snowboard film from the action sports media company Teton Gravity Research.

Dec. 10 at 7 p.m. Olin Hall, Olin 130.
The dark days of winter are here. Come brighten your day with the the Festival of Lights, an annual celebration of cultures and traditions at Whitman. Enjoy crafts and snacks from around the world, learn an Eastern European dance, celebrate Shabbat, witness a Christmas pageant and much more.

Dec. 11 at 4 p.m. Reid Campus Center, Reid Coffeehouse

Whitman College's Department of Music presents Fridays at Four Series with South Hill Guitars, featuring James Reid and John Paul Shields. Free and open to the public.

Dec. 11 at 4 p.m. Hunter Conservatory, Kimball Theatre

Whitman College's Department of Music presents Stephen Moerane '15 in a senior piano recital.

Dec. 13 at 3 p.m. Hall of Music, Chism Recital Hall
Athletic Events - Home Games
Dec. 11 at 6 p.m.
Dec. 12 at 6 p.m.
Dec. 9 at 7 p.m.
Parting Shot
by Matt Banderas, visual editor/photographer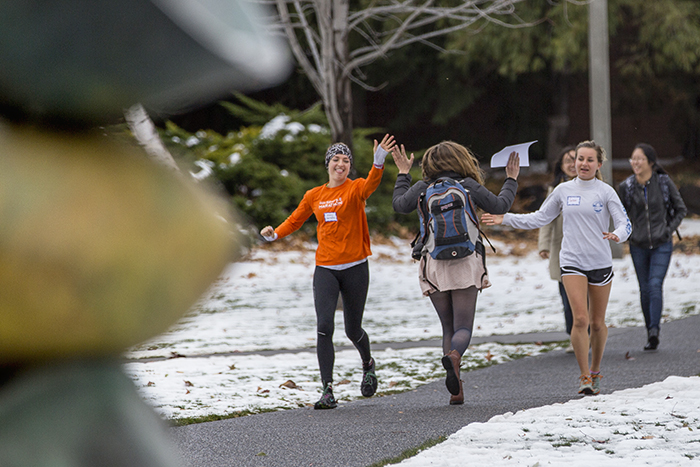 The Fountain is published by the Office of Communications.
Send news relevant to staff and faculty members to thefountain@whitman.edu for inclusion in The Fountain. Photos are accepted and submissions are due by Tuesday at 5 p.m. for the following week's issue.
For news relevant to external audiences, use our online News Tips form.

Compiled by: Bryce Heuett