Pioneer memorial for Tom Zbyszewski
In honor of Tom Zbyszewski, The Pioneer will print a page of notes and photographs from those who knew him in their first issue this semester. If you would like to submit a note or photo, please send them to pioneer@whitman.edu. As many submissions as possible will be included in the print edition, and the full collection will be made available online.
Faculty News Briefs
Assistant Professor of Music David Hyun-su Kim recently returned from Forte/Piano: A Festival Celebrating Pianos in History, a conference held at Cornell University and sponsored by the Westfield Center. Kim was selected by the conference's organizing committee as the headline performer for the opening concert, and he spent the week participating in a series of talks, concerts and panel discussions on topics such as notation, performance style, organology and higher education.
Assistant Professor of Art Richard Martinez is having a solo exhibit of new paintings at the Roger W. Rogers Gallery at Willamette University in Salem, Oregon. The show, which features eight new oil on canvas paintings by Martinez is titled "Straddling Possibilities." The recent compositions pair understated minimalist grids with bright and saturated fields of color, and juxtapose hard-edged geometric forms with expressive brushstrokes. The exhibit runs through the end of the fall semester. Pictured right is Martinez's piece 6-29-15.
Office of Communications Update
The Office of Communications has been receiving a lot of fan mail recently for leading the launch of the redesigned whitman.edu (kudos to Kristen Healy, Michael Cox, Peter Means, Kyle Singer, Ian Quorn and the Web Council for their hard work). While the college website may be one of the most visible things fueled by the staff in the Office of Communications, that's not all they do. The department offers a variety of services to achieve the goals and communicate the accomplishments of Whitman's people, programs and departments, including:
Helping you spread the word: If you have a Whitman-related story that you think the media might be interested in or you're a faculty member who would like to get news out about your work, use this online form to submit your story idea. These ideas are considered for press releases, website news stories, social media posts, Whitman Magazine features and The Fountain.
Graphic design help: Staff designers can help you create a poster, flier, ad or program for your department, program or event. They can also design and order promotional items (giveaways).
Web content and design assistance: The web team can help you update or create your department or program website and can be reached at webteam@whitman.edu.
Photography: If you have a need for photography for your office, department or program, we can help. If you're hosting an event that might need photo coverage, we can also consult on the best way to do that for you.
Printing and mailing: The printing and mailing team can print your job in-house or, for more complex jobs, manage the process of getting it to an outside printer. They can help you with mail merges, provide advice on postage requirements and mailing options, and much more.
NEW THIS YEAR: The Office of Communications is no longer charging for staff time in the chargeback process. In the past, charges for things like graphic design time and print shop time were passed back to the requesting department. This will no longer be the practice.
Save the Date: Presidential Installation
Save the Date for the Installation of Dr. Kathleen M. Murray, 14th president of Whitman College​.
​The presidential installation will take place on Friday, Sept. 18, 2015, at 4 p.m. in Cordiner Hall, with a reception to follow on the Cordiner side lawn. For more detailed information on all the installation weekend events, visit Whitman.edu/Installation.
Movement That Matters Starts Sept. 7
The fall session of Movement That Matters, the employee wellness program of exercise classes, begins on Sept. 7. Brought to you by the Staff Fringe Benefits Committee in cooperation with the SSRA department, the college will continue to sponsor half of the cost of paying instructors for the 15-week fall 2015 session, which runs from Sept. 7 to Dec. 18 (with a couple days off for Thanksgiving).
Classes this semester will include: core conditioning; stretch and strength; yoga; step aerobics; and spinning. Learn more about the program and register at whitman.edu/mtm.
A #BigWhitmanWelcome for Dr. Murray
The Office of Communications is collecting short video messages, text greetings and photographs embracing the theme #BigWhitmanWelcome for our 14th president, Dr. Kathleen Murray. These #BigWhitmanWelcome messages from students, faculty members, staff members, alumni and friends of the college will be curated and posted to the Presidential Installation website over the coming weeks. Send Dr. Murray your greeting by tagging your post with the hashtag #BigWhitmanWelcome. Send one from yourself or get your department together to send one as a group. Start submitting them today and check Whitman's social media pages for postings.
Whitman Well Challenge
The Whitman College Counseling Center has created a new program, Whitman Well, modeled on the 100 Happy Days challenge created by Dmitry Golubnichy. Whitman is the first college to join 2 million other participants from 220 countries and territories around the world.
How do you take part? Take the Whitman Well challenge by sending in one photo that represents something positive to the Whitman Well site every day for 100 days during the semester. The goal is to help the entire campus "take in the good" by focusing on something positive for the next 100 days. The program is open to students, staff and faculty members.
Campus Events
Sept. 4 to 6
Sept. 4 at 4 p.m. Hunter Conservatory, Kimball Theatre
Sept. 4 at 8 p.m. Reid Campus Center, Reid side lawn
Sept. 5
Sept. 5 from noon to 4 p.m. Boyer Ave.
Sept. 7 at 7 p.m. Maxey Hall, Maxey Auditorium
Athletic Events - Home Games
Sept. 1 at 7 p.m.
Parting Shot
By Matt Banderas, visual editor/photographer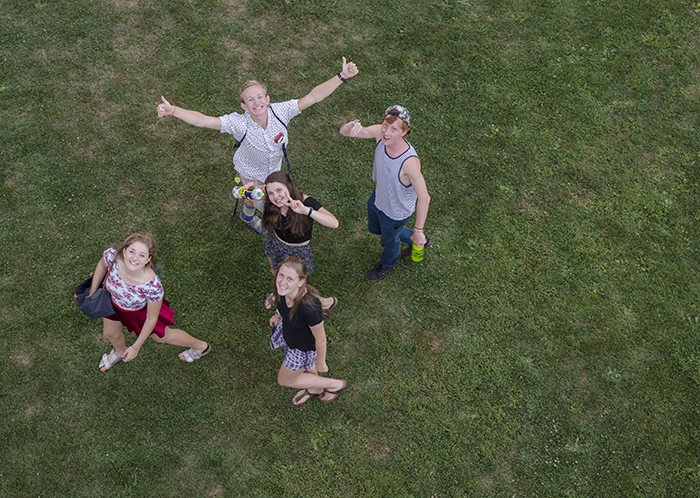 The Fountain is published by the Office of Communications.
Send news relevant to staff and faculty members to thefountain@whitman.edu for inclusion in The Fountain. Photos are accepted and submissions are due by Tuesday at 5 p.m. for the following week's issue.
For news relevant to external audiences, use our online News Tips form.

Compiled by: Bryce Heuett