New Award Recognizes "Pete Reid Day" in Walla Walla
On August 6, Rotarian and Walla Walla Mayor Jerry Cummins announced at a Rotary Club of Walla Walla meeting that Pete Reid '49 would be the first recipient of a new civic award instituted by the city. Reid was presented with the award and Cummins proclaimed August 6, 2015, as "Pete Reid Day."
Reid came to Whitman in 1946 after naval service in World War II and graduated with an economics and business degree. In 1949, he became a staff member, assisting with the new job placement office and traveling for a few weeks each fall and spring for the admission office. Over the course of his time at the college, Reid worked in areas including career services, admissions, alumni and special fundraising projects. He has been business manager, treasurer, chief financial officer, overseer of the Whitman Farm Committee and served as special assistant to the president. Reid Campus Center is named in honor of Pete and his wife Hedda Jorgenson Reid '49, and the Pete and Hedda Reid Scholarship Endowment was created in 1990 to honor them and to support Whitman students with financial need.
This new award recognizes and pays tribute to individuals who have made outstanding civic contributions to others living in Walla Walla. The awards will be presented to people who have demonstrated personal contributions which have improved the quality of life for Walla Walla residents. A coin has been designed with the city logo on one side and an inscription on the back which indicates it is awarded for civic service. A permanent plaque will also remain at City Hall, with each recipient's name engraved on the plaque.
A #BigWhitmanWelcome for Dr. Murray
The Office of Communications is collecting short video messages, text greetings and photographs embracing the theme #BigWhitmanWelcome for our 14th president, Dr. Kathleen Murray. These #BigWhitmanWelcome messages from students, faculty members, staff members, alumni and friends of the college will be curated and posted to the Presidential Installation website over the coming weeks. Send Dr. Murray your greeting by tagging your post with the hashtag #BigWhitmanWelcome. Send one from yourself or get your department together to send one as a group. Start submitting them today and check Whitman's social media pages for postings.
New Sheehan Gallery Exhibition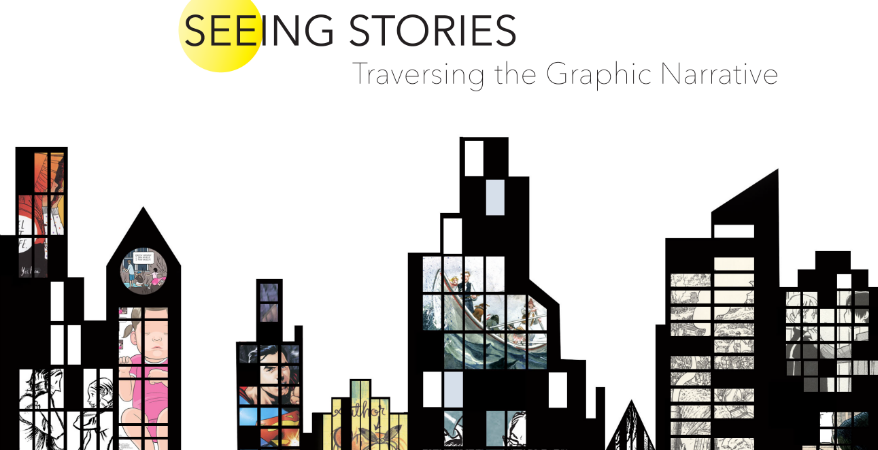 The Sheehan Gallery invites you to join them in a semester-long investigation of graphic narrative styles in their new exhibition Seeing Stories: Traversing the Graphic Narrative. This interdisciplinary display designed by Sheehan Gallery staff and Whitman faculty curators covers a wide range of subjects, from superhero comics to bande dessinée to the works of contemporary authors/artists like Joe Sacco and Alison Bechdel. The exhibition opens on September 1 and runs until December 11.
Campus News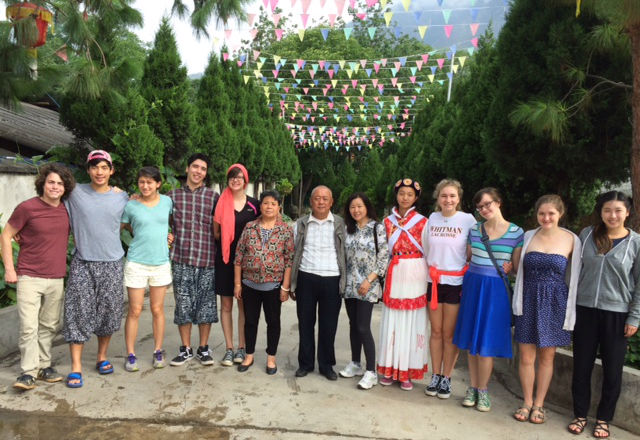 Last month, nine Whitman students successfully completed the Whitman Summer Studies in China program, a six-week intensive conversational Chinese language and culture program that is offered every other summer and supported by the David Deal China Exchange Endowment. The program is run in collaboration with Yunnan University in Kunming. In addition to 60 hours of intensive Mandarin language study and weekly meetings with graduate student language tutors, highlights of this year's program included: a rural homestay in a Naxi-Miao community; a talk about environmental activism in China by Yu Xiaogang, the founding director of Green Watershed; and a tour of a rural boarding school for primary school students. The program was led by Wencui Zhao, adjunct instructor of Chinese, and Susan Holme, director of off-campus studies. Above, from left to right: Taylor Carlson '17, Dan Zhang '16, Laura Rea '17, Andzu Schaefer '17, Lauren Benedict '17, Prof. Wencui Zhao, Anna Melville '17, Caitlin Foster '16, Michelle Christy '17 and Olivia Thomson '18 with villagers in Shangri-la County, Yunnan.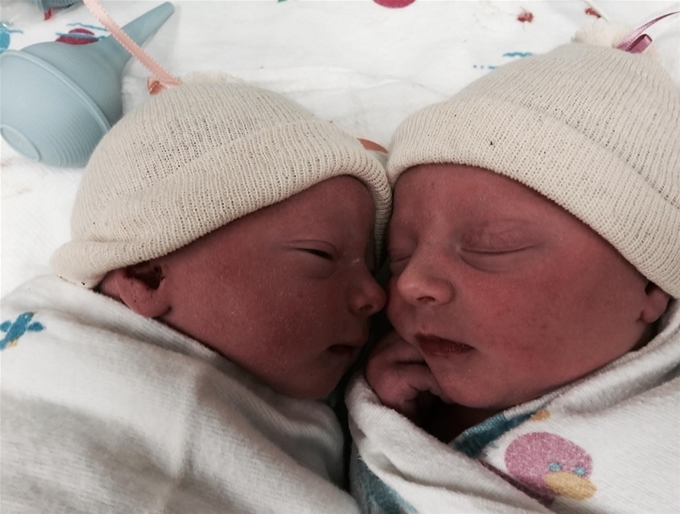 Brien Sheedy, director of outdoor programs, and Dana Sheedy, wellness instructor, are the proud new parents of healthy little twins Teagan and Tula, pictured above.
Faculty News Briefs
Senior Adjunct Assistant Professor of Art Charly Bloomquist has a piece in the sixth annual 10x10x10xTieton exhibition, which features more than 150 works by 97 artists. Bloomquist's piece, "Five of Cups" (pictured right), is a 6- by 6-inch cyanotype. 10x10x10xTieton is a juried exhibition and takes place from August 8 to October 11 in the Mighty Tieton Warehouse in Tieton, Washington.
Assistant Professor of Sociology Alissa Cordner is the co-principal investigator with collaborators at Northeastern University on a three-year grant from the National Science Foundation titled "Perfluorinated Chemicals: The Social Discovery of a Class of Emerging Contaminants." The goal of the research is to track the social and scientific discovery of perfluorinated chemicals, hazardous chemicals that are widely used in industrial production. This project will investigate the emergence of lay awareness, scientific research, government involvement, media coverage, litigation and advocacy around this class of chemicals. Cordner will analyze regulatory documents and public testimony about voluntary and regulatory action related to perfluorinated chemicals, and will conduct interviews with affiliated individuals. The project will lead to a better understanding of chemical risks and environmental health controversies, and will contribute to research on alternatives assessment, chemical substitution and environmental regulation.

Professor of Psychology Melissa Clearfield was awarded a grant sub-award from the Hemera Foundation. She and Whitman College are part of a larger grant to Harvard University's Center on the Developing Child to launch innovative research focusing on at-risk children from pre-natal to three years of age and their caregivers. At Whitman, Clearfield and students in her Whitman Infant Learning and Development lab created a simple Play for Success intervention for low-income infants to boost object exploration and, eventually, executive function. They will partner with the Children's Home Society of Washington to test this intervention through the Early Head Start program. This intervention will eventually lead to better problem-solving skills in this at-risk population.
Whitman College Technology Service's Multimedia Development Lab intern Ian Floyd '17 has won the 2015 Award of Excellence, presented by the Special Interest Groups of University and College Computing Services (SIGUCCS), for his poster "Angler Phish" (pictured right). Floyd's posters were created as part of a campaign in conjunction with other MDL interns for National Cyber Security Awareness Month. Please congratulate Floyd and his supervisors, Instructional and Learning Technologist for the Humanities Kaitlin Justin and Director of Instructional and Learning Technology David Sprunger.
2015-16 Campus Directory
The college will once again create a printed campus directory that includes offices/departments and a full alphabetical listing of staff and faculty member contact information.
The information used in the directory is pulled from Datatel. We ask that you check to verify the current information listed in Datatel is correct by carrying out the following steps:
Go to People Search.
Type in your last name. Sign in to view your complete listing. (Please note: you will also see a "View Earnings Statement" link. Only you can see your own earnings statement.)
Reply to Krista Garcia by September 8 only if you have changes and/or corrections to make via garciakl@whitman.edu or x5172.
We understand that there may still be changes to your information, including job titles and/or office locations. If you know a change is coming, even if you don't have all the details yet, let us know. The campus directory will be available online for final proofing before it goes to press.
Event Advertising Costs
If you have an event you want advertised externally during the 2015-2016 school year, the cost for ads placed on NPR has gone up. They are now $175 for 10 ads over the course of a week and $350 for 20 ads over two weeks. Union-Bulletin ad prices are holding steady at $150 to $170 per ad.
Don't forget, we've created this handy online form to make it really easy to order posters, U-B ads, NPR ads and more.
New hires
Please welcome our newest additions to the Whitman College staff and faculty.
Mary Baker-Fohring
Language Assistant
John "Taylor" Danielson
Institutional Research Analyst
Louise Fix
Resident Director
Natalie Gontscharow
Language Assistant
Brandon Holloway
Assistant Baseball Coach
Christina Irvine
Program Advisor for Intercultural Center
Ling Jin
Language Assistant
Joan Lucarelli
Administrative Assistant for the President
Rebecca Marton
Assistant Women's Soccer Coach
Halley McCormick
Resident Director
Birigit "Fran" Meyer
Administrative Assistant for Residence Life and Housing
Kimberly Mueller
Director of Health Professions Advising
Drew Raher
Coordinator of Camps and Community Service
Mary Randers
Associate Director of Admission
Carla Rountree
Post Office Assistant
William Sizemore
Assistant Baseball Coach
Nina Vanspranghe
Language Assistant
Campus Events
President Kathleen Murray will offer welcoming remarks to the parents of incoming Whitman students.
Aug. 27 at 4:30 p.m. Cordiner Hall
Students and their family members are invited to attend this event, which marks the formal opening of the college year. Associate Professor of English Scott Elliott will deliver the Convocation address.
Aug. 28 at 3:30 p.m. Cordiner Hall
Family members and new students are invited to join President Murray and members of the administration for a post-Convocation reception.
Aug. 28 at 4:30 p.m. Cordiner Hall side lawn
Athletic Events - Home Games
Aug. 26 at 4 p.m.
Parting Shot
By Matt Banderas, visual editor/photographer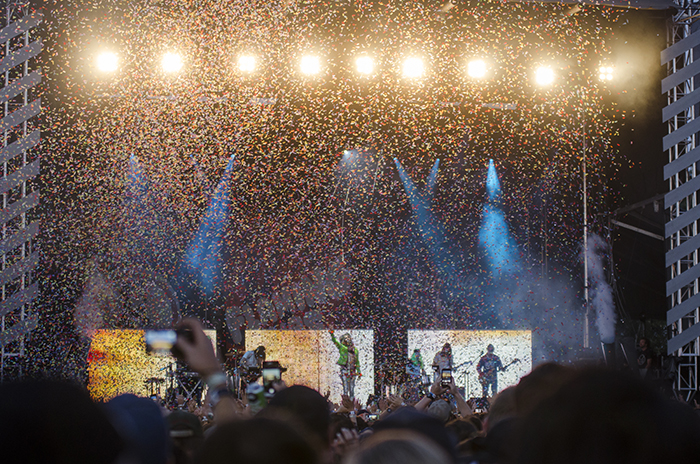 The Fountain is published by the Office of Communications.
Send news relevant to staff and faculty members to thefountain@whitman.edu for inclusion in The Fountain. Photos are accepted and submissions are due by Tuesday at 5 p.m. for the following week's issue.
For news relevant to external audiences, use our online News Tips form.

Compiled by: Bryce Heuett