Staff news brief
On April 20, Director of Outdoor Programs Brien Sheedy finished skiing to the North Pole. This completed what is known as the adventure grand slam, which is climbing the seven summits (the highest peaks on each continent) and skiing to both the North and the South Pole.
Campus Landscape News by Bob Biles, landscape supervisor
Let it Bee
It is great to see all of the dogwoods, redbuds, lilacs trees, shrubs and flowers with sweet smelling blooms telling us that, yes, spring has truly arrived. What a great environment it is, especially if you are a honey bee. They are everywhere, gathering nectar for their hives to ensure that they will have an adequate food supply to survive the long and cold winter months.
When a hive creates a second queen, then she must leave, and a portion of the hive will tag along and look for another place to set up a new home. This is when we see those swarms which collect in a large mass often in inconvenient locations for us humans. Our practice has been to allow the swarms to locate a new hive and move on unharmed. Normally this occurs within 24 hours and the bees can get back to their normal nectar-gathering instincts.
Although honey bees are not aggressive when they swarm, some people are concerned that the swarm should either be removed or eradicated, and so we have a list of beekeepers who come to capture the queen and take the others away.
Sometimes they build their hives in spaces that can also make people uncomfortable: places like chimneys or walls or rotten spots in trees that are adjacent to human activity. These locations make it almost impossible to remove the queen, and so it usually means that these hives will be exterminated.
For many unknown reasons, honey bee populations in North America are in rapid decline and it is always heartbreaking for me when a hive is destroyed, because it appears to annoy rather than pose any real threat. Hopefully people realize that, with fewer bees, the environment as a whole suffers. We here at Whitman want to be recognized for our environmental conscientiousness, but that can be a little inconvenient. Let it Bee, Let it Bee.
Campus News
During the second week of April, Christine Lanphere '86 visited campus to meet with students and give a presentation titled "Creating Global Citizens: World Language Education and College and Career-Ready Students."
This year, Whitman received a record 3,918 applications for the Class of 2019, a three percent increase over last year's total and, with a 40 percent admit rate, one of the college's most selective years on record.
Campus Events
Tickets available April 24. Performances May 7 to 10, May 21 to 23, Harper Joy Theatre, Alexander Stage
April 28 at 6.30 p.m. Olin Hall, Olin 130
April 29 at 7 p.m. Maxey Hall, Maxey Auditorium
April 30 at 7 p.m. Whitman College Amphitheatre
April 30 at 7 p.m. Hunter Conservatory, Kimball Theatre
April 30 at 7 p.m. Hall of Music, Chism Recital Hall
May 1
May 1
May 1 at 7.30 p.m. Hall of Music, Chism Recital Hall
May 2
May 2 at 3 p.m. Hall of Music, Chism Recital Hall
May 2 at 7 p.m. Olin Hall, Olin 130
May 2 at 7 p.m. Cordiner Hall and Cordiner Hall foyer
May 2 at 7.30 p.m. Hall of Music, Chism Recital Hall
May 3
May 2 at 7 p.m. Olin Hall, Olin 130
Parting Shot
By Matt Banderas, visual editor/photographer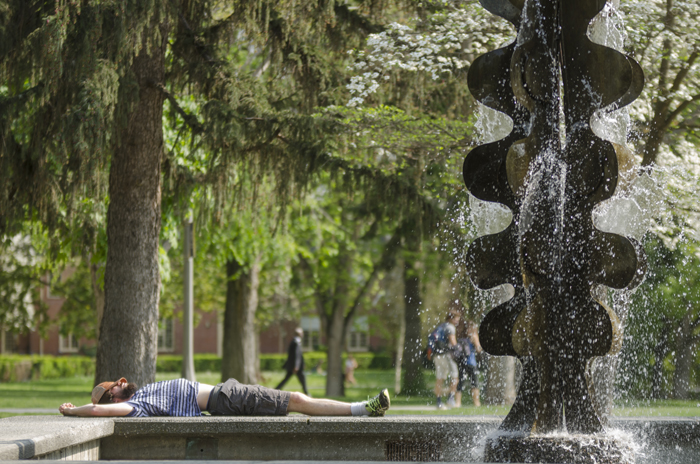 The Fountain is published by the Office of Communications.
Send news relevant to staff and faculty members to thefountain@whitman.edu for inclusion in The Fountain. Photos are accepted and submissions are due by Tuesday at 5 p.m. for the following week's issue.
For news relevant to external audiences, use our online News Tips form.

Compiled by: Bryce Heuett