Retirements: Bob Carson, Gary Rollefson and Mike Washington
Grace Farnsworth Phillips Professor of Geology and Environmental Studies Bob Carson, Professor of Anthropology Gary Rollefson and Head Men's Soccer Coach Mike Washington are retiring from their careers at Whitman College in May 2015. They will be honored at the annual End of the Year Reception, scheduled for Tuesday, May 12, 2015, at 4 p.m. in Cordiner Hall Foyer.
Bob Carson and Mike Washington have expressed an interest in receiving a book of letters and remembrances from Whitman College friends, students, faculty and staff. Should you wish to contribute to a book of letters, please send your letter to the Office of the Provost and Dean of the Faculty by Monday, April 27. Please do not send these letters directly to the individuals.
Bob Carson joined Whitman in 1975 after receiving his Ph.D. from the University of Washington. Over the course of his career, Carson has been honored with the Whitman College Town-Gown Award, the Lange Award for Distinguished Science Teaching, the Alumni Association Faculty Award for Service and the George Ball Award for Advising. The author of more than 60 books and articles, he has led students on trips as far afield as Ecuador and the Galapagos, and as nearby as the Greater Yellowstone Ecosystem. Carson is also a tireless advocate for issues of environmental significance, serving on committees across the region.
Gary Rollefson, who received his Ph.D. from the University of Arizona, Tucson, joined Whitman's anthropology department in 1998 as a visiting professor before entering the tenure track in 2005. Rollefson has taught courses focusing on the pre-history of West Asia, Europe and East Asia, while maintaining a vibrant career of scholarship, publishing more than 100 articles. His field projects in Israel, Jordan and Saudi Arabia, including the excavation of a tomb that was constructed around 5500 B.C. at Wisad Pools in Jordan's Black Desert, have often included Whitman students as participants. Rollefson has successfully obtained Louis Perry grants at least seven times, as well as grants from the National Geographic Society, the National Science Foundation and many others. He has received the P.E. McCallister Award for Accomplishments in Field Archaeology from American Schools of Oriental Research and in 2009 was was named the Kershaw Lecturer by Archaeological Institute of America.
Mike Washington joined Whitman College as head men's soccer coach in 1998 and has built a program that is competitive in the Northwest Conference as well as in the National Collegiate Athletic Association. He became a lecturer of sports studies in 2010. Washington has taught a variety of classes, including coaching soccer, intercollegiate men's soccer and badminton. As well as coaching, teaching and mentoring, Washington has remained an active and dedicated professional. He earned a National "A" license, a national Goalkeeping Certificate, and a National Youth Instructor Certificate from the United States Soccer Federation. Through his 17 years in the Walla Walla Valley, Washington has become deeply involved in the local and regional community through his activities as director of coaching for the Walla Walla Youth Soccer Association, the Blue Mountain Soccer Club and Tri-Cities Youth Soccer.
Whitman named a green college and a Green Power Leader
The Princeton Review Guide to 353 Green Colleges has named Whitman College one of the most eco-friendly colleges nationally. The Princeton Review chose the schools for this sixth annual edition of its "green guide" based on data from the company's 2014 survey of hundreds of four-year colleges concerning the schools' commitments to the environment and sustainability. The profiles in the guide provide information about each school's admission requirements, cost, and financial aid and student body. Colleges are chosen based on "Green Rating" scores (from 60 to 99) that the company tallied using data from its 2013-14 survey of school administrators. The survey asked them to report on their school's sustainability-related policies, practices and programs. More than 25 data points were weighted in the assessment. Schools with "Green Rating" scores of 83 or higher made it into this guide. See the full list and article at princetonreview.com/green-guide.
The Environmental Protection Agency has also named Whitman a Green Power Partner for 2015. Institutions who are named partners must meet the Leadership Club green power use requirements, and exemplify environmental leadership in their field. For more information on the EPA's Green Leadership Club, go to epa.gov/greenpower/.
Faculty News Briefs
Assistant Professor of Chinese Donghui He has published a paper titled "Cultural critique and avant-garde theatre in post-socialist China: Meng Jinghui's I love therefore I am" in the peer-reviewed journal China Information, based in London. The article discusses how the cutting edge of avant-garde theater in China and many post-socialist countries is largely retrospective and anti-futuristic, and that the campus-based fringe theater of the early 1990s in particular is regarded as the highlight of avant-garde theater in China. An alternative venue spearheaded by young theater artists, avant-garde fringe theater is notable for unpacking the cultural and political constructs of the Chinese socialist period as it played out through the artists' own formative experiences. I love therefore I am, directed by Meng Jinghui, is composed of more than 700 parallel sentences prefixed with "I love," presenting a meticulously constructed emotional archive of the generation that was born in the late socialist period and came of age in post-socialist China.
Office of Civil Rights campus visit
Title IX is not just about sports; it is the prohibition of sex-based discrimination in education. It also addresses sexual harassment, gender-based discrimination and sexual violence (including sexual assault, sexual harassment, stalking, voyeurism, exhibitionism, verbal or physical sexuality-based threats or abuse and intimate partner violence).
Learn more at one of many upcoming sessions hosted by the Office of Civil Rights on April 22 and 23 at Whitman.
Intercultural Center candidate meet-and-greet
The search committee for the position of co-assistant director of the Intercultural Center would like to invite members of the Whitman community to meet the first of their three candidates at an open session on Friday, April 24, at 4 p.m. in the Glover Alston Center.
The first candidate is Michelle Salazar. The other two candidates will be on campus May 4 and May 11 at the same time (4 to 5 p.m.) and in the same location. If you would like background information on the candidates please contact Sonja Aikens at aikenssl@whitman.edu.
Campus Events
April 21 at 7.30 p.m. Dance Studio (16 Boyer Ave.)
April 22 at 7.30 p.m. Hall of Music, Chism Recital Hall
April 23 at 7 p.m. Reid Campus Center, Young Ballroom
April 24
April 24
April 24 at noon to May 24. Olin Hall, Sheehan Gallery
April 24 at 4 p.m. Hunter Conservatory, Kimball Theatre
April 24 at 7.30 p.m. Cordiner Hall
April 25 from 10 a.m. to 5 p.m. Memorial Building, front lawn
April 25 at 3 p.m. Hall of Music, Chism Recital Hall
April 25 at 7.30 p.m. Hall of Music, Chism Recital Hall
April 26
April 26 at 3 p.m. Hall of Music, Chism Recital Hall
Athletic Events - Home Games
April 24 at 10 a.m. and April 25 at 9 a.m.
Parting Shot
By Matt Banderas, visual editor/photographer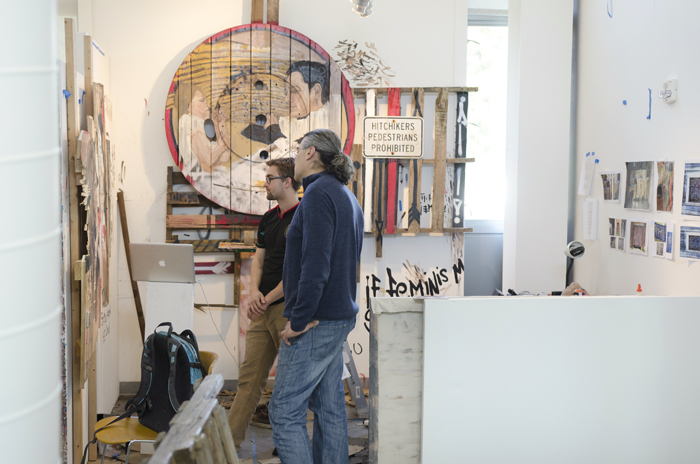 The Fountain is published by the Office of Communications.
Send news relevant to staff and faculty members to thefountain@whitman.edu for inclusion in The Fountain. Photos are accepted and submissions are due by Tuesday at 5 p.m. for the following week's issue.
For news relevant to external audiences, use our online News Tips form.

Compiled by: Bryce Heuett