Tri-College Spring Service Day - April 19
The annual Tri-College Spring Service Day takes place on Sunday, April 19 from 8.30 a.m. to noon.
The event brings together approximately 400 volunteers from Walla Walla Community College, Walla Walla University and Whitman College to complete important projects identified by our community partners throughout the Walla Walla Valley. This year, there are 30 projects, ranging from environmental conservation to construction, from art to activism, among many others.
A kick-off event will be at held at Walla Walla University at 8.30 a.m. on Kretschmar Lawn, with volunteers departing for individual projects from there. (The first 400 people to sign up will receive a free T-shirt, the design for which was created by Whitman's Ali Holmes '16.)
If you have any questions, please contact Community Service Coordinator Abby Juhasz at juhasza@whitman.edu or x5765.
Monthly live webinars through TIAA-CREF's Virtual Environment
Monthly webinars are now available to Whitman employees through TIAA-CREF's interactive site, the Virtual Environment: www.tiaa-cref.org/ve. This innovative resource offers users 24/7 access to a wide range of articles, on-demand seminars and live monthly seminars on a variety of essential financial topics.
Live webinars to boost financial know-how
The live events will give participants real-world financial tips, tactics and techniques to help start, build and maintain their retirement savings. Space at these webinars is on a first-come, first-served basis. Employees can reserve their place at any of the webinars by visiting www.tiaa-cref.org/ve. This month, some of the topics that the Virtual Environment will offer live webinars on include:
Inside Money: Managing income and debt
Equally Prepared: Financial planning for the LGBT community
Paying Yourself: Income options in retirement
On-demand webinars are also offered through the Virtual Environment. These include the Financial Essentials Webinar series. Compensation and Benefits Manager Telara McCullough recommends the "Starting Line: Why and how retirement saving should begin now" for those who are just entering Whitman's Retirement Savings Plan for tools and advice you can use right now.
The live webinars start on April 14.
Employees can begin using the Virtual Environment now. TIAA-CREF will offer new webinars throughout the year, including topics like navigating women's unique financial challenges, how to manage income in retirement and more, so visit the Virtual Environment today to sign up. Please contact HR at x5172 if you have questions.
Campus News
Geology major Lena Goss '16 and atmospheric and Earth science major Nevin Schaeffer '16 are two of a small group of undergraduates who will be venturing into the world's largest oceans as part of their study abroad semester this year.
This year's Whitman Undergraduate Conference saw students, faculty and staff members crossing campus on April 7 to celebrate the scholarship and academic achievement of the college's undergraduates.
Whitman College has chosen the award-winning memoir Brother, I'm Dying by Edwidge Danticat for the 2015 Summer Read Program.
Whitman in the News
ASWC President Tatiana Kaehler '15 spoke to MSNBC about leadership and feminism.
Rob Manning '80, engineering manager for NASA's Mars Exploration Program and former chief engineer for the Curiosity rover mission to Mars, will deliver this year's Commencement address.
Campus Events
April 13 at 6.30 p.m. Olin Hall, Olin 130
April 14 at 7.30 p.m. Olin Hall, Olin 130
April 14 at 7.30 p.m. Cordiner Hall
April 15 at 7 p.m. Maxey Hall, Maxey Auditorium
April 15 through 19, Harper Joy Theatre, Freimann Studio Theatre
Athletic Events - Home Games
April 17 at 4.30 p.m.
April 18 at noon and 3 p.m., April 19 at noon.
April 18 at 1 p.m.
April 18 at 4 p.m.
Parting Shot
By Matt Banderas, visual editor/photographer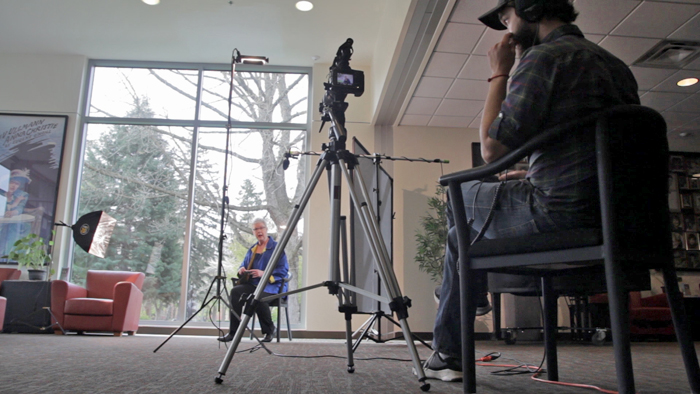 The Fountain is published by the Office of Communications.
Send news relevant to staff and faculty members to thefountain@whitman.edu for inclusion in The Fountain. Photos are accepted and submissions are due by Tuesday at 5 p.m. for the following week's issue.
For news relevant to external audiences, use our online News Tips form.

Compiled by: Bryce Heuett