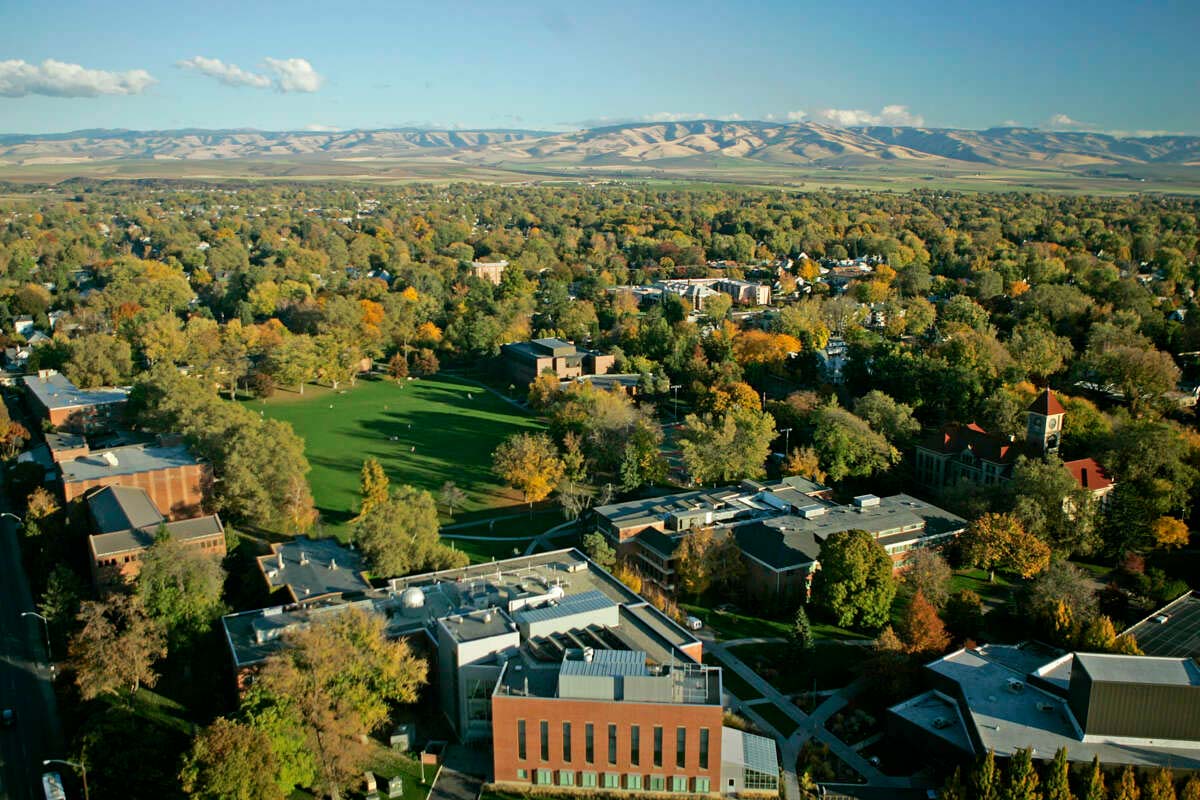 Academics
Professors prepared all summer for the possibility of remote instruction. Drawing on their experiences after the quick pivot to online instruction in the spring, professors spent a lot of time revamping many parts of their courses to make effective and exciting use of online technology. Even in an online format, students are receiving the kind of close interactive experience that is the hallmark of a Whitman education, meeting regularly with professors and peers, and receiving all the academic support necessary to succeed in a rigorous learning environment.
For seniors who need access to specialized labs, studios and equipment for their senior thesis or capstone project, your professors will work with you to accommodate those needs.
Academic Calendar
The first day of classes was August 24. December 5 will be the final day of the semester. The full academic calendar for Fall 2020 is available. Please note some dates are subject to change.
Academic Theme
Whitman College is adopting the theme "Race, Violence, and Health" for the 2020-21 academic year to organize our community around a series of lectures, workshops, conversations and curricular offerings that will help us think, together, in a sustained way all through this year. Faculty
are just in the initial planning stages, but anticipate inviting notable speakers to share their ideas and experiences, creating faculty and student panel discussions, and hearing from alumni who are engaged in these issues. Some faculty will be including extensive discussions on these issues in their courses, while others may touch on ways in which race, violence, or health have been important or overlooked in their fields of study. The aim is to provide you with opportunities to engage with students, staff and faculty in the Whitman community, as would happen if you were on campus.
Access to campus buildings will be strictly limited to pre-authorized employees and students who will be required to follow Whitman's health and safety protocols. For seniors who need access to specialized labs, studios and equipment for their senior thesis or capstone project, your professors will work with you to accommodate those needs.
The in-person services that will be available to students living in Walla Walla will include:
The Welty Student Health Center (limited weekday operations)

Penrose Library (limited to curbside pick-up for checked out items)

The campus post office (limited to curbside mail pick-up and shipping needs)

Printing services

The GAC Student Food Pantry and Clothing Closet
The first day of classes is August 24. Following the move to remote learning, the calendar was updated to include short breaks in October and for the Thanksgiving holiday, adding a Reading Day and moving final exams to December 1 through 5. View the full academic calendar.
This will vary by class. Some instructors may choose synchronous teaching aligned with their originally scheduled time slots. Other instructors may choose asynchronous teaching. Your professors will be getting in touch with you about how they will structure your class, including the what, when, where, and how to participate.
Professors are aware that their students may be in multiple time zones and are planning accordingly to make their lessons as accessible and equitable as possible, including recording synchronous lectures and activities. Please be in touch with your professors if you have any concerns about scheduling.
Professors are planning the best arrangements possible depending on the type of class and will email you with their specific plans. In some cases, necessary materials and equipment will be mailed to students homes. Please be in touch with your professors if you have any questions about how a particular class will take place.
The Board of Review has reconsidered the policy of allowing only up to 10 online transfer credits in light of the pandemic. For the Spring, Summer, and Fall 2020 semesters only, online credits will be treated as residential transfer credit and will not be subject to the 10 credit limit. Note that there is a limit to the overall number of transfer credits; currently this is 70 semester hour credits. Also, Whitman does not allow dual enrollment and will only review ad hoc requests if students are already enrolled full time at Whitman. Please contact the Registrar at giustisj@whitman.edu if you wish to request dual enrollment.
Endowed funds will still be available and accessible for the support of student research with faculty members. However, due to ongoing concerns for the health and safety of the entire Whitman community, college-sponsored travel for students to travel to conferences or to conduct research has been eliminated while we are in remote learning mode.
The Board of Review has determined that for Fall 2020 grade practices and deadlines have been returned to normal and no P grades will be allowed for distribution or major/minor requirements.
Faculty are working intently to find ways to translate their office hours and other methods of interacting with students into online formats. Students will find that they have similar access to their professors as they would in an on-campus setting.
We cannot give a definitive answer at this point. There are a few things we know for certain must happen in order for us to consider bringing our employees and students back to campus: declining cases of COVID-19 both nationally and locally and improvement in our testing capacity, especially locally.