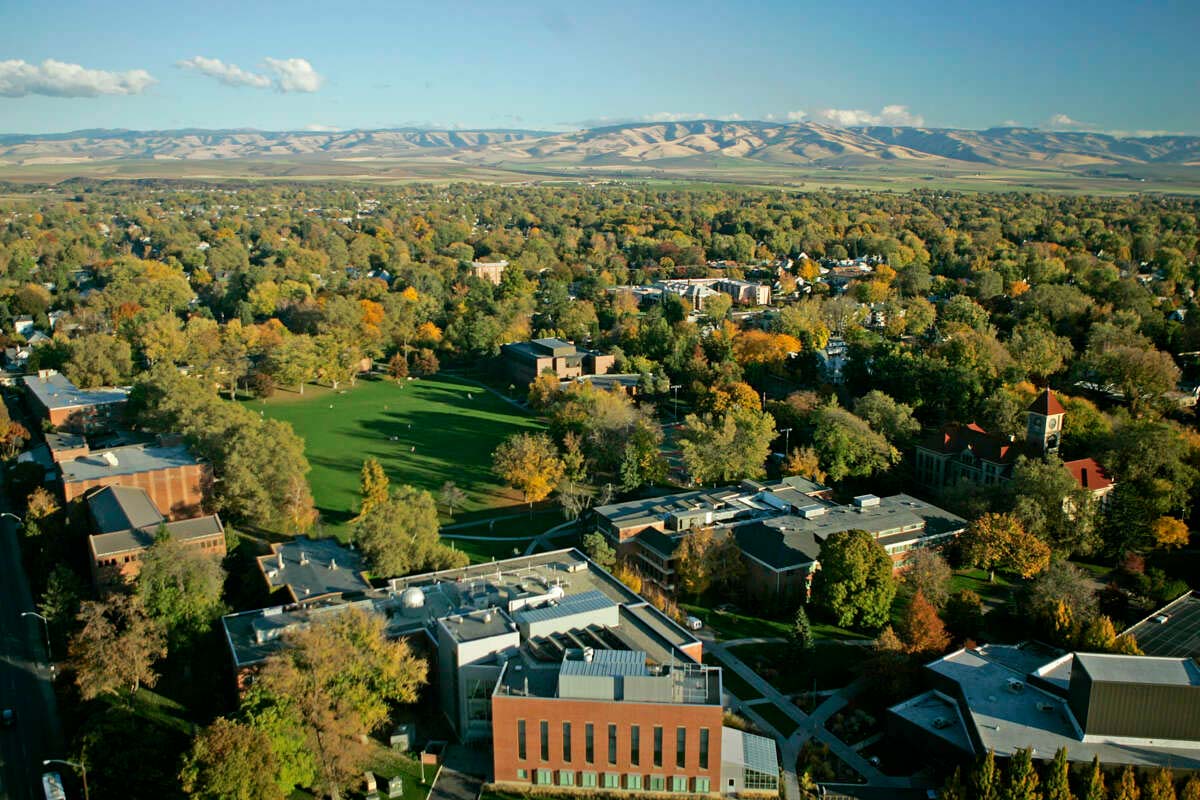 Health & Safety
Whitman is committed to providing a safe and healthy workplace. The Whitman College Safe Start Plan documents our policies and procedures for controlling possible exposure, mitigating possible spread and recovery information. Following is an assortment of resources and information for all members of the campus community.
Campus Access
As Whitman College works to protect our students, faculty, staff and community from the continued spread of COVID-19, we are restricting access to all campus buildings. Buildings are open only to pre-authorized employees and students who are required to follow Whitman's health and safety protocols. Buildings are not reopened for general services like library check-outs, fitness activities, or rental or customer service operations.
While buildings and recreational facilities are currently closed, visitors wearing face coverings and following social distancing protocols are welcome to walk through outdoor areas of campus.
Travel and Quarantine Restrictions
Official college travel outside of Washington, Oregon or Idaho must be approved by a Cabinet member. Faculty, staff and student employees who travel to a location outside of Washington, Oregon or Idaho for any purpose (personal or work-related) must report their travel to a supervisor and self-quarantine for 14 days before returning to campus. During quarantine, staff are encouraged to explore alternate assignments or arrangements such as telework. Employees may use accrued leave if alternate arrangements are not available.
Mental Health
It is normal to feel stressed about the unknowns we're facing. Know that Whitman College is doing everything it can to keep our community protected. This fall, the Counseling Center will be available for online counseling via Google Meet with students in Washington state. They may also be able to provide references and resources for students outside of Washington state. Call 509-527-5195 for assistance.
Physical Health
Understanding how to keep ourselves and the people around us protected from the novel coronavirus is an important part of creating a safe community. Whitman is committed to doing everything we can to protect the health of our faculty, staff and students.
In an effort to make symptom checking, reporting and contact tracing easier, the college has expanded our contract with Everbridge, the company that provides our emergency alert system. Faculty, staff and students cleared to be on campus will receive a daily wellness check notification via email and in the Everbridge app. Those using the app can also self-report if they test positive for COVID. The Everbridge app will also provide location and proximity data to support contact tracing in the Whitman Community. Those who do not utilize the app will need to complete paper contact tracing logs. As stated in the community pledge, we expect every member of the Whitman Community to download the Everbridge app on their smartphone if they are able.
Get instructions on downloading and using the Everbridge app for iOS.
Get instructions on downloading and using the Everbridge app for Android.
Have questions? Check out the Everbridge FAQs.
The Welty Student Health Center is staffed five days a week throughout the academic year. Professional nurses are here to assist with students health care needs.
Medical providers are available each weekday to examine ill or injured students, provide consultations or physical exams. Urgent or emergency medical care may be provided by local clinics or emergency rooms.
All faculty, staff and student workers must wear cloth face coverings (or equivalent) unless alone in a private workspace or living space. Face coverings must also be worn outdoors while on campus in any area where maintaining a minimum six feet distance is not possible. Whitman will provide face coverings to all faculty, students and staff who are on campus, but individuals may also choose to wear their own cloth face coverings instead, as long as they meet state and CDC requirements.
Face shields are less effective in preventing transmission of the novel coronavirus and are not a suitable alternative. However, face shields are appropriate as a health accommodation, should an employee be unable to wear a cloth face covering for medical reasons. Like other medical accommodations, this would need to be documented by a healthcare professional and requested through HR. In these cases, we are prepared to provide an appropriate face shield to a student worker, staff or faculty member.
Social distancing means limiting the number of people we come in contact with and increasing our physical distance between each other in all of our daily activity.
By practicing an extraordinary level of social distancing and avoiding all nonessential gatherings and close contact, we can protect the health of the entire community, especially those at highest risk from severe illness or death from COVID-19.
However, if your daily routines have you interacting with others in public spaces, it is crucial that you follow these social distancing guidelines.
If you are feeling sick, stay home.
Wear a cloth face covering whenever you are in a public space.
Maintain a distance of 6 feet from other individuals in public spaces.
Use only noncontact methods of greeting (no hugs, handshakes or kisses).
Wash hands with soap and running water for at least 20 seconds or use hand sanitizer with 60%+ alcohol when entering and leaving shared spaces, before handling food, before and after eating, and after using the restroom.
Cover your coughs/sneezes with a tissue, or using sleeves at the elbow. Wash hands with soap and water or use a hand sanitizer after coughing or sneezing.
Use disposable wipes to clean any shared use surfaces (including keyboards, desk/tabletops, chairs, remote controls, cellphones) before and after use.
Do not share food or beverages.
The most common symptoms in individuals with COVID-19 include:
Cough
Fever
Shortness of breath
In late April, the Centers for Disease Control and Prevention (CDC) added six symptoms of the novel coronavirus to its list as health experts learn more from treating patients with the virus. The symptoms, which the CDC reports could appear two to 14 days after exposure to the virus, are:
Chills

Repeated shaking with chills

Muscle pain

Headache

So

re throat

New loss of taste or smell
Regardless of how you feel, CDC and Washington State Department of Health guidelines indicate you should stay home for 14 days, monitor your health for symptoms (fever, cough and shortness of breath), and practice social distancing by staying out of all public places and maintaining a distance of 6 feet from others whenever possible.
If you have symptoms of COVID-19, stay home and call your health provider, who can determine if you should have a coronavirus test and provide guidance on treatment. If you suffer respiratory distress, call 911 immediately.