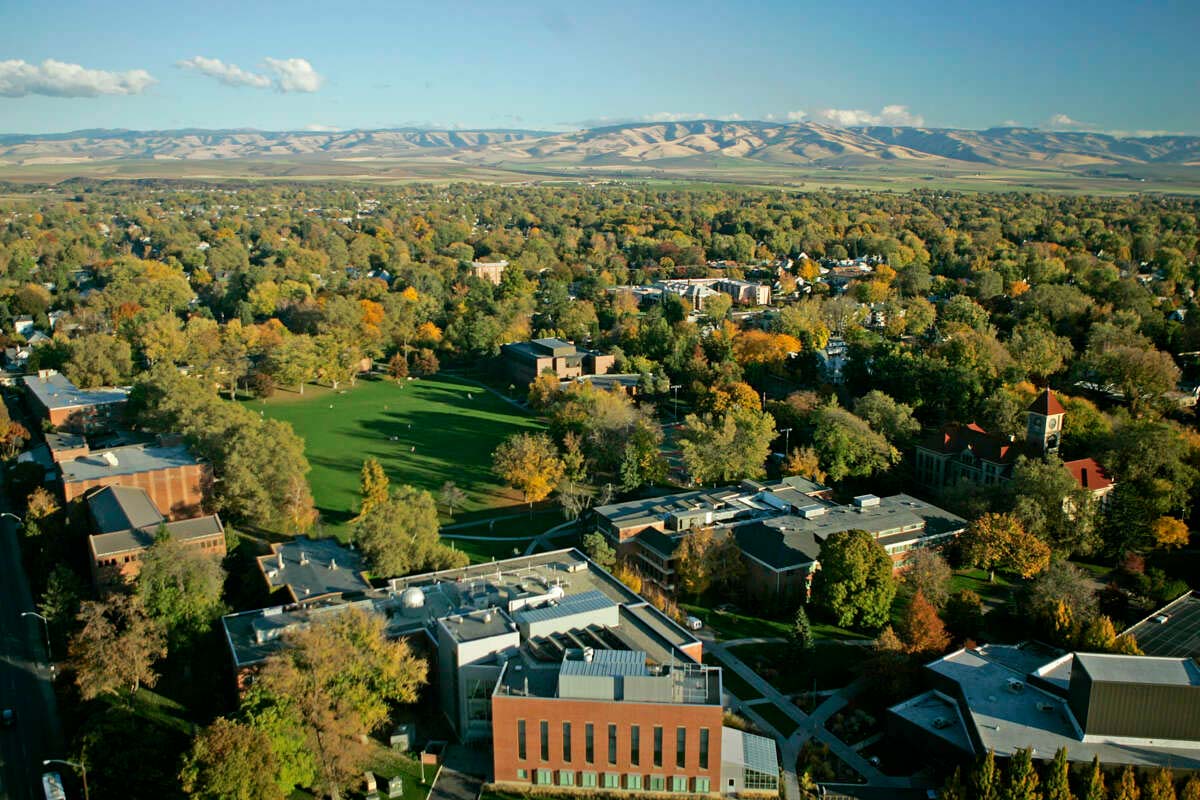 Employees
In late June, Whitman began returning some faculty and staff to on-campus work in a phased reopening of campus buildings. Because teleworking remains the preferred method for employees able to do their jobs remotely while Walla Walla County is in Phases II and III of the Washington state Safe Start reopening plan, not all employees will be invited to return to campus at this time. Employees authorized to return to work on campus may talk with their supervisors about continuing to work remotely.
Health and Safety
Whitman is committed to providing a safe and healthy workplace. The Whitman College Safe Start Plan documents our policies and procedures for controlling possible exposure, mitigating possible spread and recovery information. Below are some basic details for all employees.
Whitman College has identified a COVID Captain for each campus building to provide ongoing support and education to employees. Students, staff and faculty are asked to respect the authority of the COVID Captains when asked to comply with COVID-related workplace safety policies and procedures.
Each building will have one or more entrances designated as authorized entrances, to help control access and tracking. Priority will be given to accessible entrances. Signage around campus will designate traffic flow and maximum occupancy limits.
Facilities will regularly clean classrooms, auditoriums, public areas, restrooms, and disinfect high touch areas (e.g. door hardware, handrails, ADA and elevator push buttons, public used counter surfaces). Hand sanitizer and disinfectant wipes will be available at strategic locations throughout all Whitman sites.
Students, faculty, and staff should wash their hands frequently and disinfect their personal space within offices, classrooms and teaching laboratories before and after use. Disinfection includes wiping down commonly touched surfaces with a disinfectant wipe. Whitman will provide adequate hygiene and sanitation supplies throughout all facilities.
No unauthorized visitors are allowed in campus buildings. Family members, including children, are not permitted in campus buildings.
Below is the list of COVID captains for each open campus building.
BUILDING

BUILDING CONTACT (COVID CAPTAIN)
Hall of Science
Stephanie Johnson
Physical Plant Services
Tony Ichsan and Laurie Doohan
Memorial Building
Monica Chapman
Boyer House
Christie Fuller
Whitman College Technology Services
Dan Terrio
Reid Campus Center
Juli Dunn
Maxey Hall
Richelle Heilbrun
Olin Hall
Deborah Morehead
Glover Alston Center
Greg Lecki
Hunter Conservatory
Kathy Rogers
Harper Joy Theater
Barb DeLauter
Dance Studio
Christie Fuller
Welty Student Health Center
Claudia Ness
Baker Ferguson Fitness Center
Michele Hanford
Sherwood Center
Kim Chandler
Baker Center
Jaimee Maurer and

Maddy Gyongyosi

Fouts Center for the Visual Arts
Amber Conner
Hall of Music
Kathy Rogers and Katina Henderson
Penrose House
Donna Murray
Penrose Library
Roger Stelk
All faculty, staff and student workers must wear cloth face coverings (or equivalent) unless alone in a private workspace or living space. Face coverings must also be worn outdoors while on campus in any area where maintaining a minimum six feet distance is not possible. Whitman will provide face coverings to all faculty, students and staff who are on campus, but individuals may also choose to wear their own cloth face coverings instead, as long as they meet state and CDC requirements.
Face shields are less effective in preventing transmission of the novel coronavirus and are not a suitable alternative. However, face shields are appropriate as a health accommodation, should an employee be unable to wear a cloth face covering for medical reasons. Like other medical accommodations, this would need to be documented by a healthcare professional and requested through HR. In these cases, we are prepared to provide an appropriate face shield to a student worker, staff or faculty member.
Virtual care resources are available to employees through Premera, Whitman College's healthcare insurance provider, and Cascade Centers, our Employee Assistance Program (EAP).
Premera is encouraging the promotion of virtual care during this time, enabling you to seek medical care without leaving your home or visiting a medical provider's office. Premera's website offers additional advice, including information on how our health plan covers Coronavirus care.
If your health insurance is with another company, you may find they also offer an alternative form of virtual care.
New Telehealth Options
Premera Blue Cross has recently expanded our telehealth network to include
98point6
and
Doctor On Demand
to give covered employees and dependents (ages 1 and older) greater access and to address the increased demand related to COVID-19.
And, cost shares will be waived on telehealth services provided by in-network providers.
These updates to Premera benefits will continue through, at minimum, June 30, 2020.
98.6 offers on-demand, text-based primary care for all members and dependents ages 1 and older enrolled in an eligible Premera medical plan. To use 98.6,

register here.
Doctor on Demand

connects plan members to board-certified physicians and licensed psychiatrists for virtual-based care. To use Doctor on Demand,

create an account here.

Teladoc
Employees with Premera coverage can use Teladoc for no cost to the employee. Teladoc provides access to 24/7/365 access to board-certified licensed family practice doctors or pediatricians via phone (1-800-TELADOC) or video to covered employees and covered dependents. Please take the time now to create an account by visiting the Teladoc website, and have your Premera card available.
NurseLine
Another virtual care option is Premera's 24-hour NurseLine that allows you to talk with a registered nurse. The nurse will ask you questions and help you decide what course of action to take. The phone number for NurseLine is 1-800-841-8343 and can also be found on the back of your Premera insurance card.
Employee Assistance Program
The uncertainty and ongoing nature of Coronavirus can be anxiety producing. Our Employee Assistance Program (EAP), Cascade Centers, can assist you and family members with preparations. Cascade Centers has a dedicated section about Coronavirus, including information about managing your anxiety about Coronavirus.
Employee Assistance Program counselors are available by phone, online, and text to get you help right away. Start by accessing their website or call 1-800-433-2320.
Premera Blue Cross and Mail-Order Prescriptions
Premera Blue Cross will waive deductibles and coinsurance for anyone requiring the FDA-authorized COVID-19, respiratory syncytial virus (RSV), influenza or respiratory tests. Learn more about the changes Premera is making to our policy in response to COVID-19 by downloading the document below.
You can also sign-up for mail-order prescription service and have a 90-day supply of your medication delivered to your door, often for a lower out-of-pocket cost.
For the fall semester and while classes are primarily remote, non-employee student access to building is limited and must be approved as outlined in the Student Access to Buildings procedure. Examples of reasons why students may need access to buildings:
Seniors needing specialized facilities to complete capstone experiences.
Students needing specialized non-portable equipment for ongoing practice of skills.
Students needing internet access or quiet study space (who don't have these at home).
Students who are working with faculty on research activities.
Students accessing activities that provide a healthier and safer environment than the obvious alternatives were Whitman to not provide this access.
Faculty and staff wishing to sponsor non-employee student access to a campus building must review the procedures and submit the Proposal to Allow Student Access to Buildings or Other Campus Resources.
Travel and Quarantine Restrictions
Official college travel outside of Washington, Oregon or Idaho must be approved by a Cabinet member. Faculty, staff and student employees who travel to a location outside of Washington, Oregon or Idaho for any purpose (personal or work-related) must report their travel to a supervisor and self-quarantine for 14 days before returning to campus. During quarantine, staff are encouraged to explore alternate assignments or arrangements such as telework. Employees may use accrued leave if alternate arrangements are not available.
Parenting During the Pandemic
As many of us know from personal experience, parenting during the COVID-19 pandemic is extremely challenging. Cascade Centers, Whitman College's EAP, has a number of resources that can help, including general parenting advice, counseling, childcare resources, and how to talk with your child about the pandemic.