Shown is an example of official college letterhead and the recommended letter format, as well as a business card. Campus community members should order stationery from Printing Services.
For campus community members who use a very small number of sheets of letterhead, it is appropriate for you to request a template that you can print out on a laser printer in your office. Printing Services will create the template for you. All letterhead templates are to be printed in black, as duplicating the exact blue color on various printers is not possible.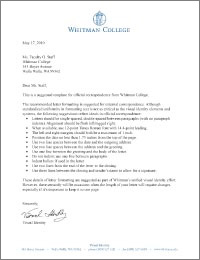 The standard paper is a 30 percent PCW stock.
The recommended letter formatting is suggested for external correspondence. Although standardized uniformity in formatting text is not as critical as the visual identity elements and systems, the following suggestions reflect ideals in official correspondence:
Letters should be single-spaced, double-spaced between paragraphs (with no paragraph indents). Alignment should be flush left/ragged right.
When available, use 12-point Times Roman font with 14.4-point leading.
The left and right margins should both be a maximum of 1 inch.
Position the date no less than 1.75 inches from the top of the page.
Use two line spaces between the date and the outgoing address.
Use two line spaces between the address and the greeting.
Use one line between the greeting and the body of the letter.
Do not indent; use one line between paragraphs.
Indent bullets if used in the letter.
Use two lines from the end of the letter to the closing.
Use three lines between the closing and sender's name to allow for a signature.