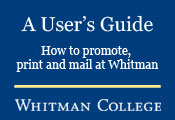 Who to Contact for Help and Services
News Services and Advertising
Do you have news? Do you have an event to promote?

Whitman Magazine
Do you have a great story to tell alumni and other key audiences?

The Fountain (Campus newsletter)
Do you have news or events to share on campus?

Web Content
Do you have content that you'd like to add to the college Web site? Do you need help with site updates, or to develop a Web page for a college program?

Design Services
What outcomes are you trying to achieve through periodicals, publications or collateral materials? Do you need graphic design?

Photography
Do you need photos for a publication or Web site? Do you know about something going on that's "photogenic?" Are you hosting an event?

Printing Services
Do you need something printed or photocopied? Is it already designed? Need business cards or letterhead?

Mailing Services
Do you have a few letters to mail? Are you doing a major mailing? With a merge? Need to send packages?