Zero Waste
Section Navigation
Office of Sustainability
Physical Plant
804 Penrose Ave
Walla Walla, WA 99362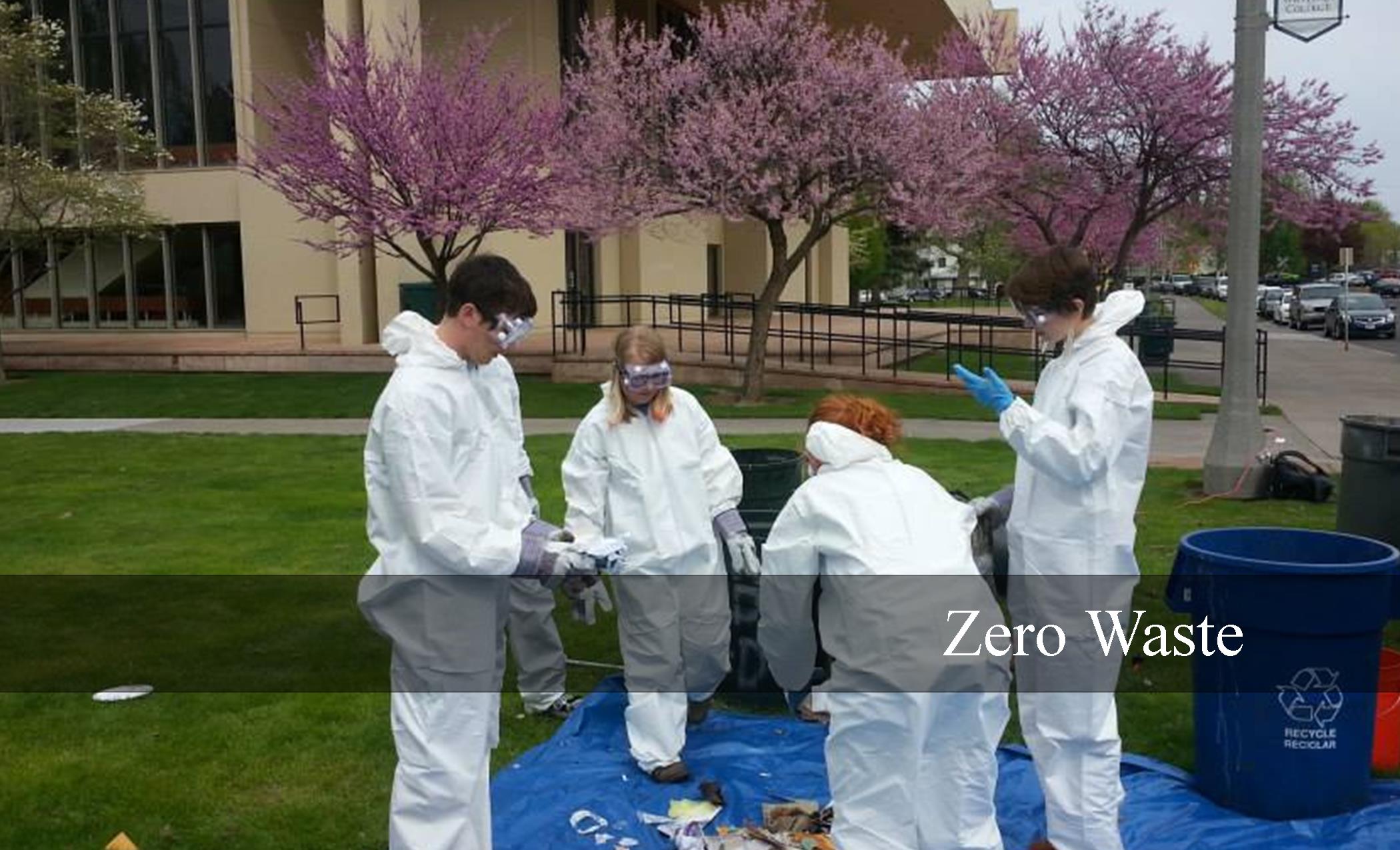 As a campus community we are striving to become a zero waste institution. This means that we are mitigating our campus' carbon footprint through a reduction and elimination of our waste stream. Zero Waste looks at the environmental impacts, social issues, and the financial impact of our waste. To achieve our institutional goals we encourage the campus community to eliminate unnecessary purchasing, recycle items that can be recycled, and to be aware of the life cycle of our purchasing.
Campus Waste
For Earth Week 2014, the Outhouse and Campus Sustainability Coordinator organized a campus waste audit to uncover ways to improve Whitman's recycling rate. Compost and recycling were removed from landfill waste and weighed. This data will continue to be tracked over the coming years to monitor for improvements. The full results are available in this PDF.
The most recent comprehensive survey of campus solid waste was conducted in 1995. The survey recorded that about 31,800 lbs of solid waste were produced during an average month in the academic year. A 2007 survey of dining hall and Reid cafe organic waste found that an average of 5,488 lbs/week were generated in a typical week across the three food service facilities. Whitman College also produces sewage waste and hazardous waste, and the recycling program collected about 300,000 lbs of recyclables in 2007, and has seen reductions to down below 200,000 lbs in 2012. Keep in mind glass is no longer collected and that a reduction in collected recyclables does not necessarily mean more is headed to the landfill. It should ideally indicate less waste is created in the first place. Remember the three Rs; reduce and reuse come before recycle.
Where does Whitman buy its paper?
Whitman purchases paper through a bid process. Bids are requested from several different paper companies and the company that can deliver the paper that is certified as 100% recycled to their specifications at the lowest price is what they select.
In the 2016 academic year campus purchased paper from Georgia Pacific. Their paper is 100% recycled SFI chain of custody certified and also sourced locally from Camas. It is the same paper that the University of Washington and Washington State University purchase.
How much paper is used?
Approximately 840 cases per year
In 2011, the Greenhouse Gas Audit calculated that 25 tons of 100% recycled paper was used. This includes the total number of cases purchased for daily use on campus, including copying and printing. Paper use was responsible for 47.3 metric tons of carbon dioxide equivalent emissions in 2011.
Recycled Notebooks are for sale in the bookstore. Information about the 2007 Paper Campaign can be found here.
Prepared by Mike Osterman and Jed Schwendiman in March 2009
2009 - GoPrint pilot launched with $50 free printing credit
2008 - WCTS installs GoPrint on public-access printers
2007 - Paper Campaign recommendations to then-President Bridges regarding potential paper use reduction measures. The Paper Campaign also began the tradition of turning one-sided paper and old letterhead into recycled paper notebooks, known as the Paper Phoenix project.
2006 - Math Dept. sets up a print-release station in Math Lab
2006 - College shifts to 100% recycled content paper
2005 - Conservation Committee, ASWC, Campus Greens, WCTS and President's Council investigate print charging options
2002 - WCTS staff research "Paper Waste and Social Norming," launches "Paper Tracker" and "Think Before You Print" campaign
2001 - Student member of Conservation Committee recommends installing print release stations to reduce paper waste
2001 - Conservation Committee requests all printers default to duplex
1999 - College purchases 30% recycled content paper (20% previous year)
1994 - Laser printing becomes free of charge
Prior to 1994 - Laser printing $0.05/page (where available)
In 2017 the ASWC Student Senate and President's Sustainability Advisory Board endorsed SRS17.2 and the adoption of the ASWC Zero Waste Plan.