High Performance Buildings
Section Navigation
Office of Sustainability
Physical Plant
804 Penrose Ave
Walla Walla, WA 99362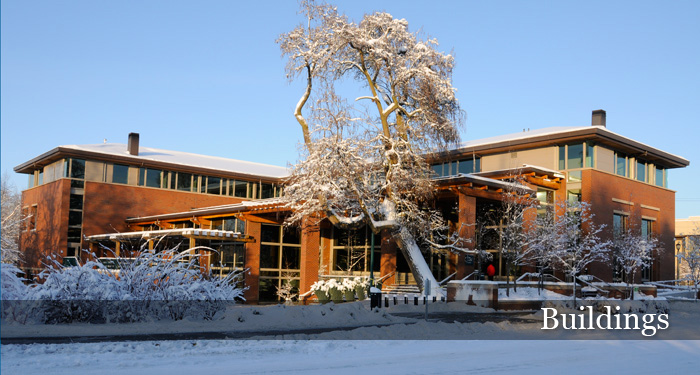 In the past decade, Whitman has aimed to follow the standards of the U.S. Green Building Council in the constructing of new buildings. All of these buildings have been built in an effort to reach a USGBC LEED Silver standard. In the Fall of 2017 Whitman began construction on a new residence hall and the Cleveland Dining Commons. Both of these buildings were designed to meet a minimum of a LEED Silver Rating. At this time the residence hall is on track to by rated Platinum under LEED v.3. The new Cleveland Dining Commons is slated to be rated at LEED v.3 Gold. While there are many examples of buildings that meet more stringent efficiency standards, no completed buildings on campus have been LEED-certified. In 2017 the campus became a member of the United States Green Building Council.
Hall of Science: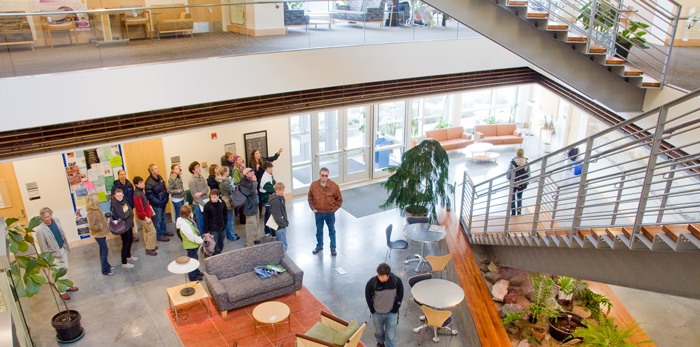 The expansion of the Hall of Science in 2002 brought with it many remarkable design features, such as the beautiful center staircase in the atrium, with woodwork made of the local trees that had to be felled for the expansion. The original building, constructed in 1963 and expanded in 1981, received a $13 million redesign that included state of the art facilities and an award-winning heating and cooling system. During the design process, a professor suggested using a heat pump system that capitalized on the geothermal heat from a deep well under the building. The 1,200 foot deep well brought up 75 degree Fahrenheit water used to regulate the building's temperature. The warm water also moved to heat Memorial Building and then passed through a fountain. The water fed the campus irrigation system before returning to the local creek. Reused water that irrigated the beautiful lawns on campus. The award-winning system saved the College $6,000 a year on heating and irrigation costs. However, due to unforeseen challenges, this geothermal source has been brought offline.
Baker Ferguson Fitness Center:
The $10 million construction of the fitness center and swimming pool in 2004 included a heat recovery system that recaptures and recycles the warm water vapor that rises off the swimming pool. After running through an evaporator, the water and latent heat are extracted and used to heat the pool.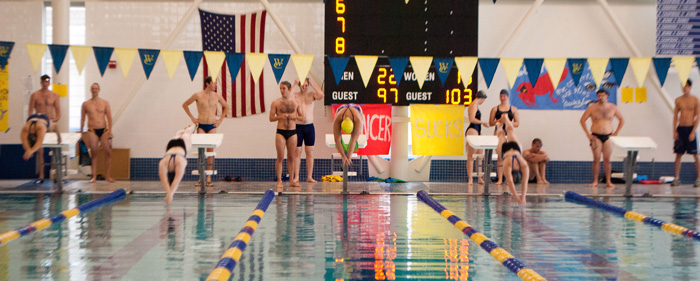 Reid Campus Center: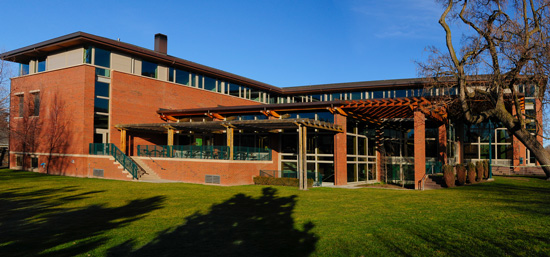 This 50,000 sq. foot red brick building constructed in 2002 provides a central hub to campus as well as a model of sustainable design. The large south-facing windows allow sunlight to enter in the winter, naturally warming the building. Programmed vents open and close to outside air to capitalize on natural convection techniques to cool it.